A two-way street in the valley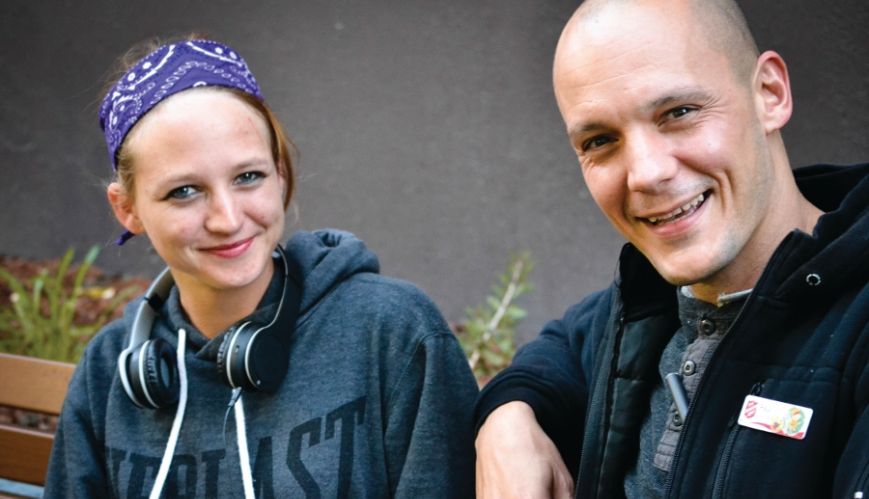 A two-way street in the valley
19 July 2017
Monday morning in Brisbane. It's 9 o'clock and street people are streaming into The Salvation Army for a free breakfast.
This is the Streetlevel centre, at the entrance to Brisbane's infamous Fortitude Valley nightlife precinct. Most of the early-morning customers are from boarding houses. Some are homeless. Others are people who just turn up to help and share some company. Volunteers are setting up tables. Many are people from off the street.
Streetlevel Team Leader Paul Maunder says there's not really a dividing line between staff, volunteers and people coming here for help. "If somebody walks in and wants to help, we're fine with that. We find them something to do if they haven't already found it themselves," he says. There's cereal, milk, sugar, fruit, coffee, tea and toast on a counter. It's a case of help yourself.
After breakfast, tables are cleared and prepared for lunch. People are still streaming in. Some have bought clothes for washing and drying in the centre's machines. Others are using computers. A few have fallen asleep on couches and bean bags. A man sits at a table folding napkins and sorting cutlery. A divisional headquarters officer has called in and is quickly recruited to a vacancy at a table where a group is playing Scrabble.
Paul Maunder is playing pool with some people. A man wants to tell him about a new job he's just found. Paul gives the man all the attention his excitement deserves. Children are playing between tables. Others are reading, watching a movie, listening to music, chatting in groups or talking to whoever will listen. It's now late morning and about 100 people have arrived.
At midday, Paul says grace and lunch is ready to be served. Tomorrow, it will all happen again. There's also dinner a couple of nights a week, lunch taken to community housing on Wednesdays and lunch at the centre on Sundays.
People in need can also access emergency relief (Doorways), free legal advice (Salvos Legal), budget advice (Moneycare) and referral to counselling and other services. This is a community within a community. It seems on this day, everybody knows everybody. There are people in this place who have been through hard times and now are helping others through their hard times. There's Jacqui Cronin.
Jacqui's story
Jacqui (pictured below, right) is employed as a community engagement officer, which means she coordinates the emergency relief program. Just a couple of years ago, Jacqui was dropping vast amounts of money into poker machines. She was addicted. She lost many thousands of dollars, a car, a job and, for a time, her family because of her addiction. 
She attempted suicide and spent time in psychiatric hospitals. In desperation, Jacqui got in touch with a counsellor at The Salvation Army's Moonyah rehabilitation centre just up the road from Streetlevel. She wanted to stop gambling, but she didn't know how. As part of the rehabilitation program, it was suggested Jacqui should call at Streetlevel and offer to help. She'd had plenty of experience in office work.
She started volunteering in the Streetlevel office, then was given a few hours paid work and now is employed for 28 hours a week. She became an adherent of The Salvation Army and is now studying for a Bachelor of Ministry. "I feel called to ministry," she says. 
Paul's story
Paul Brittenden was stricken by illicit drugs for a quarter of a century before he made contact with The Salvation Army. Paul is now employed at Streetlevel as a community engagement worker. He advocates for clients with the courts and government departments like Centrelink. He also provides counselling to people in addiction and pastoral care through God's Sports Arena (corps) in Brisbane.
Paul's early life was not pleasant. He was adopted as a baby, had an abusive childhood, started on drugs at 14, left home at 16 and spent the next 24 or so years heavily into the drug trade. He had a good paying job, but spent it all on drugs.
In 2013, he voluntarily entered the Moonyah rehabilitation program. The "religious stuff" at Moonyah didn't interest him. He had been raised by a religious family, but abuse within the family and church turned him away. While at Moonyah, he drove clients to the God's Sports Arena services on Sunday nights. But he didn't attend himself. He spent the time at McDonald's, instead.
God's Sports Arena leader Bill Hunter took an interest in him. Paul started attending services. He appeared in court on drugs trafficking charges and was sent to prison. Salvation Army people went to court with him and visited him in jail. They had an effect.
Paul started "a church" in prison. Life changed for him, he says, when he adopted the word love whenever he saw the name God. He was able to replace "fear" with "love" and see that it was OK to be himself.
He had been told since he was a child that he was not a good person. Now, he had seen himself through the love of God. "I hadn't rebelled against God, but against organised religion. But through Bill Hunter and the people at Streetlevel, I was with people who wanted to love people like me. "So, here I am."
Paul is now an adherent of The Salvation Army.
Johannes' story
Johannes van der Vliste (pictured right) has a story with some similarities to Paul Brittenden. 
He was born in Canberra to parents from Holland. His parents separated. Johannes was living with his father and stepmother in Papua New Guinea when, at 14, he was expelled from a boarding school for smoking. He was sent back to Canberra to live with family. They introduced him to drugs. He didn't go to school. Drugs took over his life.
He was sent to Tasmania to live with a brother, but the drug-taking continued. He had three children with different mothers. After 20 years, he returned to Canberra and involved himself in a drug ring. It was dangerous. He moved to the Gold Coast, but family there didn't want him around. He was homeless. A local hospital booked him into The Salvation Army's Pindari homeless hostel in Brisbane. He was still selling drugs.
An officer at Pindari suggested he link with Streetlevel. He did, volunteering on furniture pick-up and delivery. But he kept selling and taking drugs. "One day in 2012, I collected my stash of drugs, took them to Streetlevel and handed them over to Paul Maunder. I told him that I couldn't do this anymore; I couldn't be involved with The Salvation Army and drugs at the same time." He stopped taking and distributing drugs from that day.
Today, Johannes is the Streetlevel coffee-van coordinator. Three to four days a week, he takes the coffee van to community or business engagements through Brisbane, connecting with people. "For the first time in my life, I have taken on responsibilities. Streetlevel has built my self-esteem," he says.
He has also become an adherent of The Salvation Army. Around 100 years ago, Salvation Army founder William Booth, when discussing what The Salvation Army should do with people who get themselves into situations like Jacqui, Paul and Johannes, said: "We will pity them, feed them, reclaim them, employ them ... and that in the most practical, economical and Christlike manner."
At Streetlevel Brisbane, after being fed and reclaimed, everybody is employed – whether paid or volunteer.