Exploring new ways of doing church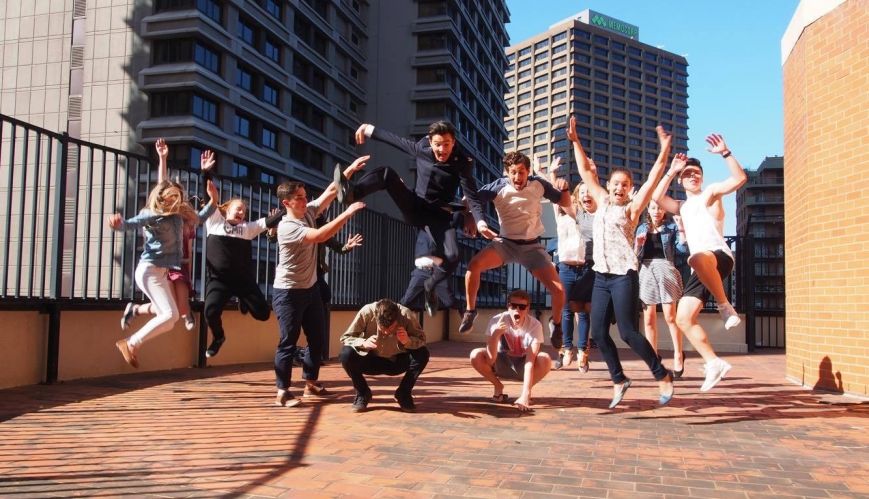 Exploring new ways of doing church
23 July 2017
By Lauren Martin

Last month a group of Salvation Army corps officers and ministry leaders from across Australia sat in a room in Melbourne with guest speaker, Neil Cole, author of Organic Church, Growing Faith where Life Happens.
The two-day training was organised by the Australia Southern Territory's Director of Emerging Faith Communities but also included the head of the NSW & ACT Division's Communities of Hope Coordinator and an Area Officer from the Queensland Division.

In other words, key leadership from both territories are recognising that The Salvation Army's church-model isn't working in all places and we need to explore new ways of doing church. And for perhaps the first time in our history, they're giving officers on the ground the permission to imagine a new way of doing things. And not just to imagine, to actually implement the plans that God gives them for his church in their communities.

"We really want to explore wholeheartedly new expressions of how to do church in The Salvation Army. The traditional model of church on a Sunday, sitting in pews and listening to a sermon and singing songs is in decline," says NSW & ACT Divisional Communities of Hope Coordinator, Major Bryce Davies.

According to Neil Cole, The Salvation Army, like the majority of churches worldwide, operates on an "addition" strategy when it comes to church growth. They use evangelism to attract people in to a church model that relies on the leader to teach and shepherd the flock. Those people very rarely go and make new disciples due to their reliance on church leadership to feed them and a structure that doesn't empower them.

"We need to make real disciples," he told the group. "Not consumer-oriented Christians that need to be entertained and fed." Neil explained that in order for the church to multiply and really grow and change whole communities, the church needs an apostolic foundation. In other words, we need to be creating disciples that are not dependent on anything but Jesus. Only then will they start to disciple others, rather than relying on "the church", or those with the gift of "evangelism" to do the job of "saving souls".

Several years ago, in their second year of training college, now-Captains Peter and Diane Hobbs picked up a book by Neil. They had started to read more and more into the Jewishness of Jesus, exploring how Jesus modelled discipleship and how we as Christians are supposed to fulfil the great commission. The teaching of Neil resonated with what had been laid on Peter's heart at the time so they flew to Singapore with their children to meet Neil in person and be taught by him. "We became convinced that God wanted us to start a new Salvation Army work, returning to our Army roots of rolling up the sleeves, loving God and loving our neighbours, which is basic disciple making," says Peter.

A new Salvation Army work that didn't rely on program or structure, but simply followed Jesus' teaching in Luke 10 when he sends out the 72. When they were commissioned, Peter and Diane were given a "clean slate" appointment – to start a new work on Victoria's Bellarine Peninsula, east of Geelong.

Speaking alongside Neil last week, Diane (pictured below right) explained how the process of creating church by making disciples first, is a "long
and often sacrificial process", something that most churches aren't willing to invest in.

"It takes a long time," she laughed. "And there were times when we were discouraged because the transformations of people's lives didn't happen as fast as we would have liked."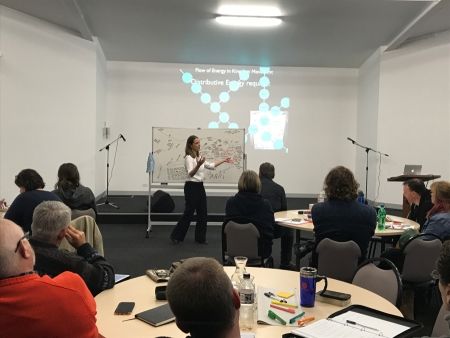 But she went on to explain that the process of life changes does take a long time.
She drew a map of the Bellarine Peninsula on a whiteboard to explain the nature of Organic Church. "Then we met this person ... then that whole family got to know Jesus ... then they knew this person ..." She wrote a few names on the whiteboard in the location where they lived and explained that after several years of planting, planting, planting the seed of God by forming relationships in community, their church consisted of just those handful of names. People who met weekly in various homes to read and interpret God's word, most of the time without them even being present.
The group broke for lunch. 

When they walked back into the room the whiteboard was exploding with names of people and ministries and lines of connection between them crossing every which way across the map Di had drawn of the Bellarine Peninsula. Di explained to the group that after a number of years, the seeds of the gospel that they had planted had grown and multiplied, just as God promises in Mark 4 in the parable of the growing seed. They now have multiple missional communities of faith emerging across the peninsula and even beyond the corps borders. They are communities of people who love, care and point people to Jesus. Each community gathering looks unique.

These are people who identify as Salvos, who are becoming the loving reality of Jesus within community and who meet to read and interpret the Bible and pray. 

And a few times a year they all gather together to celebrate what God is doing in each area and to enlist these emerging workers into the Army. They run a number of ministries that have all been born from the local community – a partnership with a coffee shop to train young people in hospitality, "Salvos Resto", a car restoration ministry for disengaged youth at a local smash repair shop, a night outreach van, an art therapy program and an amazing open-air music program teaching kids brass, piano and garage band. They have no paid ministry workers – everyone is a volunteer.

The Bellarine Peninsula is just one example of a place where The Salvation Army is thriving, yet the area does not even have a corps building. Where else is it thriving and why?

"I think we just have to have an open mind to these different ways of being God's people," says Major Davies. "We don't need to be stuck into this mindset that says unless we've got a church on a Sunday morning at 9.30am for one hour, then we're not a valid expression of the body of Christ."
Over the next few months, every Sunday, Others will feature different areas where #salvochurchlife is thriving and ask why. Please, show us what your #salvoschurchlife looks like by posting a photo to on a public Facebook, Instagram or Twitter page using the hashtag #salvoschurchlife or tell us your story by emailing: others@aus.salvationarmy.org