Fellows scholarship course designed for Cristina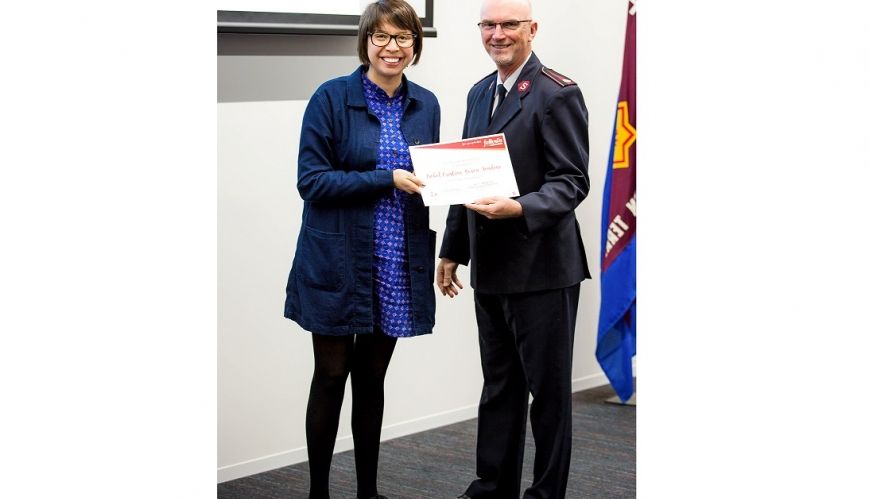 Fellows scholarship course designed for Cristina
28 July 2017
Every year in the Australia Eastern Territory, The Salvation Army Fellows program, sponsored by Aged Care Plus, awards scholarships of up to $5000 to employees, officers and volunteers towards their professional and personal development so they can continue to make a difference in the lives of others through The Salvation Army. Over the next couple of months, Others online will talk to several recipients, explore the focus areas of their Fellowship award, and share the difference it will make in their lives, the lives of others, and in the ministry of The Salvation Army.
Cristina Baron, who serves as the graphic designer for The Salvation Army's National Editorial Department based in Sydney, is one of 17 recipients of this year's program. Cristina is responsible for the layout and design of Others magazine, and she also contributes to many other design projects for different departments at The Salvation Army's Australia Eastern Territorial Headquarters.
In September, Cristina will undertake an eight-week part-time course in Visual Design at General Assembly in Sydney – an institution that describes itself as "a pioneer in education and career transformation, specialising in today's most in-demand skills".
"This is something that I have wanted to do for a long time," Cristina said. "It's a great opportunity to further my skills and techniques, not just in print media, but in digital media as well.
"This comprehensive course, whose teachers are recognised in their fields, will enable me to be across the latest design tools available, become more consistent and professional in my work and then use these skills to improve the layout and design of Others magazine, different design projects, and digital work as well.
"This means a focus on different forms of visual communication in areas such as choosing fonts, applying design styles, translating ideas into actual product, and more effectively using design tools such as InDesign and Photoshop.
"This course lines up with my job description so I will be able to directly apply what I learn to my work and benefit The Salvation Army."
Cristina, who has been working for The Salvation Army for two years and is originally from Colombia, is delighted to have the opportunity to study, and says that receiving the scholarship has been the highlight of the year for her.
"I was over the moon when I found out and am very grateful for this opportunity. It is very motivating to know that your workplace wants to support you in improving your skills."