New day dawns for Reanna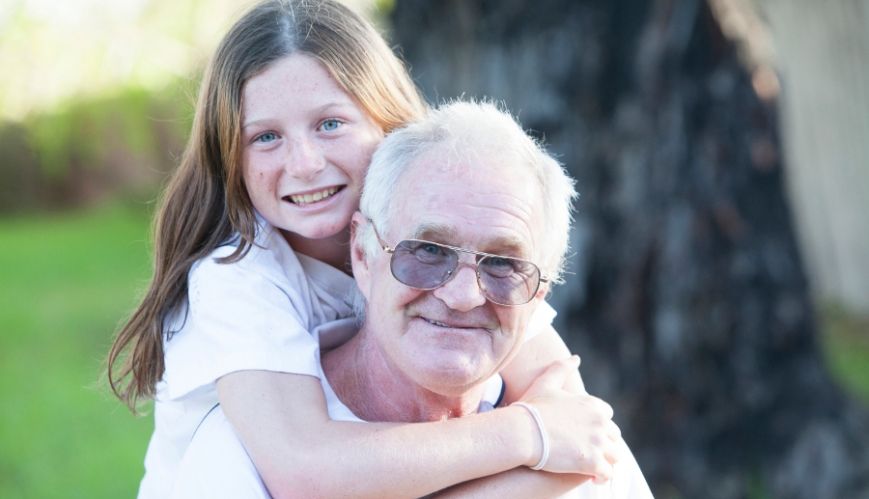 New day dawns for Reanna
7 April 2017
This story starts five years ago with a six-year-old girl. Her name is Reanna.
She lived with her dad and brother across the street from her local primary school in the northern suburbs of Wollongong, on the NSW South Coast.
Her mother was in prison for drugs offences. Reanna (pictured left) had behavioural problems. There were several suspensions from school.
Her favourite school activity was breakfast club – breakfast before class. She loved to get to breakfast club early to help set up the cereals, toast and juice. Her dad often supplied the juice himself, and sometimes cooked plate loads of pancakes for the kids.
Reanna was really proud when Dad produced his pikelets. Her favourite school person was the breakfast club co-ordinator, Elisha Hudson (pictured with Reanna below, right).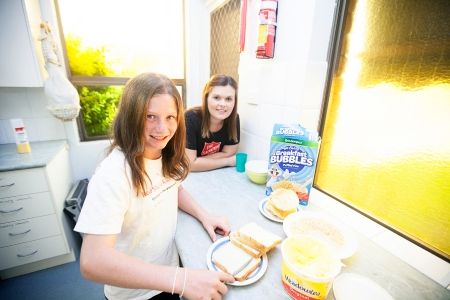 Elisha was employed as the school chaplain and teacher assistant. Elisha was a member of The Salvation Army Tarrawanna Corps.
Three years ago, Reanna asked her dad, Dave (Douglas), if she could go to "church" at The Salvation Army because one of her school friends had started attending.
Dave was not a church-goer. Church had not played any part in his life. He gave Reanna's request some thought. Eventually, he agreed. Reanna went to church with her school friend. She liked it and asked if she could go again.
Her dad gave it some more thought. He was a proud man. Raising a young daughter without a mum wasn't without its problems. There were stresses. He didn't want to give people any impression that he might not be doing his job as a father right.
Making enemies
Dave knew what it was like to battle. He was raised in England by his grandparents. His mother wasn't married when he was born. He wasn't told until he was 16 that his "aunty" was actually his mother.
Dave came to Australia for a holiday a year later. His mother and her husband came to Australia for work after another year. They invited Dave to move in with them. He did and, after a few more years, became an Australian citizen.
His first few years in Australia went reasonably well. He had work and a good social life. But, by 23 he was trying drugs. He started with marijuana, given to him by a work colleague. Dave got into the drug business in a big way. He became a dealer. He was good at it. He made a lot of money. He also made a lot of enemies. He was ruthless with customers who didn't pay on time. He could be "very nasty".
His drug dealing continued for about 10 years. During that time, he maintained a good job, married, had two children and separated. He was never short of cash. He had so much money, he now concedes, that he just wasted it.
Reanna's family has been transformed.
After stopping his own drug operation and separating from his wife, he moved in with a family member only to discover that they were growing marijuana in their home. Police appeared on the scene and Dave was given a community service work order and fine for being associated with the crime.
He moved again and met Donna (pictured below with Dave and Reanna), whom he had known earlier. They shared a house. That was almost 30 years ago. Drugs became an issue again. Donna was involved. Both spent time in jail. They had three children. Reanna was the youngest.
There were times when the children were taken from them and placed in care. There was a time when Dave tried to get Donna to give up the drug life. She wouldn't. He took the three children and left. They reunited. But drug taking continued.
Turning point
Three years ago, after Donna finished the last of her several jail sentences, she got straight back on drugs and Dave told her to leave. Within two days, Donna was in a coma in hospital. She had an aneurysm, which paralysed parts of her body. She was in the coma for three months, followed by a further five months in hospital and rehabilitation. She was then placed in a nursing home, even though she was still a young woman.
Dave struggled at home with his children, spending as much time as he could with Donna, encouraging her to stay positive and "prove the doctors wrong" about her future. It was during this time that Reanna started attending church at The Salvation Army.
"I didn't go with her the first time because I wanted to go and see Donna that day," Dave says. "I was reluctant to let her go by herself, but, I suppose, I gave in and said OK. But the next time, I decided to take her because I didn't want The Salvation Army thinking I was using them as a child-minding centre. I liked it. People were friendly. They made me feel like they were happy to have me there."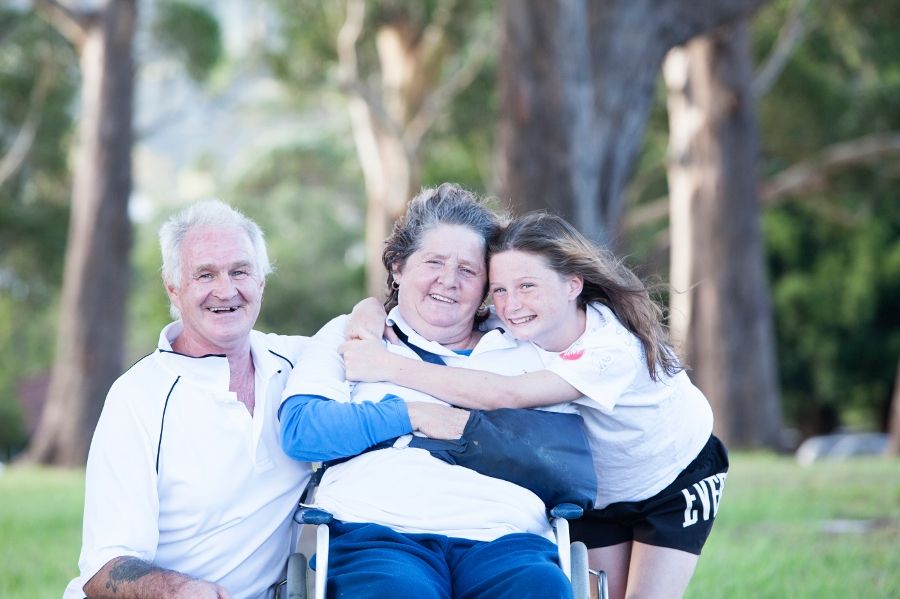 Dave pushes Donna 2km to church every Sunday.
He became a regular. Eventually, Dave was able to convince health authorities to allow him to take Donna home. They were provided with a house a few suburbs from Tarrawanna. They didn't have a car. Donna was in a wheelchair. Dave wanted to keep attending The Salvation Army at Tarrawanna on Sundays. He convinced Donna to join him.
Each Sunday morning, he pushed Donna in her wheelchair a few hundred metres to the nearest railway station, caught the train three stations, pushed her 2km to Tarrawanna Corps, another 2km back after the meeting, then home from their local station.
Growing stronger
Sixteen months ago, Dave and Donna were accepted as adherents of the Tarrawanna Corps. They rarely miss a Sunday. Dave is a regular collector and fundraiser for the corps. He helps sell cupcakes at Bunnings for a Salvation Army family counselling service. He mows the corps lawns. He was so excited the first time he did a shopping centre collection, he says, that he turned up two weeks early. "I love The Salvation Army and what it is doing for me and my family," Dave says. "I'm not educated to be a preacher or anything like that. But I can be an honorary member. I can't think of a better organisation to be a part of. I'm proud to wear the white shirt with The Salvation Army written on it. I grow stronger when I wear that shirt.
"People who knew me before – they call me Pommie Dave – they say, 'Hey Pommie Dave, does the roof fall in when you go to church?' I think that's great. I was just an old druggie. But now the Lord is helping me to put that behind me. I'm drug free and even though I still have a few drinks and a couple of cigarettes, they're decreasing all the time.
"I still call in at the office (hotel) and my friends just shake their head and say they can't believe it. But I can honestly say that since I started going to church, things in my life are falling into place. I'm still busy, but I'm less stressed.
I never went to Sunday school as a child or to church when I was younger. I don't have any religious education. I just call it as I see it. But I have found that even with just the little bit of faith that I have, good things happen. They have for me and my family."
Dave and Donna are planning to get married this year. "It will be at church (Tarrawanna Salvation Army)," says Dave, "in front of all of our friends." And a beaming Reanna, now 11, will be there alongside her parents – in the church where her family's life turned around.
Bill Simpson is a contributing writer for Others Magazine.