Missional ministry starts with one
Missional ministry starts with one
Melbourne Central Victorian Division Intercultural Ministries officers, Captains Monty and Mera Bhardwaj, speak about their experience as Salvation Army officers called to minister outside of the traditional view of "church".
Monty: We work from home and we minister wherever we find social connections and that's how we work. It was not about people "coming" [to a program], what we are doing here is a social connection. So when we became friends with them, they came to the Lord or they started to believe in Jesus, and they have more friends so we would meet at their home and get introduced to their other friends, develop relationships and say, "why don't you join this bigger family where we live according to the values of Jesus?" They would find it attractive and that's how we just kept on growing. Now we have a bigger faith community of 80 people. As people come to know about Jesus they go out and tell others. And that's how the family kept on growing. 
Mera: It's more a discipleship-making thing. What we do is, we have relationship with one person and we pray for their salvation and once he or she is saved then we disciple them and we say, "now it's your turn to go and disciple people" so they go and make  disciples and they come and let us know. And sometimes we don't even know how many people they're discipling!
 
Monty: We know people who were very devoted in different religions they believed but once they came to Jesus they just stopped. We never told them, we never tell anyone that you stop this or stop that, it's Jesus who brings transformation in their life. And they all say that they all feel more "free" to do anything that they want. They don't have to go to any temple or mosque to experience God but rather he is here with them all the time.
 
Mera: We have a lot of people from various religious backgrounds and all these people have come to the faith and now these guys are so passionate and full of fire that they go and tell others in their community about Jesus.
 
Mera: We don't have a building to worship. We don't focus on those things. We meet in local cafés, we meet in homes and we meet in parks or where our kids go to netball, activities, we meet them anywhere and everywhere. It's a lifestyle based ministry. We just talk to each other, share the good news of Jesus, share the stories and that's how we do it. It's very simple!
 
Monty: We never tell them that you have to become a soldier; you have to become an adherent. We only focus on Jesus. We are not concerned that our church has to grow, our community has to grow, anything like that. We are focusing on the Kingdom of God. The Kingdom of God has to grow. So once we focus on that, other things follow.
 
Mera: "Seek ye first the Kingdom of God and then all these things will be added to you" – in the same way, we invite people to enter into the Kingdom. Once they come into the Kingdom of God they know what The Salvation Army is, what the mission is, and then they join their hands in the greater mission with us. We have been enrolling soldiers and adherents because they've been showing keen interest that this is one of the Vehicles we can use to build the Kingdom of God in this world.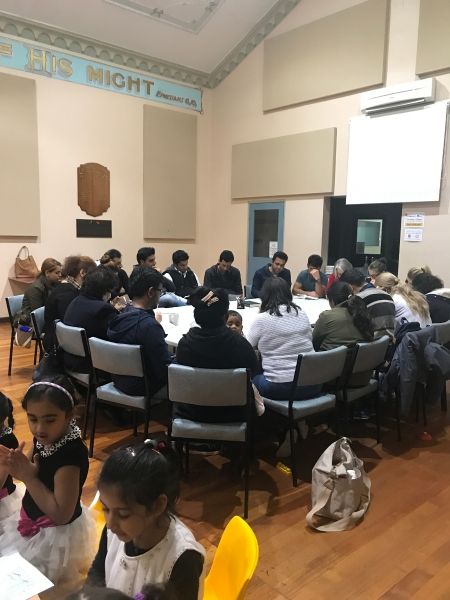 Monty: The Salvation Army is really supporting it a lot. There is challenge for some because it's not a ministry where it could be "seen". It's not Sunday morning worship where you can see number of people all together, but we do have greater gatherings where our people bring their food together and we have a big celebration in someone's home every month we do that. You know the leaders have seen and The Salvation Army is really excited, but at the same time they're thinking "how does this align?" because it doesn't align with the structure that much. But at the same time, we are enrolling soldiers and adherents because people have shown interest in that.
 
Mera: When you love someone with the genuine spirit of God they will really see that, and that's the type of love that compels them to know about him – that's what we have seen.
 
Monty: What we have seen is that people are sick and tired of religion. If [other Salvationists] want to do it [plant missional communities] they have to stop those mindset of, "I have a Sunday meeting, I need them to come on Sunday and not during the week". What we are doing is more relational and more social. What I would say is that you need to be who you are. Be always focused on the fact that our ministry life and our personal life (our lifestyle) is never separate.
 
These people are our friends – we are not the pastor, they are not the congregation – they are our friends. It's not that we help them all the time; we also get help from them at times. We are more like friends, like a family.
 
And it does start slow. It does start with one person and then slowly, slowly, slowly it grows. And the good thing about this, is the pastoral care of those 80 people [in our missional community] doesn't rely on both of us. Because it is a family, they care for each other.
 
It's just about waiting and having that faith and believing that God is going to do amazing things and ... discipling people and talking about him. Jesus is always knocking on the doors of people's hearts so if we just keep doing that, you know one day, you see fruit.

What are the key elements that make a Salvo church thrive, rather than just survive? Over the next few months, every Sunday, Others will feature stories where #salvoschurchlife is thriving. Please share with us what your #salvoschurchlife looks like by posting a photo to on a public Facebook, Instagram or Twitter page using the hashtag #salvoschurchlife or tell us your story by emailing: others@aus.salvationarmy.org