PNG trekkers to observe Anzac Day on Brigade Hill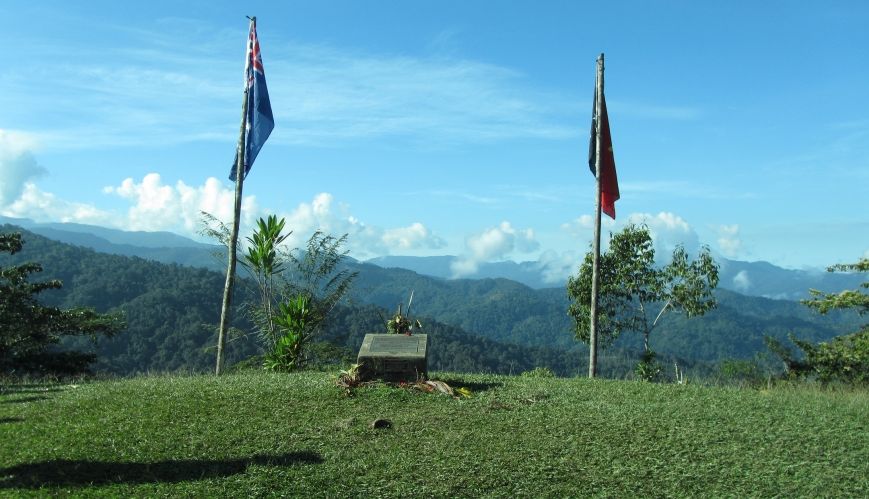 PNG trekkers to observe Anzac Day on Brigade Hill
19 April 2017
By Simone Worthing

Anzac Day this year will hold special significance for a group of Salvation Army trekkers who will attend a solemn ceremony on Brigade Hill, Papua New Guinea, just off the famous Kokoda Track.

Brigade Hill is the site of a desperate battle fought by Australian troops in 1942, to hold the advancing Japanese as far north of Port Moresby as possible.

"This trek also has an historical connection for The Salvation Army," says Peter Cleave, who coordinates the treks. "The Salvation Army 'Sallyman' was there in 1942, making a difference to the troops serving on the frontline 75 years ago.

"On this trek we have a few people whose grandfathers or great uncles fought on the track or elsewhere in PNG. This trip will have a particularly significant, and emotional effect on them, which all of us 28 trekkers will share."

Salvation Army Major Clint Castley, General Secretary, South Australia, is hoping to find out more about his grandfather, Joseph McGaffin, who served as an aircraft mechanic in Bougainville, PNG, in 1942. ""The details are sketchy, but an aircraft he was travelling in crashed and he was one of two survivors," said Major Clint. "Pop never talked much about it, so I am endeavouring to get more information, including a picture. I will keep following this up with family in Western Australia."
Lieutenant Mark Townsend, Inner City Network Chaplain based in Sydney, believes the trek is a once in a lifetime opportunity. "It is the 75th Anniversary of the Kokoda campaign, so to be on this trek at such a landmark commemoration is amazing," he said. "The Salvation Army has an involvement in the Kokoda Campaign that is unique and significant and, as an officer of The Salvation Army, it is amazing to stand in such a Christian tradition of ministry - where humanity can sometimes be at its darkest, or seemingly without hope, to bring the light and hope of God's love is a wonderful thing."
Lieutenant Mark's maternal grandfather fought on Kokoda. "I am privileged to have his diary that he kept while in PNG, and to be able to share in his footsteps will be a humbling experience," he said.
Daniel Johns also wants to retrace the footsteps of his grandfather, Sergeant Stephen Michael Donovan, whose WWII service from 1941-1945 included 100 days on the Kokoda Track. "Grandfather Stephen has been my inspiration for undertaking this trek," shared Daniel. "What he accomplished during WWII and post-service is the main reason I have taken up this challenge…

"The Salvation Army's Red Shield was a strong presence to help our soldiers in their time of need with kind words and a hot cup of tea. When my grandfather fell sick, the Salvos were there to help. So now I plan to return the goodwill by raising money for their charity."
Sue Watkins is doing the trek with her son, Michael, and "adopted" son Kristian. The three have served together in the Belconnen Corps for many years and Sue believes it's the "perfect outcome" to do the trek with The Salvation Army.
"I am almost 61 and am stepping way out of my comfort zone with this adventure but I decided it was now or never," she said. "I want to honour all the troops who served on the Kokoda Trail, as well as the presence of The Salvation Army at the time and the ongoing support they provide to others in need. I look forward to visiting the local villages and experiencing their cultures, becoming stronger both physically and mentally, and increasing my appreciation of those who fought for our country."
The Anzac Day ceremony will be part of The Salvation Army's Adventure Fundraising Program's Kokokda "Trek for Hope" which, through this trek, will be raising funds for The Salvation Army's Red Shield Appeal. After this month's trek, the next "trek for hope" will be from Colombo to Kandy, Sri Lanka, this October.
For more information go to salvos.org.au/adventure
If you would like to donate go to everydayhero.com.au/event/salvos-kokoda2017