You are here:
Home › News › 2017 › 05 › 11 › Patchwork Quilts Bring Hope To People Changing Their Lives
Patchwork quilts bring hope to people changing their lives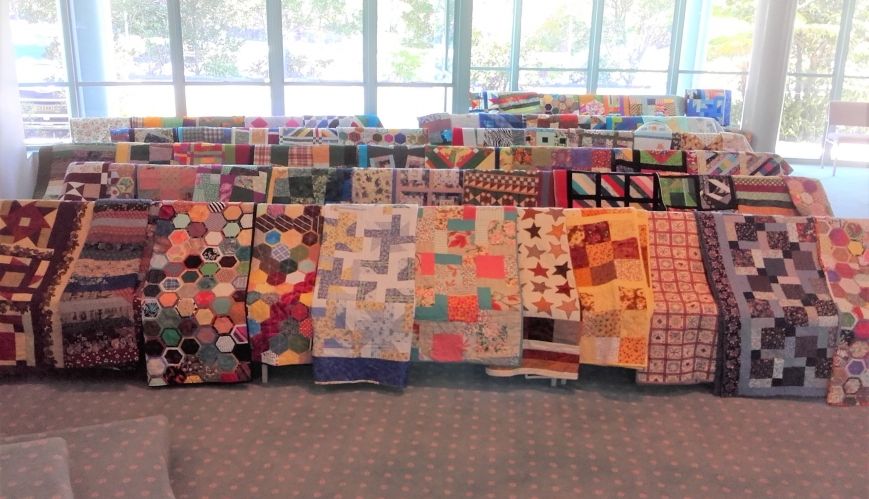 Patchwork quilts bring hope to people changing their lives
11 May 2017
By Simone Worthing

Lesley is one of more than 60 residents at The Salvation Army's Gold Coast Recovery Services Centre (Fairhaven) who, this year, have received handmade quilts made by the Patchwork Easyas group at the Gold Coast Temple and Palm Beach Elanora Corps.

"I just wanted to send a big thank-you for the beautiful quilt I received when I left Fairhaven," said Lesley. "I know every stitch is done with love and will be forever cherished."
Quilts are also given to residents at Still Waters, The Salvation Army's Gold Coast crisis and medium-term accommodation service for women; and to victims of natural disasters, such as those from the recent Tropical Cyclone Debbie.

Patchwork Easyas has been donating their beautiful handiwork for 12 years.

"The ladies in our group do appreciate what we have, and what others often don't," said Sandra Hiles, senior soldier at the Gold Coast Temple Corps, who runs Patchwork Easyas. "We also understand the courage it takes to change, and the help and support needed to do that.

"I tell the ladies, most of whom don't attend the corps, about Fairhaven, Still Waters, and people's testimonies, and they like to help The Salvation Army, and the residents. They are very supportive and I believe that is because we read a devotion each week, and our ministry is prayed over. God is at work."

Ben is a recent graduate from Fairhaven and expressed his thanks to the ladies for the quilt he received. "This means so much to me," he said. "I go to bed every night with the quilt wrapped around me and I feel the love put into it. The quilt reminds me of the support and love I have around me. It represents everything good about the Temple, Fairhaven and people like you ladies who help us in recovery."

The ladies are now also making beanies for those experiencing homelessness.

For more information, go to Patwork Easyas on Facebook.