Coffee and pies for the kingdom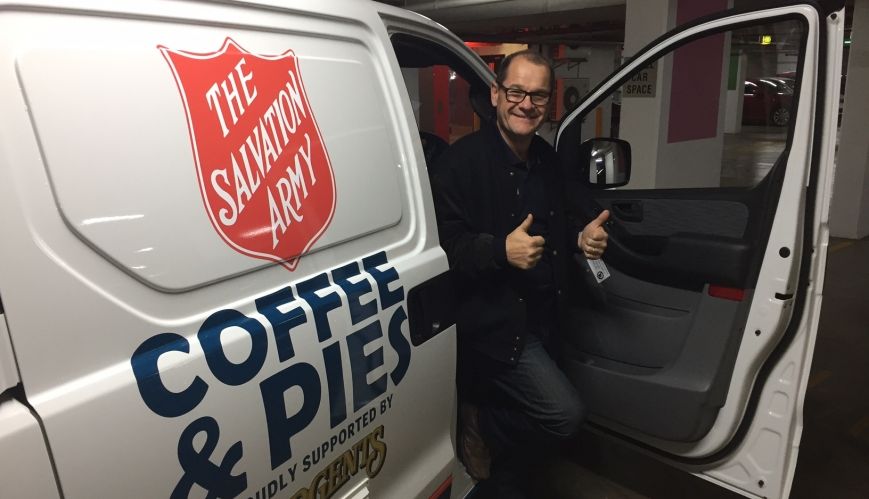 Coffee and pies for the kingdom
6 July 2017
A coffee and pie van, generously donated by Sargents Pies, will be used not to feed the needy, but to train them to help others.
There's not many things more satisfying than a steaming cup of coffee and a warm apple pie on a winter's day, so perhaps that explains Salvation Army Major Bryce Davies' wide grin. 
He's just taken possession of a brand-new coffee van, complete with a pie warmer and high-speed blender (for those of us who prefer frappes to lattes). But it's not the delights inside the van that's making him smile. It's the opportunities the van will open up for life transformation that has him excited.

"We're going to employ a dedicated pie-van worker," says Bryce. "And we'll use the van to give people associated with our various Communities of Hope the chance to volunteer, work and be trained in barista and hospitality skills, while making a difference in their own community by serving others."

It's about giving people that we journey with a chance to join with us in kingdom work. Because doing is much more powerful than observing.

This win-win scenario has been modelled on the successful Brisbane Streetlevel Coffee Van, which is consistently booked for community or business engagements and offers volunteering, training and employment opportunities to people engaging with the mission.
 
Johannes is the Streetlevel coffee-van coordinator. He's been on a long journey of recovery from a drug-filled life and has been connected with Brisbane Streetlevel for more than five years. In 2012, he gave up drugs for good, telling Team Leader Paul Maunder that he "couldn't be involved with The Salvation Army and drugs at the same time." He loves his role as coffee-van coordinator, which gives him purpose and energy for life.

"For the first time in my life, I have taken on responsibilities," he told Others magazine for a recent feature on Brisbane's Streetlevel Mission. "Streetlevel has built my self-esteem."

That's what Bryce is hoping the Sargents coffee and pie van will offer to the various Communities of Hope expressions springing up in and around Sydney. "It's a way of doing community that isn't involved in just serving people," he explains. "They get to volunteer and serve others.

"It's a way of shifting people that we connect with from "recipients" to "contributors" and we have had a number of stories of people that have actually gotten well from chronic issues because the coffee van gave them consistency and stability and purpose."

Communities of Hope or other Salvation Army expressions that wish to find out more about how they can book the Sargents coffee and pie van for their next event or to create community in their local area, can contact Purnima on 02 8644 0132.