Sunshine Salvos shining the light of Christ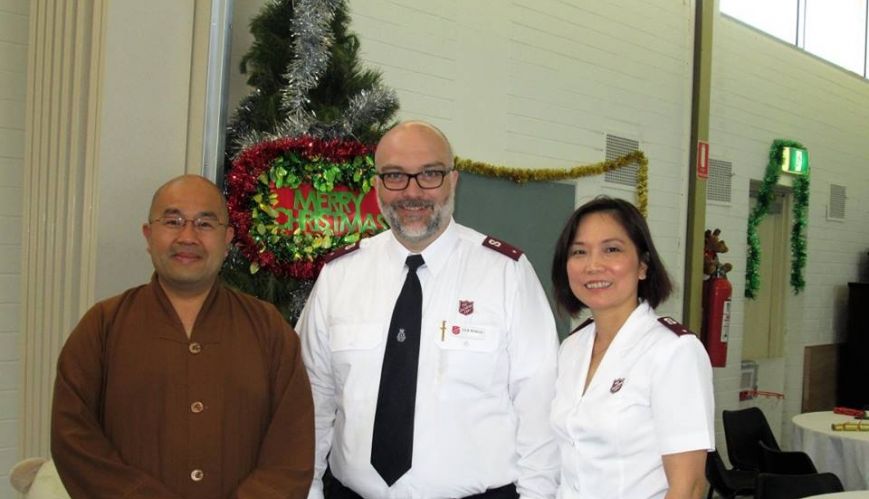 Sunshine Salvos shining the light of Christ
6 August 2017
By Lieutenant Colin Reynolds

There is a Vietnamese proverb that says, "one tree makes nothing; three trees together can form a high mountain." 

This speaks into the value of teamwork, friendship and unity. 

In some ways it is reminiscent of Ecclesiastes 4:12, "and though one might prevail against another, two will withstand one. A threefold cord is not quickly broken." 

At Sunshine Corps, in the Central Victoria Division, we have adopted this truth as a mission value, motivating us to reach out and serve the disadvantaged in the local community.

Sunshine is a vibrant and culturally diverse community with an especially large, thriving Vietnamese demographic. This diversity necessitates that we must employ creative means in offering new, appropriate and, most importantly, relevant faith pathways for people, particularly from culturally diverse backgrounds, to meet Jesus. 

Our faith community at Sunshine Salvos also reflects the same cultural diversity of the greater community where we serve, and this is a blessing. 

On reflection, I believe that the main reason we, at Sunshine Salvos, find ourselves in a productive season of attracting newcomers to the Army is because we present the way of Jesus Christ to such a variety of people by means that are fresh and applicable. And we recognise that some of our best partners in this process of discipleship are brothers and sisters from differing faith traditions, especially those from the Buddhist community.     

So, if there are three trees or three cords that define who we are and what we do at Sunshine, then who or what are they?

Our God is the binding cord, drawing together members of the Sunshine Salvos with compassionate friends from the Vietnamese Buddhist community. In essence, that is what makes the outreach of Sunshine Salvos that little bit different. For example, many Salvo corps and centres may offer a community meal to their local community, however, we offer it in direct partnership with our friends from the Buddhist tradition. Together we are making a difference in the lives of many people in need with the strength of three.

We stand alongside our Vietnamese Buddhist friends and serve our community together while having the opportunity to share our faith, both with them and also with those we serve.
 
Our mission together incorporates Salvation Army founder William Booth's theological position of offering "temporal salvation" to the last, lost and least – salvation in the form of material assistance in the here and now, be it food, shelter, employment or just a friendly chat over a coffee.
 
This holistic approach also values the innate spirituality within all people and acknowledges that others from different faith traditions can validly partner with the Salvos to bring a little more of heaven into people's lives here on earth.

For example, consider our friend Mrs. Kim Lu. Kim (pictured below left, with Lieut Reynolds) is the proprietor of a busy local bakery in Sunshine and also a Quang Minh Buddhist Temple* elder.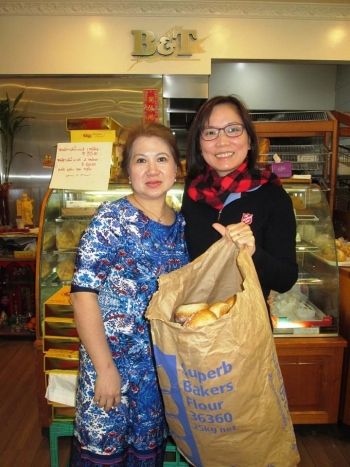 On a weekly basis she provides bread rolls for The Salvation Army Sunshine's Friday evening community meal. And once a month she also prepares, cooks and provides a meal for the 30-40 regular attendees at the community meal. 

Her compassion towards the hungry on a Friday night is fuelled by her own inner hunger to see people helped and fulfilled. She is an active part in bringing God's Kingdom into fruition within the Sunshine community and our hope is that one day she will know more personally the God whom she serves.

Though we may have different beliefs and traditions to our Buddhist friends, together we can still be used by God to effect transformation on our local community. 

I believe our unity in doing so honours God and is creating a high mountain at Sunshine Salvos where we can shine the light of Christ for all to see.

*Quang Minh Buddhist Temple in Braybrook, a neighbouring suburb to Sunshine, is one of the largest Buddhist temple communities in Melbourne. Every week it caters for between 1000 to 2000 worshippers and devotees.

Lieutenants Colin and Phuong Reynolds are the Corps Officers at Sunshine Salvos.