Captain Underpants: the first epic movie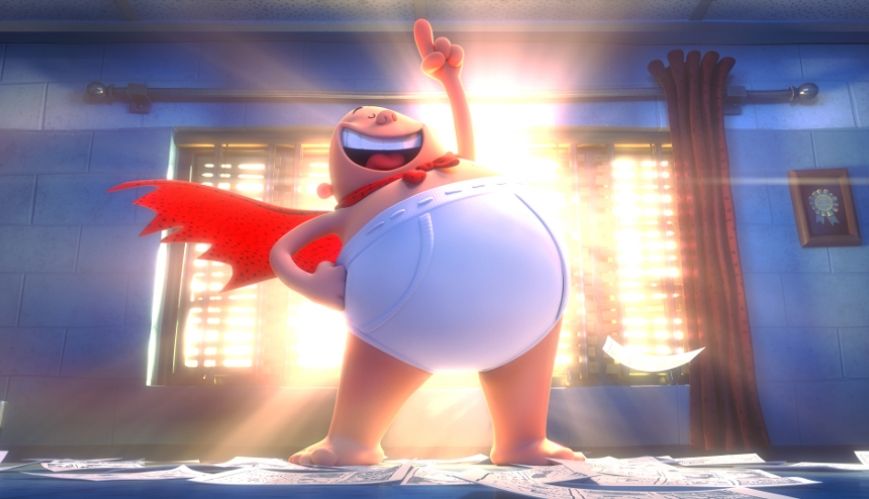 Captain Underpants: the first epic movie
13 September 2017
Captain Underpants: The First Epic Movie is based on the international children's book series written by author Dav Pikey.The comic-novel crossover holds the dubious honours of selling 70 million books worldwide, as well as being the American Library Association's most complained about publication.
Most of this stems from reactions to its bathroom-styled supervillains like Dr Diaper and Wedgie Woman. However, for all its toilet shenanigans, Captain Underpants is very much about making good on your mistakes. 
Captain Underpants centres on George Beard and Harold Hutchins, two Grade 4 friends.
They attend the intensely cruel Jerome Horwitz Elementary School, ruled over by the malicious headmaster, Benjamin Krupp. However, George and Harold maintain their happy mood by producing a school comic called "Captain Underpants" and pranking their principal whenever possible.
When the boys tamper with the school's new Turbo Toilet 2000, though, Krupp threatens to put them in separate classrooms, effectively annihilating their friendship.
In a moment of desperation, George uses a hypno ring he's discovered at the bottom of a cereal box to stupefy their enraged administrator. Suddenly, our heroes discover they can turn Krupp into anything they desire, and they quickly decide the world could do with a real Captain Underpants. How right they are!
Krupp-as-Captain Underpants is soon called on to battle the evil Professor Poopypants, who has commandeered the Turbo Toilet 2000 with the goal of eliminating laughter forever.
Yes, it's that ridiculous, and consequently just as likely to please primary-aged boys. My wife and I have three, and we learnt long ago that a bit of cheekiness is par for the course.
You have to choose your battles carefully when it comes to training up young men. Part of that has been helping them avoid the mere semblance of morality, and understanding what really matters to God.
So, throwing underpants at your brother is less important than fulfilling your obligation to love him. Captain Underpants' combination of irreverence and responsibility neatly supports our efforts, beginning with the laughs George and Harold's jokes bring, but ending with the realisation their prank at Krupp's expense has gone too far.
Krupp's past treatment of them doesn't justify their leaving him trapped in Captain Underpants' persona, or the complications that would result for everyone else.
They could just let him live out his fantasy, and no one would be the wiser, but that would be very shallow. Eventually they do the thing that's best for their principal and, in doing so, display the Bible's true definition of love.
Jesus was not averse to using humour to deflate the stuffed shirts of his day. His comparing Pharisees to people with logs in their eyes trying to pick out the specks in others' would have certainly got a laugh.
However, as sharp as our Saviour's wit might have been, it was never cruel. The point was to open eyes, not fill them with anger.
We too need to know how to laugh at the world's absurdities, but also where to draw the line.
Captain Underpants might end up sanctioning a few minor crudities around the house, but it can also help kids understand the proper place of humour.
Jokes might be used to deflate our pride, but they're never meant to destroy us. In the end, we'd rather pull the punchline than see someone really suffer.
Captain Underpants is rated G and is released in cinemas on September 14.