Support empowers Jonathon to turn his life around
Support empowers Jonathon to turn his life around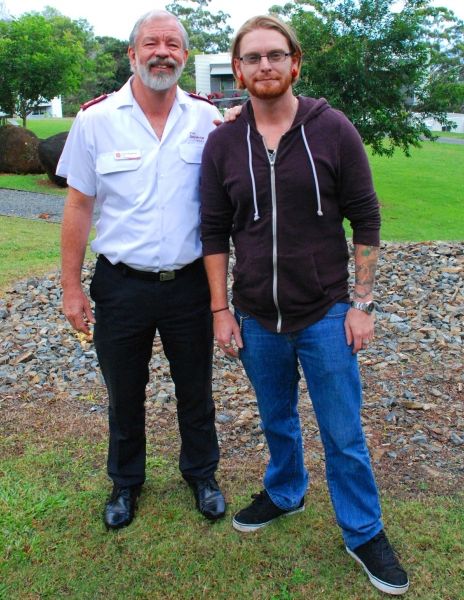 Jonathon with Major David Rogerson, Fairhaven Manager.
When I was five, my parents' business started going under, and we moved to the Gold Coast so they could start something new. It was a tough time even then. As well as financially, my dad was also struggling with terminal heart disease, which was devastating for a little boy who didn't really understand what was happening.
One of my brothers was diagnosed with a mental health disorder, which caused regular outbreaks of violence. Dealing with my brother, with his violence towards my parents, my siblings and me, was very difficult. At the age of nine I contemplated suicide. I went under the house with a pair of scissors and was going to cut my wrists. The thought of my mum finding my body just hit me though, and I couldn't do it.
I changed schools several times and went from public to private schools back to public when the family business went bust again and it was a struggle just to live. Around this time my dad had to stop work due to his health. This drove him into depression.
Around this time I saw my eldest brother using drugs and I thought it was cool. I just had a cigarette then, but it started the ball rolling ... I also wanted to drink, to get tattoos, and was fascinated with crime. I'd heard stories of Dad's brothers and their involvement with crime, drugs, alcohol abuse and violence. It was all around me. Home life was very broken.
Through Grade 7 and 8 I was heavily bullied. In Grade 8 I lost the spark to live again. I also lost my faith. I went to a Lutheran school but I kept thinking, "I've done nothing wrong, how could I be dealt such terrible cards?"
By the end of Grade 8, I was using cannabis daily. I also had my first experience with alcohol and got drunk at school. In Grade 9 I was using cannabis several times a day. I also began to drink around two bottles of spirits each weekend. Halfway through Grade 9, I tried amphetamines. I didn't start using them regularly, though, until I was 17.
At the beginning of Grade 10, I was caught with drugs and expelled. Mum found a school that would take me, but it wasn't for me so I left and got a job. My job funded my using. By 17 I was using LSD, ecstasy and amphetamines. I would use cannabis and alcohol during the week and amphetamines during the weekend. This continued until I was around 21.
My mum then moved overseas and my dad joined her. I had to fend for myself without family support. I had a few run-ins with the law.
Dad passed away and I was unable to attend his funeral because he was too far away. That drove me into the ground. I started to use amphetamines through the week. Drugs would take away pain and numb everything.
I went to live with Mum overseas. I got a job there, stopped the amphetamines and my mental health improved. I then returned to Australia but within an hour was back on the amphetamines. Life started to go downhill very quickly. I started methamphetamines.
Through the help of a friend I'd known since I was five, I went to The Salvation Army's Turning Point (Southport) an emotionally broken person, and surrendered myself to detox. I then transitioned into Fairhaven – The Army's Rehabilitation Service at Mt Tamborine, to address my emotional issues for the long term. God was looking out for me!
I looked at my life and started to change my behaviours. My highs and lows started to balance out over time. I started to give back, to volunteer, to help out. Since graduation I have chosen to stay in recovery. I began a Certificate IV in Community Services. I was volunteering at Turning Point and am now working at Fairhaven as a casual support worker.
My life is moving forward. I am doing the best that I can. I have lost the desire to use and am two years clean. My faith in Jesus is growing every day. They say that the difference between religion and spirituality is that the first is for people who don't want to go to hell, and the second is for those who have already been there. I still have issues, but I am working on them.
The Salvation Army has helped me turn my life around and I am giving back. I just want to say to them, thank you. And to other users, never, ever, give up. The support is out there – access it, and turn your life around.