Blind Tom, the Salvation Army bandmaster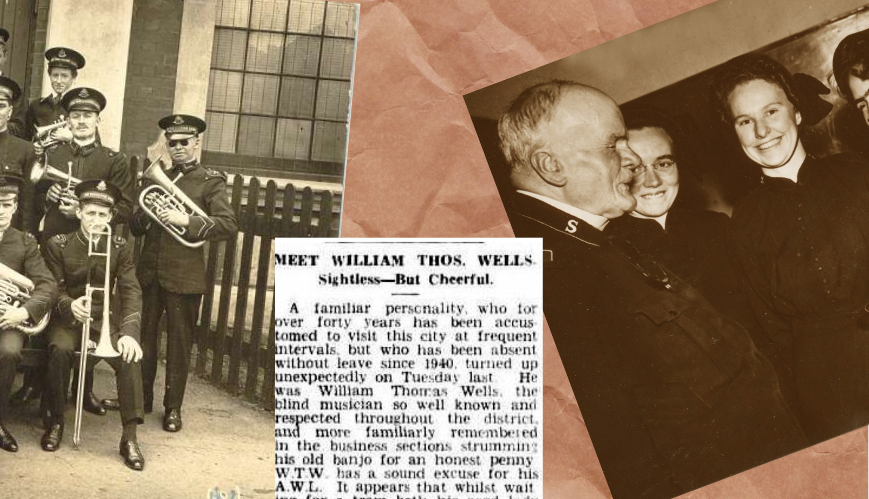 Blind Tom, the Salvation Army bandmaster
'Blind Tom', was loved and respected wherever he went. (Article in centre courtesy of Williamstown Chronicle (Vic, 1856-1954), Friday 25 September 1942, page 1).
By Lindsay Cox
William Thomas Wells, better known as 'Blind Tom', was a dedicated Salvationist and bandsman for 55 years.
He twice held the commission of Bandmaster – these being at Warracknabeal and Stawell in Victoria. He would have the score read to him, and his excellent memory and sharp hearing would enable him to bring the music out of the band.
William Thomas Wells was born in Stawell in 1870. As a lad, he attended the Royal Victorian Institute for the Blind, where, among other things, he learned to play a brass instrument. He became not just a bandsman but a musician of a very high order, easily playing from memory the music of Mendelssohn, Mozart, Haydn and Handel.
In Army bands, Blind Tom (as he became widely known) first played the cornet, but for the greater part of his service, he played Bb bass. He was associated with Preston, Coburg, Malvern and finally Balaclava Band, where he soldiered for 29 years.


While he went through life with a passion for God and music, interestingly, his brother Jack Wells was an accomplished Australian Rules football player and was captain of the Australian Football League team of Saint Kilda in 1907-8, before becoming the captain of the Carlton Football Club from 1912-13.


Irrespective of his brother's fame, Tom was loved and respected wherever he went, as evidenced by a bizarre mention in the Williamstown Chronicle in September 1942. In an article titled 'Sightless – but cheerful', he is noted as "a familiar personality who for over 40 years has been accustomed to visit this city at frequent intervals, but who has been absent without interval since 1940".
Tom and his wife made the local news due to a serious accident caused by the actions of a young man who had stolen a car, taking it out for a 'joy ride'.
"It appears that whilst waiting for a tram, both his good lady and himself were toppled over. The lady had both legs broken and the hubby one badly smashed," it states. "But the happy, old couple got out of the incident with the injuries already described plus eight months in the Royal Melbourne Hospital minus, in all probability, a few years of life."
Previously, it appears Tom would visit Williamstown and play his "old banjo for an honest penny" in the business sections of town. Although there's no reason given for Tom's initial visit to Williamstown, the reporter evidently spoke to Tom who made sure everyone knew he was still a Salvation Army bandsman and had been for more than 50 years!
Shortly after his 86th birthday, deteriorating health prevented him from attending meetings, and Blind Tom was promoted to glory from a home for blind people in Brighton on 14 November 1956.