Counselling service answered the call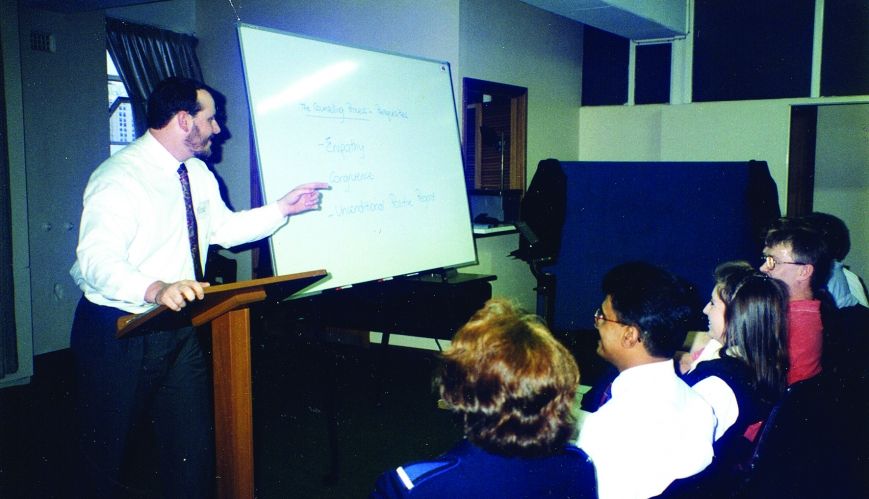 Counselling service answered the call
Intervention in times of crisis has always been part of The Salvation Army's ethos. The Army's founder, William Booth, was firmly convinced that one of the best ways of preventing people sliding into despair and hopelessness was to establish programs to help them before they reached that stage.
In his book, In Darkest England And The Way Out, Booth dealt with the hopelessness of women caught up in prostitution. He wrote: "The state of hopelessness and despair in which these girls live continually, makes them reckless of consequences, and large numbers commit suicide who are never heard of."
In 1982, as The Salvation Army celebrated a centenary of ministry in Sydney, a small committee from the Army's Sydney Congress Hall suggested setting up a program that would be ongoing. The next year, following a suggestion from corps member Alan Staines, a 24-hour Salvation Army crisis phone service was established. Alan would oversee it, supported by volunteers from Congress Hall and Dee Why Corps.
By late 1984, high demand on the service saw the Sydney East and Illawarra Division come on board to fund and support it. 
Following representation from Alan, the NSW Government offered a three-storey complex, formerly the Crown Street Women's Hospital, in Surry Hills, as a base for the service. In July 1986, it became the new home for Salvo Care Line.
Monetary support
The service was also introduced in Brisbane in 1989, closely followed by the Queensland's Sunshine Coast where it was sponsored by The Salvation Army's Nambour Corps.
In response to the alarming statistics of youth suicide and homelessness, government funding was secured and Salvo Youth Line, a national telephone service, was opened in January 1989 by then-Prime Minister Bob Hawke.
In November 1997, Yvonne Dewar was appointed as manager and brought with her a high degree of dedication and training as a counsellor. Following her address to a major Sydney Rotary club, a sum of $1.5 million was promised by the club, with a further $60,000 being donated for a training hall by the Proud Foundation. In March 2006, the Army's Australia Eastern Territorial Commander, Commissioner Les Strong, officially opened the new complex in the inner Sydney suburb of Five Dock, debt-free.
The service has been well supported by Christian media outlets such as radio station 103.2. During the 32 years Salvo Care Line has been operational, it has only been off-line for one hour – while the service was moved from Surry Hills to Five Dock.
Service disconnected
Since Salvo Care Line commenced its operations a number of other phone counselling services have entered the field and offer online counselling services as well, adding a new dimension to this emergency help area.
As the result of an in-depth and ongoing review of all programs, The Salvation Army has come to the conclusion that while Salvo Care Line has met a crucial need and served the community well, it is time to close this service and turn attention to other areas of human need.
The closure of programs has often been part of Salvation Army philosophy.
In Victorian times, many working in match-making suffered from the fumes of dangerous chemicals. To address the problem, The Salvation Army established a clean, airy factory that produced safety matches made from safe materials. 
As a result, conditions in the whole industry were improved and the use of dangerous chemicals to make matches was made illegal.
Having proved a point, the Army closed the factory.