Cuppa tea, General?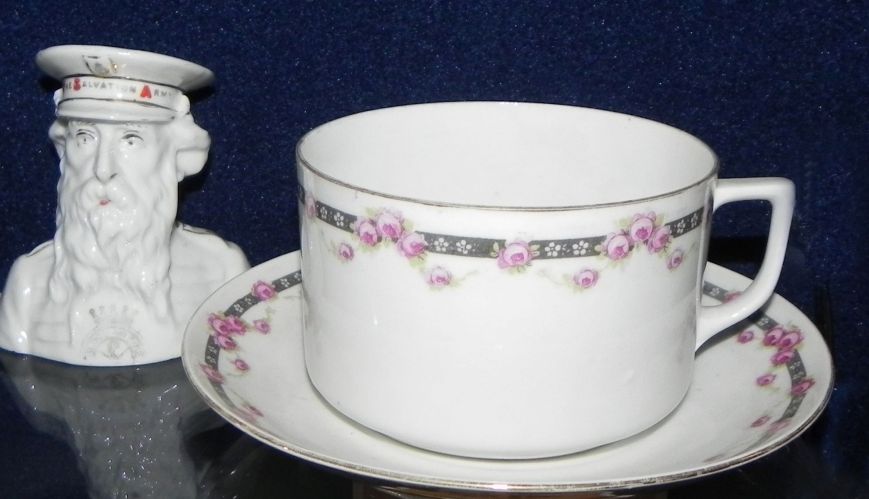 Cuppa tea, General?
There's a story behind how General William Booth's fine china matched cup and saucer ended up in Australia.
by Lindsay Cox
Often as I sit among the thousands of objects on display in our Salvation Army Museum, in Bourke St, Melbourne, a visitor will ask me, "What is your favourite thing?"
The answer, my friend, is 'blowing in the wind', for here I lack consistency, seemingly to be dependent on mood, companionship at the time, have I had morning tea yet, or even, perhaps, phases of the moon. However, if I may (mis)quote Julie Andrews, 'This is one of my favourite things.'  
It's a fine china matched cup and saucer, nicely decorated with flower motifs. The maker is not known, and the cup is marked 236/6 on its base. There are no Salvation Army motifs or markings on either piece, but there is a strong Army connection. It may not have directly been instrumental in bringing people to Jesus, but it no doubt gave sustenance to one who did, for this cup and saucer belonged to General William Booth. 
When William Booth was promoted-to-glory on 20 August 1912, Brother Reynolds, the janitor at IHQ, removed this cup and saucer for safe keeping from Booth's office desk and took it home (obviously to ensure its continued safety). 
Brother Reynold's daughter, Millicent served as a Salvation Army officer and years later upon her retirement in the UK Territory, migrated to Australia and soldiered at Box Hill Corps. A few years before her promotion-to-glory in 1994, Brigadier Millicent Reynolds (R) gave the cup and saucer to Territorial Archivist George Ellis for further 'safe keeping', along with the comment that she felt a twinge of guilt about her father's unofficial acquisition of the items. 
The significance of the item is more than its value as an attractive example of 110-year-old crockery or that it belonged to a famous person; certainly even more so to us because it was William Booth's. To me it is a document that tells us a little about its owner. We read that Booth liked a good, hot cuppa. Well, we now know he liked it in a big cup of fine china. I wonder if he slurped from the saucer when it was too hot? 
The cup and saucer are a tangible connection to someone we can only connect with through photographs and writings. It is an item of 'normalness' used by someone who was far greater than most of us normal mortals; and it helps me see 'Bill' as a real person. 
I can just imagine Brigadier Fred Cox (no relation to the author) sticking his head around the door of the office and saying, "Cuppa tea, General?" 
LINDSAY COX IS MANAGER OF THE SALVATION ARMY AUSTRALIA MUSEUMS