God at the centre of Elsie's lifetime of memories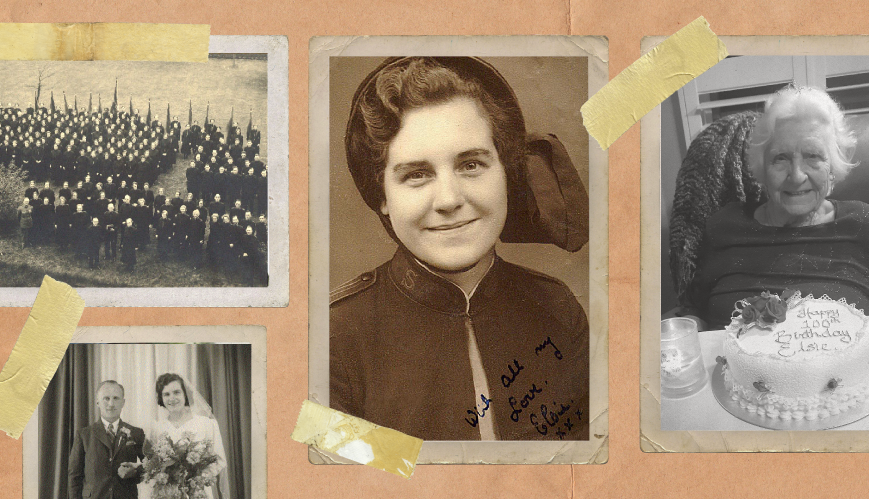 God at the centre of Elsie's lifetime of memories
Elsie Mallard has given God her 'all in all' for the past 100 years. Top left: The 1941 Crusaders session of cadets in England. Bottom left: Elsie marries her sweetheart Joe. Middle: Elsie as a captain in the 1940s. Right: Elsie celebrates her 100th birthday in 2020.
By Jessica Morris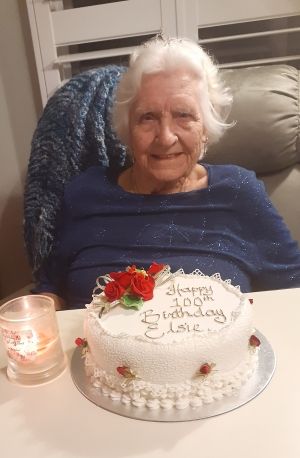 Elsie celebrated her 100th birthday among friends, with a cake and a letter from HRH Queen Elizabeth II.
Not many Salvation Army officers can say a General commissioned them during the London Blitz of 1941.
Then again, not everyone is Elsie Mallard.
Earlier this year, Elsie celebrated her 100th birthday and 60th anniversary of living in Australia. A lot has changed in that time at her beloved Mooroolbark Corps in Melbourne's outer east. But one thing that hasn't wavered is her love for Jesus. And given this devotion was forged during World War Two, it's no small wonder.
"My commissioning weekend was in May 1941 in London, and I had my 21st birthday on the Friday. We were the Crusaders [session of cadets]," recalls Elsie. "There was a bad air raid overnight and on the Saturday we went up to Kennington Lane Corps to do various things, and the ladies at the Home League had made us tea for our commissioning."
Even in the middle of the London Blitz – when the city was bombed by the Germans for 57 days straight – you can trust the Home League to come through with afternoon tea. But for Elsie, this act of hospitality has stayed with her.
"We went back to the International Training College at Denmark Hill by 6pm because of the air raids. And it was dreadful – we were down in the basement all night long. It was shocking; you could hear the bombs going off. On the Sunday morning we were just told 'go to your corps and do what you can', and I can't really describe what London was like."
Large parts of London were in ruins. As Elsie came out of the college on the Sunday morning, she realised many of the buildings surrounding the college had been bombed, yet the college was more or less untouched.
"All around the college was bombed. I'm not exaggerating. God took care of us," she said. "I was sent to Kennington Lane Corps. There was no transport, so you just had to keep walking. And when we got there, we were met with the bad news that a number of the ladies who had given us tea were killed during the night."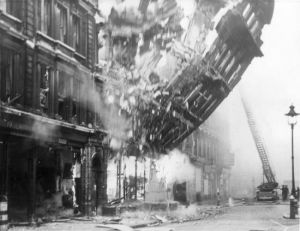 The Salvation Army International Headquarters building survived The Blitz but later fell after a night raid on London (Image courtesy IHQ).
Perhaps Elsie's ability to recall this tragic, yet formative weekend, is due to the camaraderie she found in her session. The Crusaders were kept together at the college instead of being spread around England for training, and together they were the hands and feet of Christ to firefighters and survivors.
"We just walked around London, around Kennington Lane, and all areas around there," says Elsie, her voice catching from emotion 80 years later.
"We walked all around the bomb site, serving cups of tea to these firemen. That was that commissioning weekend. It was horrific, it really was. At one bomb site I had 10 cups – one on each finger. Two firemen grabbed me by the elbows and lifted me up about a metre to where they were and I didn't spill a drop!"
Life as an officer
The Crusaders were commissioned by General George Carpenter, an Australian, in a low-key ceremony. Elsie, now a lieutenant, was sent out to Morpeth in Northumberland to support a corps living through war. A series of other appointments followed before Elsie contracted bronchitis while serving at the small Theodore Street Corps in Birmingham.
It was a second bout of the illness that forced Elsie to step aside from officership. But not before she met the key to the next season of her life – her husband, Joe.
"I was stationed in Birmingham on my own. It was really hard work, you know? The war was over by now, but there weren't many officers. But there was a man – Joe, the corps treasurer at Theodore Street, Birmingham. He would never let me go to the pubs alone. I would go in, and he would wait for me outside."
When Elsie told Joe that she was stepping down, he responded with a marriage proposal. It was the first indicator he had ever given Elsie that he was interested in her. "He never gave a clue the whole time. Never a word out of place. He said to me afterwards that he would never have proposed if I'd wanted to stay in the work [of officership!]," she says.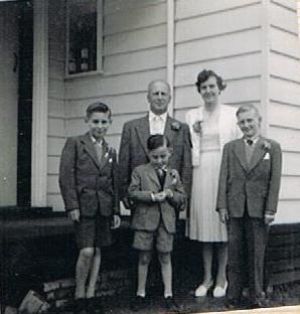 Joe and Elsie with their children in the 1960s.
Immigrating to Australia
Theodore Street Corps closed down about seven years later, so Elsie took her three children along to the local Pentecostal church for Sunday school. Her chapter with The Salvation Army seemed to have come to an end.
The family migrated to Australia in 1960 and settled in Melbourne's eastern suburbs. One day in 1966, Elsie saw a familiar sight. "I was at the kitchen window, and I could see a small group of Salvation Army cadets. They came down the street and stood right opposite the front window and played the piano accordion! Then they broke up and two cadets came knocking on my door."
Elsie didn't want to answer the door – her time with the Army had finished, or so she thought. So when her husband welcomed cadets Val Hewitt and Sandra Callander into the house, she politely agreed to attend a service at Mooroolbark Corps the next Sunday.
Elsie (right) pictured on the cover of the Young Soldier in April 1973 with young people from Mooroolbark Corps.
She failed to mention she was a former Salvation Army officer – but it didn't matter. Because that Sunday, Elsie and her son Eric found a spiritual home at Mooroolbark Corps, and in Elsie's words: "I've been ever since".
Elsie's all in all is Jesus
Ministry takes many forms and, even without her red epaulettes, Elsie has been a diligent servant in the years since. She recounts her time serving in Sunday school as Young People's Sergeant Major ("we had 200 people once!") and with various young people's programs at the corps.
After the passing of Joe in 1989, Elsie and Eric remained an integral part of Mooroolbark Corps and it remains this way today – because not even a pandemic can break a lifelong commitment to the Army – and especially Jesus. "I was only eight when I first came to love Jesus, and he's always been part of my life ever since. I couldn't live without God, I don't know how people do," says Elsie. "I loved working in the Army and I loved working with the people."
How do you sum up a life marked by faithfulness through some of history's biggest events? Elsie's son Eric is able to say it plainly: "I want people to know what she would want people to know – and that is about her love for God, and that is the foundation of who she is in her life. Christ is her all in all. And everything else is built on that."