'Fighting Macs' stand tall in theatres of war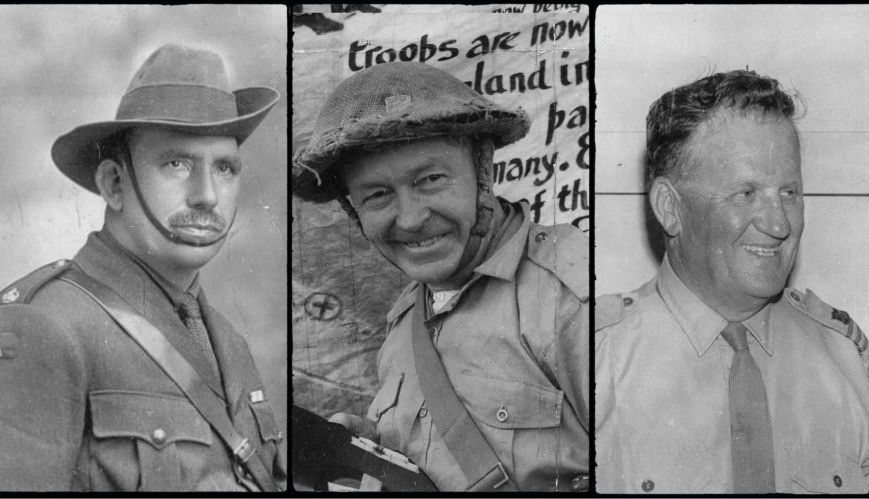 'Fighting Macs' stand tall in theatres of war
The three 'Macs' – Chaplain-Major William McKenzie, Red Shield Representative Arthur McIlveen and Red Shield Representative James Macintyre.
By Lindsay Cox
Three different wars in different terrains during different eras involved three different men who shared the nickname 'Fighting Mac'.
The muddy trenches in France in 1916 were a huge contrast to the arid desert foxholes of North Africa 25 years later; and the steamy jungle dug-outs of Vietnam a further 25 years on contrasted the former two.
World War One
William McKenzie was 47 years old when he arrived in France with the 4th Infantry Battalion at the end of 1915; Arthur McIlveen was 55 and attached to the 2/9th Infantry Battalion when he landed in North Africa in 1941; and James Macintyre was in his late 40s when his appointment saw him serving infantrymen of the 8th Battalion Royal Australia Regiment in 1969.
These three men were Salvation Army officers appointed to the War Services Department and had received little or no military or physical fitness training prior to being appointed to a military unit on wartime overseas service. But they endured the same risks as frontline soldiers half their ages, living and working with them, never shirking any hardship or danger, while at the same time providing a fulsome service to keep up the morale of the troops.
Many years after World War 1, Private Alexander Parry of the 4th Battalion told his daughter:
"We were just coming out after a month in the trenches and I hadn't had a warm drink or a warm meal for a whole month! And as we came there was the dear old 'Fighting Mac' with his urn going and he gave us a hot cup of coffee. He was always there when needed."
'Fighting Mac' was Chaplain-Major William McKenzie, who had landed at Gallipoli in 1915 with the 4th Battalion and then accompanied them to the trenches in France some 12 months later.
From the trenches, Private Tom Smith of the Australian Army Service Corps wrote to his brother in September 1916:
The bravest man here is 'Fighting Mac', the only clergyman that was in the trenches and was out in front bringing in wounded and burying dead. I saw him burying a man who was one moving mass of maggots.
It wasn't just the dead that McKenzie tended to. Private Edward Lynch of the 45th Battalion wrote in his diary in March 1917:
We are at a little Salvation Army canteen at the edge of Delville Wood where we get hot coffee and a few biscuits. Here, almost at the front line, we can get our letters posted and get writing material to write home. Here, day and night, the drinks are offered to all, to the men going in, to the men coming out. Many a wounded man has here been given the drink that has provided him with sufficient strength to hang on long enough to reach the Main Dressing Station alive. All creeds and classes are welcomed. The enemy prisoner on his way back to the P.O.W. cages is just as sure of that little touch of humanity that is supposed to make the whole world kin as is the ribbon-bedecked general of a British Army Corps. Officers and privates, all religions and no religion, friend and foe, will here find a helpful welcome from 'Fighting Mac' whose sincerity carries him above and beyond the petty borders of class, creed and country.
McKenzie explained what he felt was his most important duty in France:
We went out to meet the chaps coming back from the fighting line, and gave them a song home. We sang to them, played to them, joked to them. The great thing was to make them forget as soon as possible the hell they've come from.
World War Two
A quarter of a century later, Red Shield Representative Arthur McIlveen, a philanthropic welfare officer appointed to the 18th Brigade, was bound for the Middle East. There he spent April to October 1941 in Tobruk, besieged by the German Afrika Korps, where he became one of the so-called 'Rats of Tobruk' (who celebrated the 80th anniversary this month of the start of the siege of Tobruk, on 10 April).
Lieut-Colonel Ray Goward, the Australian Comfort Funds representative in the Middle East, wrote of this WW2 'Fighting Mac':
Whilst the Tobruk actions were on, 'Fighting Mac' was well forward and served every wounded man of his battalion passing through the Field Ambulance with a cup of coffee, preparing them for the long trips ahead in ambulances over rough roads. Mac was not one to discriminate between friend or foe. During one battle he crawled forward in the dark and found a wounded Italian soldier and offered him his waterbottle. Instead of taking a drink, the wounded Italian rolled over and held the water-bottle to the lips of his wounded comrade. Then he took a single sip for himself and handed it back and said, "Grazie." Mac later told me he thought, "Australians aren't the only ones to have cobbers!"
A Company Commander from the 2/9th Battalion wrote to Salvation Army Headquarters: "Your Brigadier McIlveen was probably the most blitzed man in Tobruk; in the Red Shield House or upfront with the troops he did his duty, regardless of danger."
And the Rats of Tobruk Association wrote to McIlveen after the war, stating: "You had so little to give, yet your constant smile, faith in victory, courage and complete disregard of your own comfort at all times, your humility, self-effacement and driving force took you far beyond the call of extraordinary duty.
Vietnam
The third 'Fighting Mac' of this trilogy was Red Shield Representative James Macintyre. As a young Salvation Army Lieutenant at the start of World War Two, Macintyre had been one of the first Red Shield Welfare Officers appointed in Australia. And a quarter of a century later he was again in the same role, but posted to South Vietnam.
Lieutenant Ian Smith was a Platoon Commander in 8RAR during the Vietnam War. When interviewed in 1996 he said:
"I recall a story, related to our Salvation Army representative Jim Macintyre, who was better known around the traps as 'Fighting Mac'. Well, one of our soldiers in a rifle company serving well forward in enemy territory, had been in a few nasty spots and was a bit shell-shocked. I send him back to the rear to be the driver/assistant for the Sally-man. And a lot of blokes would have thoroughly enjoyed that as it was a good break from their usual hazardous duties. But, what apparently happened was that, as was his want, the Sally-man used to go all over the action, God bless him, and he'd be going around in his Land Rover with his little soldier-assistant driving and helping him carry the tea urn and such. On this occasion, 'Fighting Mac' went out to one of the very forward areas with his new driver. I gather that they got lost and the driver got the Land Rover stuck on a log. They went around to the front of the Land Rover and were going to try and rock it off, when they saw a large artillery shell rigged up as a booby trap to go up underneath the log. And had they pushed the Land Rover across, then they both would have been blown up. Of course the story going around after that was this young soldier just wanted to get back to his rifle platoon and go back on his patrolling, ambushes, fighting the enemy, and so forth; where he felt it was safer than being Jimmy Macintyre's driver."
But, these incidents, and there were others, did not deflect Jim Macintyre, who said: "Nothing was more important than my determination to look after the boys of the Battalion."
Three men, one aim
Three men nicknamed 'Fighting Mac' with one aim; to minister spiritually and temporally to Australian soldiers in time of war. These three 'Fighting Macs' followed Australian soldiers up and down the fire-swept ridges, carrying drinks and comforts, often tramping miles for their mail; praying with them, helping them to live, supporting them as they died. Burying those brave young men fallen in battle and spending far into the night writing to the deceased's relatives.
Three men living their belief of heart to God and hand to man!
Cuppa Tea, Digger?
For more stories like these, based largely on more than 180 oral histories of diggers and Salvos' philanthropic Red Shield War Services (RSWS) personnel during World War Two, Lindsay's book, Cuppa Tea, Digger? Salvos Serving In World War 2, is now available, at a cost of $80. Order online at commerce.salvationarmy.org.au or call 1 800 100 018.
Lindsay Cox is the Manager of The Salvation Army Australia Museum.
This article first appeared in Salvos Magazine