On your bike!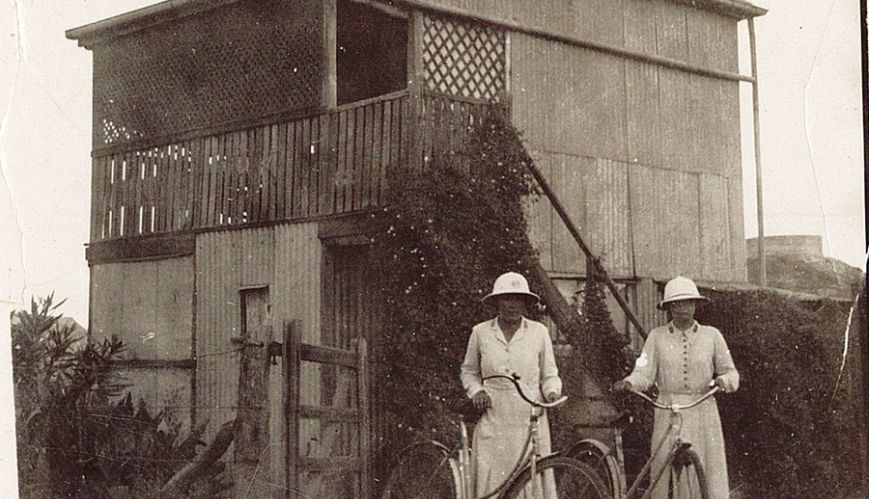 On your bike!
In the early part of the 20th century, bicycles were used by many intrepid Salvationsts to help spread the gospel. More than a century later and cycling is still used for ministry by the Salvos.
It should be noted that the original "Salvation Riders" were actually two blokes on horseback.
On 12 January 1893, two young Salvation Army officers, Captain E.A. Sincock and Lieutenant George Haycraft, were commissioned to go forth on horseback and carry salvation to settlers and farmers throughout Queensland. The name Salvation Riders was given to the intrepid pair who, with saddle-bags loaded, set out in faith and with determination.
Later, Salvation Riders became a term used to describe Salvationists riding bicycles. In the early 1900s, cars were a luxury and officers had a choice: walk or, if you had enough money to buy a bike, ride. A report in The War Cry of 23 May 1914, speaks of Ensign W. Purcell's use of a "Scarlet Runner" bicycle in ministry in the area around Hill End in western NSW, at times clocking up 50-60 kilometres a day.
Mt Isa Corps Officers, Constance Worley and Evelyn Holmes, used bicycles to navigate the large mining town. After riding many kilometres through the heat and dust, it was a miracle that their starched white Salvation Army uniforms stayed white!
In fact, the use of bicycles as a practical means of gospel delivery was questioned over the years.
In 1906, Lieut-Colonel Horskins wrote in an article in The War Cry. "I might say we do not favour the use of the bicycle because: it has proved a failure in the majority of cases, particularly in outposting; it is detrimental to the health of the officers in many cases, and very heavy on clothing; the distances to cover are so great that the officer is unfitted to do justice to his meetings when reaching his destination; then in certain seasons there are heavy rains and impassable roads to contend with."
Consequently, as motor vehicles became more common, The Salvation Army's use of bicycles changed.
In the 1940s, William "Dick" Guy completed a Melbourne to Adelaide cycle to raise money for The Salvation Army, and received his call to officership during the journey!
More than 70 years later, in 2013, his grandson, Aaron Petersen, a member of Noble Park Corps in Victoria, rode that same journey, to raise money for the Red Shield Appeal. The following year, Aaron's brother-in- law, Captain Johnmark Snead, led a group of "Red Shield Riders" around Tasmania in a fundraising ride, an event that is now held annually.
In 2019, The Salvation Army's Adventure Fundraising will stage a multi-day bike ride from Sydney to Melbourne, via Canberra and the Snowy Mountains.
The Advenutre Fundraising website says that those who sign up will commit to a minimum fundraising target of $5000 and experience "some of Australia's most scenic countryside," while "raising valuable funds that will help change lives and bring hope to people in need". Go to salvos.org.au/redshieldride for more information.