Remembering wartime heroes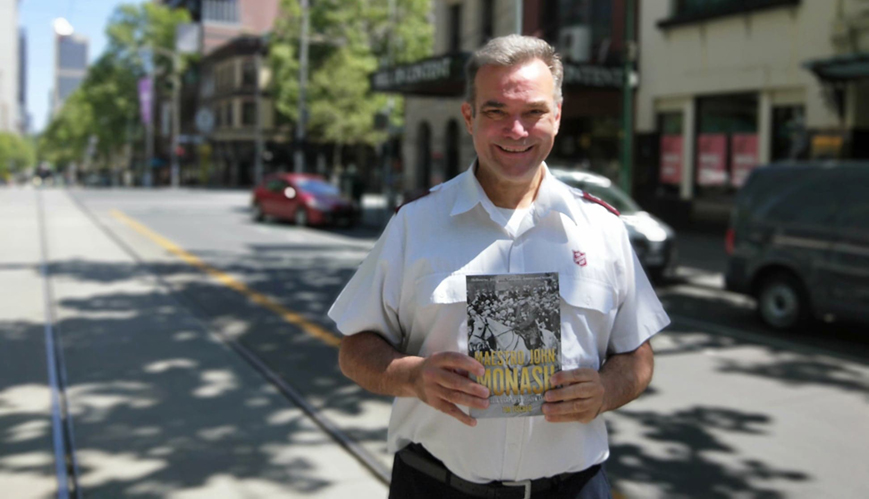 Remembering wartime heroes
Major Brendan Nottle in Bourke Street with Tim Fischer's book 'Maestro John Monash – Australia's Greatest Citizen General'.
By Brendan Nottle
One chilly Melbourne night on Anzac Day 2015, I was walking down Bourke Street when I saw television lights and cameras in the windows of the Hill of Content bookshop.
Stepping inside to check it out, because it was lit up like a Christmas tree, I saw the late Deputy Prime Minister of Australia, the Hon. Tim Fischer AC happily sitting and signing books.
Tim was there to launch his biography of Australia's leading general of the Great War (WW1) Maestro John Monash – Australia's Greatest Citizen General, and his eyes lit up when he saw the Salvation Army uniform I was wearing.
I went up to purchase a copy but he insisted on giving me one and inscribed it for me.
The politician turned author signed my copy of the book "with best wishes" and added his personal email, stating that the book was dedicated to the 414 chaplains who went overseas with the troops during World War One (1914-18).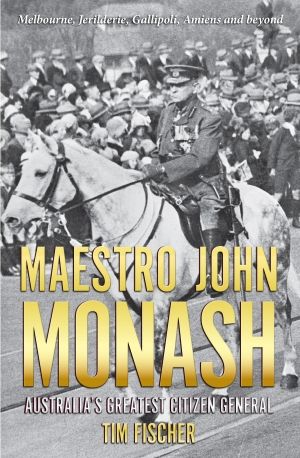 The book's dedication especially honours "five extraordinary Australians highlighted here" – Anglican chaplain William Dexter MC, Jewish chaplain Rabbi Jacob Danglow, Presbyterian chaplain Frank Rolland MC, Roman Catholic Father John Fahey, and Salvation Army chaplain Major William McKenzie MC.
Tim, who served as a second-lieutenant of the Royal Australian Regiment's 1st Battalion during the Vietnam War, wrote that McKenzie "served at Gallipoli and later on the Western Front, where he was awarded the Military Cross and was held in high esteem by the diggers.
"His enormous popularity amongst the diggers was due to a giving, practical and supportive approach. They nicknamed him 'Fighting Mac'. Some 7000 Melburnians turned out to welcome him home," the book says.
Tim, who battled leukaemia, passed away on the 22 August 2019 at the age of 73.
After my initial scan of the book, I popped the volume on the shelf at home and didn't open it until today – Sunday, 11 October 2020. I realised that 15 August this year marked the 75th anniversary of the end of World War Two; and 11 November 2020 will mark the nation's continuing observance of Remembrance Day (with its forlorn hope that the World War One would be 'the war to end wars'). Ths year, 20 December will mark the 105th anniversary of the last Australian troops evacuated from Gallipoli, where Fighting Mac first distinguished himself.
Australia's painful history from the two world wars and subsequent wars still looms large as part of our national story. The phrase "I'm still paying for that cuppa" may be a cliché, but it is one that is ingrained in the lives of returned service personnel and the memories of many Salvationists who once did pub booming.
As I move around, I regularly meet Australians who tell me their grandfather taught them they had to repay a debt of honour by 'kicking in a few bob' every time they met a Salvo.
The entire Salvation Army movement in Australia owes an enormous debt to its RSDS personnel and chaplains, especially those who have served the armed forces in times of conflict.
As told to Barry Gittins