Samuel Morris: The 'sterling' Salvationist. Pt 2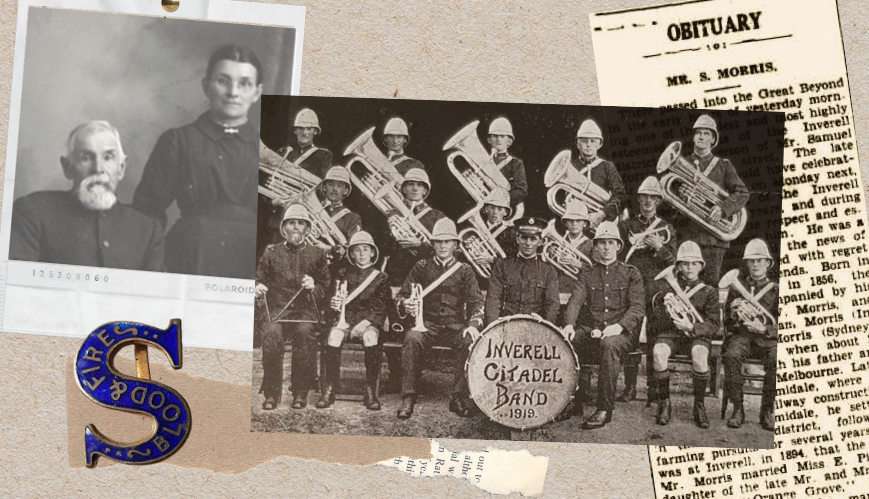 Samuel Morris: The 'sterling' Salvationist. Pt 2
Samuel Morris is remembered as one of the founding converts of The Salvation Army in Inverell. Converted in 1888, he served the Inverell Corps in a variety of local officer roles until his promotion to glory in 1930.
Last week Others shared Part 1 of Samuel Morris' story, whereupon moving from England to Australia, he encountered The Salvation Army in Inverell. In Part 2 of the original article published in an edition of the War Cry in 1913, he relates how God transformed his life through The Salvation Army.
---
The Story of a Cockney Lad (Part 2)
By Samuel Morris
Samuel Morris married fellow Salvationist Emily Pigott in 1894. They had five children, including one son named Samuel Wilfred. Better known as Wilfred, he was the father of Major Hilton Morris.
I started in earnest to seek God's salvation. I acknowledged to those about me that I was determined to live a good life, and if there was salvation for me, I would get it. I gave up drink. Several weeks passed, but I got no light. One night, as I sat thinking of Christ and his death on the cross, I had a vision of Jesus on the cross; and as I looked, it seemed as if he was looking at me. It brought tears to my eyes, and I promised I would love and serve him. Still, the light did not come, and I was made to feel my sins more and more.
One night the Captain asked me if I was saved. I said I was not, but I wished I was. He said to keep on praying and believing.
That Sunday night, 22 December 1888, I had a dream and awoke. I was still thinking of this dream when I heard a voice say distinctly, "Get up and ask God for what you want." I obeyed and prayed. Then the burden of my sins was removed, and the glory of God's salvation streamed into my soul. The spirit of God bore witness with mine that I was born of God.
The devil suggested to me that I should hold my peace, as I would soon be back again, but I promised him that however he might trip me, I should rise again to serve the Lord. I was so happy after the change had been wrought in my heart that at daylight, I was up, with the intention to go and see Captain Smith and tell him God had saved me – but being so early went for a ride around town. Everything seemed to be altered. I was happy. After breakfast, I went to see the Captain, and he rejoiced with me over the great salvation God had given me. He asked me to pray, but I told him I couldn't. Nevertheless, I made the attempt, and he told me afterwards when I got started, he thought I would never stop!
I stayed in town for Christmas, the first sober Christmas I had in Australia. A few days afterwards, I went to see an old chum to tell him what God had done for me, that he could do the same for him. I did not succeed in winning him.
Shortly after I was saved, I met an old friend, and he asked me to come and have a drink. I told him I'd given it up. "Yes," he says, "Till you get your cheque!" When I told him I had my cheque, he looked much surprised and shook his head.
The Morris family continued to play a role at the Inverell Corps throughout and after Samuel's life. Here, Samuel Morris (front row, left) plays the triangle, while his son Wilfred (third from right) is also part of the Inverell Citadel Band in 1919.
I gladly testified to God's saving grace and keeping power. The astonishment of many. One man at least said it would not last long. One Sunday at Kneedrill, the Captain gave me the Articles of War to sign. I returned them in the next meeting and told the Captain that there was nothing there but what a Christian should do. But that I did not want to be sworn in that day. After dinner, I went to my room to pray, and then God made it clear to me he wanted me to be a Salvation Army soldier.
Meeting the march just round the corner of the street, I fell in with a soldier they called Bricky Brice (or the man who was saved by the grindstone) and was sworn in the same day. My mother said I would never wear the guernsey, as I did not like bright colours. But behold, all things were altered! I soon got a guernsey – red!
Some time after my conversion, I had a feeling God wanted me to be an officer but felt as I was hurt in the body, I would be no good. There were three of us working together, who had all been converted within a few months. One had offered himself an officer had been accepted. One day, as I was thinking of Jack and the opportunity he would have of working for God, a desire to do the same came to me. I lifted my heart to God and said, "Oh God, send me." The answer came back to me, "Go tell our friends and neighbours what great things God has done for you." I then had the conviction I was to stay in Inverell.
Being satisfied that my place was there, I settled down as a soldier and was made a local officer after the first 12 months of soldiership. The late Adjutant Plevin was a great help to me spiritually while stationed there.
We had several outposts to work, and I used to go there to assist. At one place, it was rumoured we were to be thrown into the creek if we came there. However, when Sunday came, two of us went. As we came up to Swanbrook Creek, several horsemen met us and rode past and back again, but no attempt was made to put us back in the creek. They came to the meeting and behaved themselves.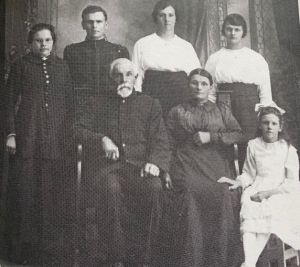 The Morris family became steadfast members of The Salvation Army in Inverell. They are pictured here in 1922. Back (L-R) Dot, Wilfred, Gracie, Elsie. Front (L-R) Sam, Emily, Elsie.
I have often, when working out of time, ridden over 20 miles and sometimes 30 to a meeting and back again; and started work with the rest of the men in the morning. For some time, I did it every Saturday morning and back again by Monday morning.
Being satisfied I was to stay in Inverell, I thought a companion for life would help me, so I took to myself a wife, a good godly Salvationist [Emily], and have never regretted that choice. We spent some happy years together.
I have been a local officer in the same corps, Inverell, for 24 years without a break – including Orderly Sergeant, Sergeant Major, Band Sergeant, Colour Sergeant, and Recruiting Sergeant (second commission), which I now hold. I have also worked in the Young People's corps.
I thank God I am still in possession of full salvation, and after 25 years of Christian life, still mean to fight till death, realising that only to him who is faithful till death shall the crown of life be given. To God be the glory!
Samuel Morris was promoted to glory on 9 January 1930 from Inverell. Three generations of his family attended Inverell Corps (four if you count school holiday visits!). Two of his grandchildren, and four great-grandchildren, went on to become Salvation Army officers. Funnily enough, more than 100 years after his writing was published in the War Cry, his great-great-grandaughter would do the same. 
Thank you to The Salvation Army Museum, Garth Hentzschel and Helen Brown for their assistance with this article.