You are here:
Home › Army Archives › The 1978 International Congress An Australian Testimony
The 1978 International Congress ... an Australian testimony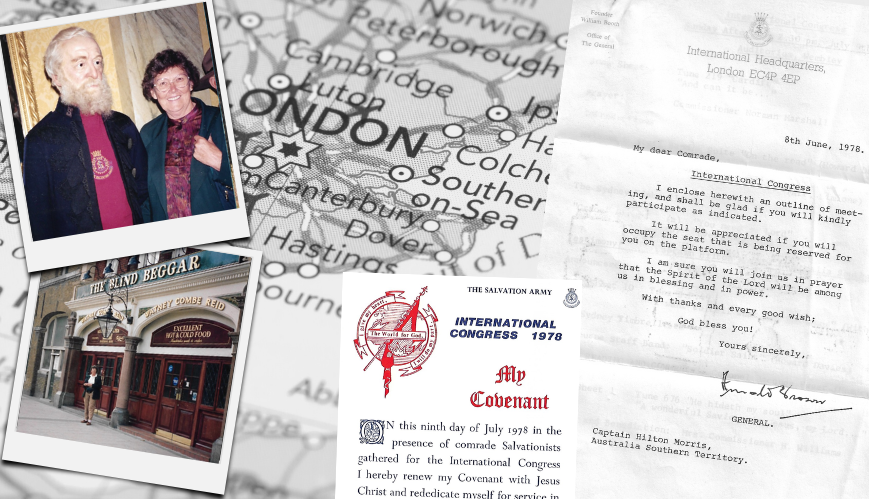 The 1978 International Congress ... an Australian testimony
When Captains Hilton and Wilga Morris flew to the 1978 International Congress in London, they had a full-circle experience. They didn't just see where The Salvation Army started, but Hilton was invited to participate in the event by the General himself. 
By Jessica Morris
An Australian Salvation Army officer did not expect to see the sights and sounds of Europe back in 1978. Short of an international appointment, the 22-hour trip to Heathrow via Kuala Lumpa was usually reserved for the well-off. Yet when the fifth International Congress was held in London from 30 June–to 9 July 1978, a group of Australian Salvation Army officers had the opportunity to go on the adventure of a lifetime.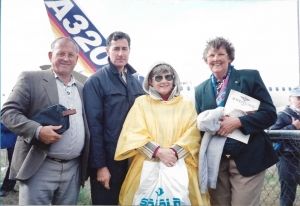 A group of Australian Salvationists flew halfway across the world to attend the 1978 International Congress in England. On the far left and right, Captain Hilton Morris and Captain Wilga Morris attend with unnamed friends.
They didn't just attend the conference – an auspicious occasion that included seeing General Arnold Brown and the Prince of Wales – but they also went on a journey across parts of Europe along the way. It sounds too good to be true, but it was even better for one officer. My late grandfather, Major Hilton Morris, was invited by the General to share his testimony at the Saturday afternoon meeting on the last day of the congress at Wembley Stadium.
In a letter penned on 8 June, just a month before Hilton was to speak, General Brown asked his comrade to share how God had moved in his life. It would be shared during what seemed to be an Australian-based meeting. This would include multiple performances by the Melbourne Staff Band, who would play 'On The Road' and 'Soldier Saint' by Howard Davies, in addition to performances by a Sydney timbrel brigade and prayers from Australian Commissioner Norman Marshall.
At the time, Hilton and my grandma, Captain Wilga Morris, were serving in appointments in Darwin with four teenage children, a flying padre and a bookshop to run. It is fair to say they had their hands full. This is why it's not surprising Hilton's carefully written testimony is found on the writing pad of the Leinster Towers Hotel, the Australian delegates' home base during the congress after a nine-day coach tour of England. With dot points, he laid out his life story for the General and congregation. Altogether, it reveals what a full-circle moment this was for a humble boy from Inverell. This is what he shared – with some gaps filled in by myself.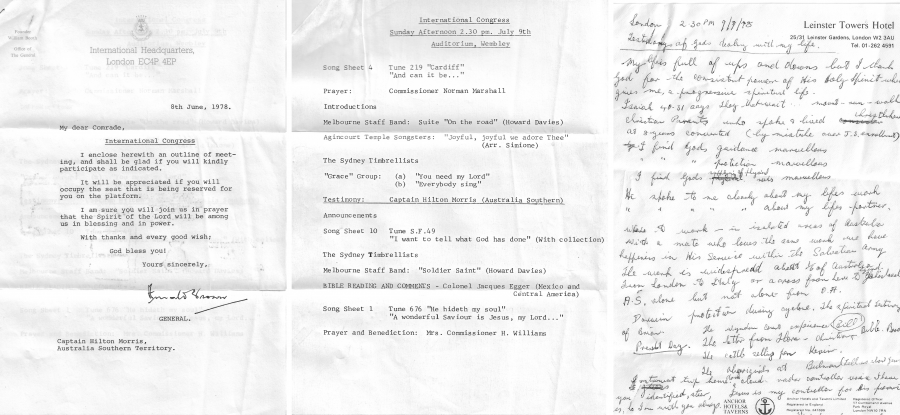 In 1978, Captain Hilton Morris was appointed as Flying Padre and was based in Darwin. He was asked by General Arnold Brown to share his testimony at the International Congress in London. (From left) A letter from the General to Hilton; the meeting outline; Hilton's notes.
Testimony of God's dealing with my life by Captain Hilton Morris
My life is full of ups and downs, but I thank God for the consistent power of His Holy Spirit, which gives me a progressive spiritual life. My life verse Isaiah 40:31 says that "But those who hope in the Lord will renew their strength. They will soar on wings like eagles, they will run and not grow weary, they will walk and not grow faint."
I had Christian parents who spoke and lived Christian lives, and at eight years old, I got converted. To this day, I find God's guidance marvellous. I find God's protection marvellous. I find God's [provision] of physical needs marvellous.
God spoke clearly to me [in Inverell] about my life's work. He spoke to me clearly about my life's partner [Wilga]. Where I work is in isolated areas of Australia, with a mate who loves the same work. We have happiness in His service with The Salvation Army. This is a widespread area of Australia – one-sixth of the land, the equivalent of space between London and Italy, or by land, across from here to Yugoslavia.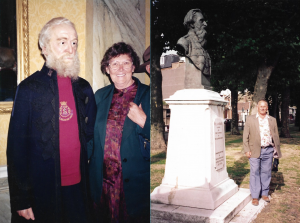 Captains Hilton and Wilga Morris enjoyed a tour of William Booth's London before the 1978 International Congress. (Left) Wilga pictured with a wax model of General Booth at the Madame Tussaud's Wax Museum. (Right) Hilton pictured at General Booth's memorial statue.
In Darwin, we had protection from Cyclone Tracy. We experienced the spiritual safety of my son Brian during the cyclone (read about it here). And in present-day, we have seen God's provision through the Wyndham experience [the northernmost town in the Kimberley, WA]. We have seen God's provision in the letter from Flora [an assumed Salvationist] about Christianity at Bubble Bubble [one of the westernmost homesteads in the Northern Territory, about 61km from Kununurra]; and in how God used the Aboriginal community at Bulman to tell us about Jesus [Bulman is a cattle-station town, which includes an Aboriginal settlement in Weemol, 312km north-east of Katherine, NT].
[God] was my instrument on the trip home from this in dark clouds, the radar controller and voice instrument stopped working. With His help, I identified and steered. God showed me, "I am with you always." In my life, I know that Jesus is my controller for His promise.
A life-changing journey
Hilton wasn't the only Australian Salvationist to attend the International Congress. My grandma, Wilga, was a meticulous note-taker. And on programs spanning the Opening Ceremony on 30 June to the Women's Rally on 4 July, she listed down observations.
Of particular importance was Commissioner Catherine Bramwell Booth being awarded first place in a Toastmasters contest by His Royal Highness The Prince of Wales. It seems seeing General William Booth's granddaughter be recognised was a personal highlight for Wilga. I imagine it would have been quite the full-circle moment, given the Australian contingent had completed a tour of William Booth's England the week before the congress. Perhaps this gave them pause to consider purchasing the William Booth bust available in the congress catalogue – not that I ever saw it in their house! 
Australian delegates ate together at the Tempio DiGlove restaurant in Rome before travelling home. Pictured in no order: M Strotham, Eva Trattman, Shaman Hyme, Rhonda Wynnie, J Sketcher, W.M. Sketcher, Hilton Morris and Wilga Morris.
I heard stories about their travelling adventures, though, and they were always defined by what God did and the people they were with. We know through their observations that God moved mightily at the 1978 International Congress. Wilga recommitted her life to Christ and the tenets of The Salvation Army on the last day, signing the pledge card given to every attendee. And the duo found friendship with Salvationists M Strotham, Eva Trattman, Shannon Hyme, Rhonda Wynnie, J Sketcher and W.M. Sketcher and continued to travel with them after the congress finished.
On the last day of their holiday, on 19 July, they ate dinner together at Tempio DiGlove in Rome. A group picture was taken and purchased, complete with staff dressed up like Roman soldiers! Hilton and Wilga kept it their entire lives – a testimony to the miraculous adventure God had taken them on halfway across the world. They truly did "Taste and see that the Lord is good".