The Antarctic Salvo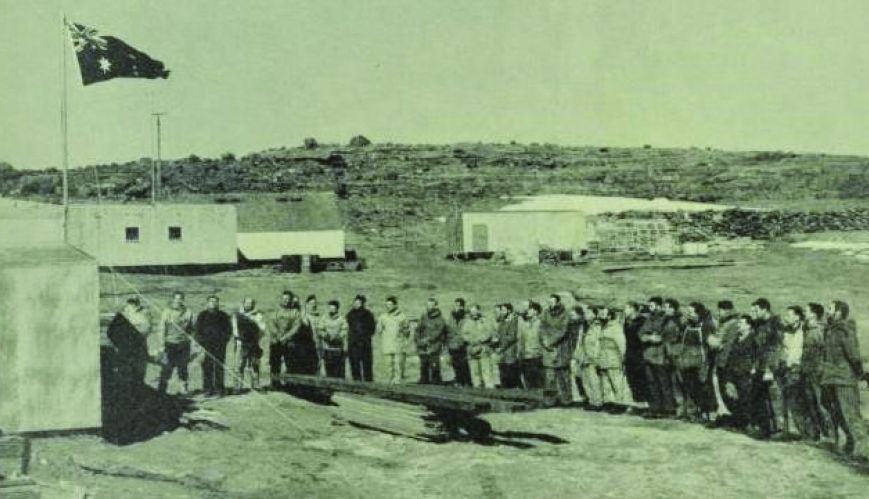 The Antarctic Salvo
Alan and his colleagues raise the Australian flag at Mawson Base in 1954.
By Garth R. Hentzschel
The Salvation Army has links to a number of geographical locations in Australia – various parks, streets, hills and suburbs, for example.
There is, however, one that few Australians will ever get to see. These are the Gowlett Peaks in Antarctica, named after a Salvationist diesel engineer who later became an officer of The Salvation Army.
Major Alan Gowlett was born in Toowoomba, Queensland, to a well-known family in the local corps. When World War Two broke out, he tried to enlist; however, being too young, Alan moved south to work at Newport Railway Workshop in Victoria, which had been converted into an aircraft factory.
In April 1943, he joined the Australia Imperial Forces. Two years later, he saw his first action in the last major battles of the war, during the invasion of Borneo. 
Alan with the boots he wore in Antarctica.
After the war, Alan became engaged to Elizabeth (Beth) Winifred Steinberg, whose mother was at one stage editor of the Melbourne edition of The Salvation Army children's publication The Young Soldier.
Their marriage took place on 11 February 1950 at Hawthorn Corps in Melbourne. In 1951, Alan joined the Government Scientific Observation Party, which was part of the new Australian National Antarctic Research Expedition (ANARE) that had been formed in August 1947.
These were the formative years of Antarctic scientific research. Alan was appointed to Macquarie Island (in the south-west Pacific Ocean below New Zealand) as the diesel and electrical engineer, and campfire officer.
Alan returned home from Macquarie Island on the Antarctic ship Tatton. In 1954, Alan was again chosen to join another expedition with ANARE, this time to Mawson Base on the mainland of Antarctica.
He would arrive just one year after the foundation of the base. The voyage to Heard Island (in the southern Indian Ocean) took 16 days and the ship experienced heavy seas that caused some damage.
Upon the ship's arrival in Antarctica, Alan's first job was to erect an additional 10 huts, which went up in the first three weeks. Throughout the remainder of the year more buildings were constructed until there were 19 separate buildings including scientific huts, storage huts, sleeping huts and a new surgery.
In addition to the scientific work on the base, field journeys for scientific experimentation and explo - ration were conducted.
In December 1955, news reached Australia of a mountain range that had been discovered. Some of these mountain peaks were named the Gowlett Peaks, in honour of Alan.
The Gowlett Peaks are described as a small group of isolated peaks, consisting of tall, sharp twin peaks and two close outliers, in MacRobertson Land, Antarctica.
Alan assisted with the exploration parties, often leaving the base in dangerous polar conditions to maintain the equipment. For his work in Antarctica, Alan received the Polar Medal. 
A report in the Sun newspaper about his commissioning as an officer.
It was while he was in Antarctica that Alan experienced his call to Salvation Army officership. On his return to Australia he learned that Beth had also received the call to full-time service as an officer.
The Gowletts entered The Salvation Army Officer Training College from Hawthorn Corps on 13 March 1958, in the Courageous session. After their commissioning they served as officers in South Australia, Northern Territory, Victoria and Western Australia, in both corps and social work.
The Gowletts also served in the Caribbean Central America Territory as managers of the Blind Institute in Kingston, Jamaica. Alan and Beth entered retirement in 1987 and remained active in The Salvation Army.
At Alan's thanksgiving service upon his promotion to glory in 1998, a tribute was given by Fred Elliot representing the Antarctic expeditions. In the remotest places on earth, there are marks of Salvationists' service in varying ways. For Alan Gowlett's service to the exploration of Antarctica, there are peaks named in his honour, pointing heavenwards to his God.
*This is an edited version of Garth R. Hentzschel's article "Salvation on ice: An Antarctic landmark linked to an Australian Salvationist", The Australasian Journal of Salvation Army History, Vol 4, Issue 1, 2019, 40-58.