You are here:
Home › Army Archives › The Day Billy Graham Met The Salvos Flying Padre
The day Billy Graham met our flying padre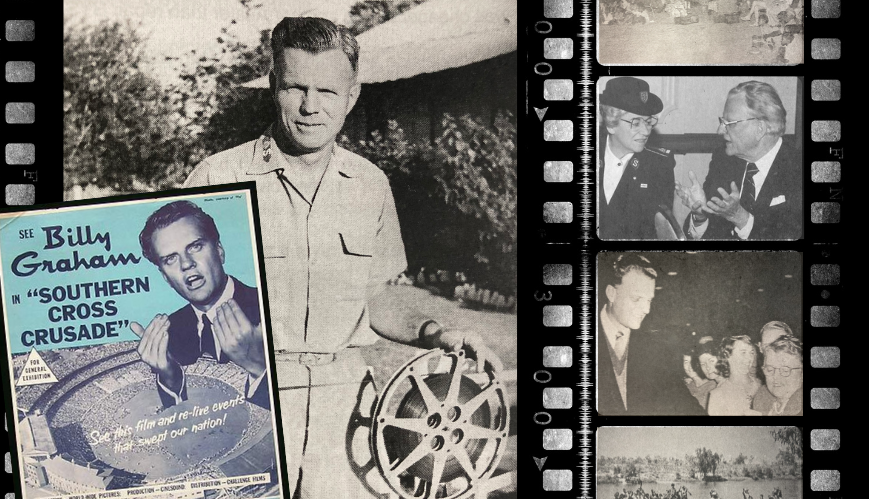 The day Billy Graham met our flying padre
Acclaimed evangelist Reverend Dr Billy Graham encountered The Salvation Army multiple times throughout his ministry. In 1959, he met flying padre Brigadier Vic Pedersen and promised him a free copy of his Australian crusade film, 'Southern Cross Crusade'.
By Jessica Morris
Turning through the pages of Salvation Army history, many people undoubtedly come across a candid photograph of Australia's General Eva Burrows speaking with Reverend Dr Billy Graham, the famous American evangelist. There's something soul-stirring about two warriors of the faith crossing paths.
General Eva Burrows was highly respected by Billy Graham, who called her "an individual of great warmth, selfless compassion, unusual vision and profound spiritual commitment". This photo was taken during General Burrows' term as the Army's world leader between 1986 and 1993.
But this wasn't the first time Reverend Graham encountered Australian Salvationists and expressed a keen interest in their ministry. Some decades before, in Darwin, he came across Brigadier Vic Pedersen, The Salvation Army's flying padre, sparking a new ministry in Australia's north.
The year was 1959, and Reverend Graham was on his way to Singapore via Darwin after a 15-week tour of Australia and New Zealand. Leading gospel crusades in major cities, it was estimated that more than half of the two countries' populations heard Reverend Graham's message in person or over the airwaves.
During the layover in Darwin, he learned about The Salvation Army Flying Padre Service in the north of the country and offered Brigadier Pedersen a free copy of his upcoming film, Southern Cross Crusade. Unknowingly, it stoked a burgeoning resource ministry in the Top End.
In the months leading up to Reverend Graham's tour of Australia, excitement about the crusades was palpable. Ecumenically, churches across the country stepped up to help prepare for the tour. Territorial Headquarters charged Brigadier Pedersen to represent The Salvation Army on three committees in Darwin to help with the events and outreach.
Billy Graham greeting well-wishers at Darwin airport during his layover on the way to Singapore in 1959.
While Reverend Graham wasn't going to minister directly in Australia's north, churches in the area were determined to make his messages accessible to the people of the Top End.
"We decided on a landline connection to [Reverend Graham's] crusade and held counselling classes in our hall for a large group of Darwin church people," Brigadier Pedersen recorded in historical documents. "Our landline came from Adelaide. The town hall was packed for crusade meetings.
"The Christian group working together found the experience most beneficial, and a large number of them assembled at the Darwin airport at 3am one morning to meet Billy Graham and Grady Wilson [an associate of Reverend Graham] when they called en-route to Singapore."
The pair listened intently as the group shared details about their involvement in promoting the crusades in the Top End. And that's when Reverend Graham asked a question about outback ministry. He was quickly referred to Brigadier Pedersen, who was more than qualified to answer, being the original flying padre for The Salvation Army.
Brigadier Vic Pedersen (MBE OF) rewinding film at Springvale Station.
"A question about the outback came over to me, and I told Billy Graham about the size of the cattle stations, school of air for children and the 'galah sessions' where women chat," Brigadier Pedersen recorded. 
"'What about religious services?' [Reverend Graham] asked. I told him that I used a light aircraft to conduct services in the outback and added, 'Last week, one of the manager's wives said to me, "Why don't you bring Dr Graham with you, captain? We'd love to see him!" [Reverend Graham] replied, 'I'd love to go,' and added, 'A film will be made of the crusades in Australia and New Zealand. You are to have a free copy."
True to his word, Reverend Graham and his team ensured Brigadier Pedersen accessed a free copy of Southern Cross Crusade when it was released later that year. And by doing so, Brigadier Pedersen developed a relationship with the publisher Fact and Faith Films, which offered The Salvation Army access to their catalogue of films at no charge.
This ministry would prove an invaluable evangelical tool for The Salvation Army in the following years. Southern Cross Crusade would screen in towns and settlements across Australia's north, impacting people in some of the country's most remote areas.
And after meeting with representatives of the British and Foreign Bible Society, who were eager to find an outlet in the Australian outback, Brigadier Pedersen and his wife became their first representatives – the brigadier taking Bibles across the outback on his flying padre trips and Mrs Pedersen overseeing book and Bible sales in Darwin.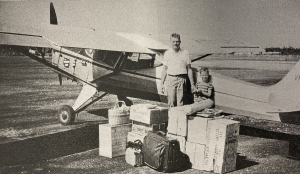 (Top) Community members travelled long distances to view the Southern Cross Crusade on film, like those pictured here at Borroloola. (Bottom) Resourcing locals with Bibles and Christian resources became a core part of the Flying Padre Service's ministry. Pictured here in 1961, the Salvos transported 250kg of Bibles to Darwin in their new VH-UED aircraft.
Covering the outback
According to Brigadier Pedersen, in a little over 12 months they "had practically saturated [the] outback market."
"'You sold us Bibles last time you were here,' [people would say]. I started carrying in addition carefully chosen books such as Miracle on the River Kwai, Forgive Me Natasha [and] Mere Christianity," Brigadier Pedersen recorded.
That ministry would continue when Major Hilton Morris took over as the flying padre in 1972, and after the devastation of Cyclone Tracy at Christmas in 1974, it expanded when The Salvation Army set up a Christian bookstore pioneered by Major Wilga Morris.
"The facility, which started in 1959 as Bibles carried around the outback in a suitcase, is now well set up and supplies a wide range of Christian books, Bibles, videos etc., for the outback and Darwin," Brigadier Pedersen recorded.
While Reverend Graham only spent a short time in Darwin, his Spirit-led encounters with the local church would facilitate further growth and fruit for The Salvation Army in the region.
The Salvation Army Christian bookshop would function for the next four decades.