The mystery of the flag remnant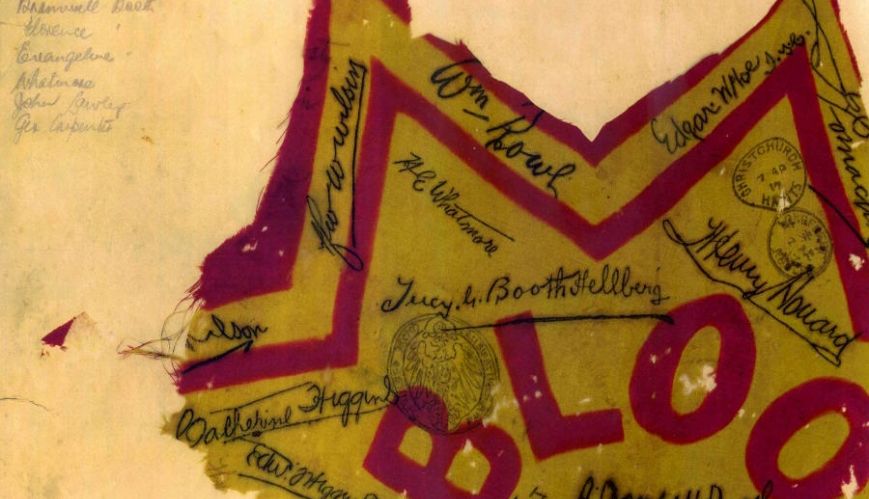 The mystery of the flag remnant
The remnant of a Salvation Army flag with signatures from the World War One era is being viewed as a 'history mystery'.
The Salvation Army Museum in Sydney received a donation last year of a remnant of a Salvation Army flag. It's been the subject of mystery and speculation ever since.
The Salvation Army Australia Historical Society (New South Wales, Queensland and Australian Capital Territory Chapter) is now urging anyone with information about the flag to assist.
The flag can be viewed at The Salvation Army museum in Sydney.
The historical society's Alison Briggs says the flag was donated by retired officers Majors Ray and Valmae Woods. Closer examination showed that it bore the signatures of many notable early Salvation Army leaders including Bramwell Booth, Florence Booth, Evangeline Booth, George Carpenter and Edward Higgins.
"Some of the signatures are hard to decipher," Alison said. "There are also impressions of 1916-17 stamps, which appear to be for military hospitals in the UK."
When Ray donated the flag, he added a note that says: "This flag belonged to Brigadier Charles Cross. Brigadier Cross took this flag to war with him. Unable to carry the full flag he tore the star out of the centre and carried it in his coat pocket. He used it on many occasions when conducting a soldier's funeral. This information was given to me by his wife."
Brigadier Cross served in World War Two as a padre in New Guinea, Syria, Egypt and Borneo.
While Ray and Valmae were corps officers at Engadine (NSW) in 1977, Dora Cross, wife of Brigadier Cross, had told the story of the flag remnant when she was a guest speaker at a meeting of the Ladies Evening Fellowship. When Ray had admired it, Dora gave it to him, explaining they were clearing things out of their home in preparation for a move.
It is unknown where Brigadier Cross got the flag from and how the signatures and stamps – some from 1916-17 during World War One, in which Charles never served – came to be on it.
Alison said the mystery deepened when she started investigating and realised that the surviving members of the Cross family weren't aware of the flag remnant's existence: "I found that despite one of their daughters writing up her father's life history, the flag segment and its use was not mentioned at all. None of the family members had even heard the story of the flag segment.
"However, it was confirmed that Charles and Dora had moved from Earlwood to Menai in 1977 (the year it was given to Ray) and it was their habit not to take much with them when they moved."
A theory that Brigadier Cross may have been given the flag by his father – Salvation Army officer Charles Coakley Cross – was quashed when research found that he had never been to World War One and was appointed to the Toowoomba Division in Queensland when one of the stamps on the flag was dated.
However, Alison uncovered that from 1955 to 1956 Brigadier Cross attended the International Officers College in London for six months. Had he obtained it during his time in the UK?
"Maybe the flag remnant was passed on to Brigadier Charles Cross from someone yet unknown to us, who lived in the World War One era," she said. "Unfortunately, due to COVID-19 the Army's International Heritage Centre in London is closed, and my requests as to the appointment locations in 1916-17 for some of the signatories on the flag, have not been answered."
Alison and the historical society are urging historical sleuths to head to The Salvation Army Museum in Bexley, Sydney, to try and decipher more of the signatures on the flag remnant and help solve the mystery of how it came to be in Australia.
Anyone with information can contact Alison at: tricoloureditor@hotmail.com
This article is an edited extract from the March 2021 edition of 'Under the Tri-Colour', the e-newsletter of The Salvation Army Australia Historical Society – New South Wales, Queensland and Australian Capital Territory.
Are you interested in Salvation Army history? The next historical society event in Sydney will be held on Thursday 6 May at 7.30pm at Rockdale Salvation Army. All welcome!