Fire a volley for Inverell's early converts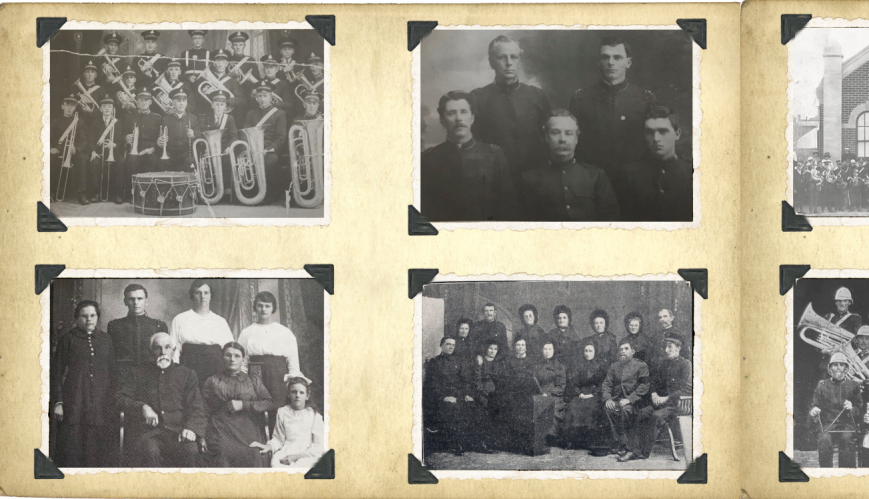 Fire a volley for Inverell's early converts
Inverell Corps blossomed from 1887 when Captain Ford and Lieutenant Cutler started The Salvation Army in the NSW country town. Pictured (top, from left) The Inverell Corps Band 1937, Inverell local officers in 1918. (Bottom from left) The Morris family in 1922, The Young People's Bridgade leaders sometime around 1913-16. 
By Jessica Morris
For more than a century, the Inverell Corps in northern NSW has stood steadfast and loyal. Commencing operations at the old Masonic Hall in Vivian Street on 11 June 1887, Captain Ford and Lieutenant Cutler had meagre manpower to bring salvation to the town.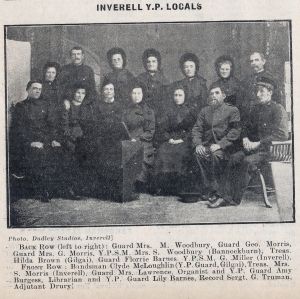 In this picture taken between 1913 and 1916, members of the Woodbury, Morris, Truman, Brown, and Lawrence families stand as members of the Young People's brigade. Pictured with Adjutant Dury (front right), many were early converts or relations to some of Inverell Corps' earliest converts.
With no band, no other Salvationists, and disfavour from other churches in town, they relied on the Spirit of God to usher in converts. And did they come! 
Over the following decades, the Inverell Corps witnessed God at work – not only building a corps that would send out at least 17 officers from their ranks but establishing a movement that would become part of the town's heartbeat.
Inverell Corps' early converts became the stalwarts of a generational movement that still bears fruit today – and many would walk miles to attend church. Samuel Morris, who tried to drunkenly ride a horse through an open-air meeting prior to finding salvation, said, "There were some big sinners saved during [Captain Ford's] term." Here are some of their stories:
According to the Inverell Corps Centenary Brochure, the first convert was 'Jimmy' Chappel, and he was soon followed by 'Jack' Leonard, who became the corps drummer. As a burgeoning corps, open-air meetings became a primary way for Captain Ford and Lieutenant Cutler to share the gospel – and Leonard's playing set the foundation for the Inverell Citadel Band, which, in later years, would go on tour across the region.
A working-class town, Salvationists shared the gospel in everyday language, and in an area where it was said "that no man could drive bullocks without swearing", the Spirit of God transformed blue-collar workers through the witness of others. Envoy Jim Brown, identified as an early pioneer of the corps, was known as 'The Hallelujah Bullock Driver', so great was his conversion!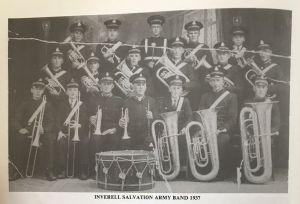 Inverell Corps had no band when it was founded in 1887, but by 1937 the band had grown to become a loyal and committed musical group that would tour across the region.
As the Army grew in Inverell, converts were given a uniform as soon as possible. According to Sam Morris, "John Coates dreamed of the Army one night in the wine shop, and came to it and got saved." Coates was given a uniform as a mark of his salvation but was unable to take it off before bed that night. "When he woke in the morning he felt so good he had to look in the glass to see if it made any difference to his face," shared Sam. As the story goes, another convert, Jack Cathy, had a similar experience, and couldn't take off his uniform for three weeks because it was too small! Women were also fundamental in the growth of the corps, and Mrs Bevan, Mrs Jim Brown, and Mrs George Truman all wore bonnets – paving the way for a generation of strong women folk in the corps, including the Mortons, Murrays, Morrises, Grays, and Barnes.  
Alcoholism was a fierce opponent to the early Army, with many converts giving up the drink. One man, Bill Lawrence, was known as the "converted drunkard" and prior to his salvation would pass out in his cart, trusting his horse to take him home. Upon visiting the Army, he was too drunk to reach the penitent form, so the officers prayed with him at his seat. Rising from his knees, he was sober and "never touched a drink again".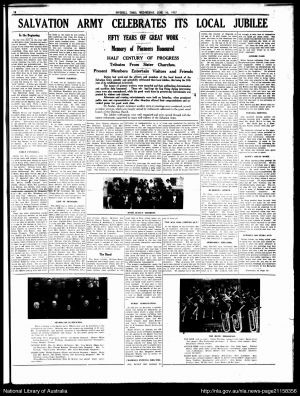 The Inverell Times dedicated a full page to the 50th anniversary of The Salvation Army in Inverell, sharing stories about the first converts in the movement. 
Sam Morris was also well known in town for his drunken behaviour prior to conversion, and he and many others became evangelists soon after repentance. 'Bricky' Brice, who became a soldier at the same time as Sam, was converted in a brickyard at Middle Creek, while miner Jack Coote was saved in the same location. It is said he paid a man to go up the creek while he went down, telling all of his salvation.
And these early converts were not faint-hearted. Inverell Corps members would experience violence and threats in their early days. Solomon Woodbury, his father, and his brother took part in the first march, and his father's white coat was soon stained with eggs. The early corps also endured 'the skeleton army' who would march behind soldiers and parody them. It meant Salvationists had to stand shoulder to shoulder in a double ring, protecting those inside from objects and abuse. It is said some soldiers even returned the favour!
More than 135 years after Captain Ford and Lieutenant Cutler established The Salvation Army in Inverell, it still stands today as a small but committed corps, dedicated to living, loving, and fighting alongside their community like the days of old. Well done good and faithful servants!
This article was compiled from an article in The Inverell Times, Wed 16 June 1937, 'In The Beginning'.
Thank you to The Salvation Army Museum and Garth Hentzschel for their assistance with this article.