Lindsay's war book a 'labour of love'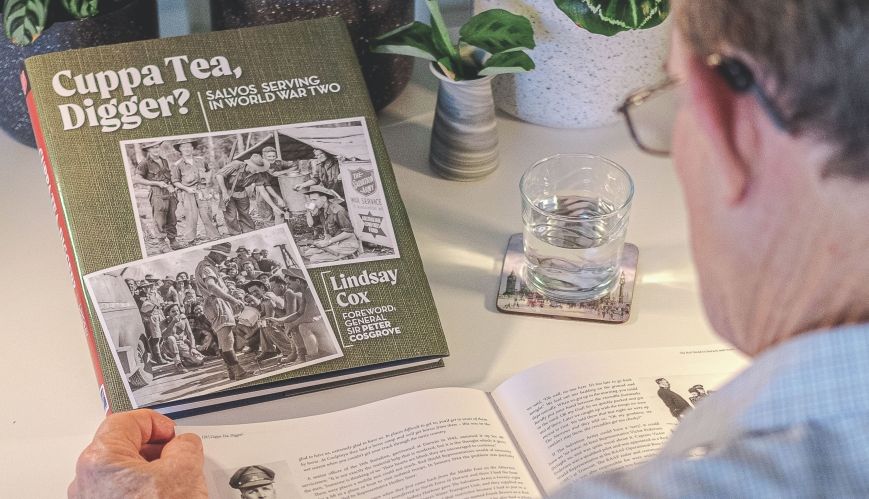 Lindsay's war book a 'labour of love'
Cuppa Tea, Digger? will be particularly enjoyed by people who have an interest in the history of Salvos serving in World War Two. Photo: Eris Alar
By Barry Gittins
Lindsay Cox is a man of many hats, metaphorically and literally. Actually, if you exchanged the word 'hats' for 'helmets' you would be closer to the mark. The manager of The Salvation Army Australia Museum is a raconteur, archivist, writer and cartoonist, whose collection of headgear over the years has included clobber from Prussia and the British Raj. His passion for understanding how people experienced and endured conflicts is part of what drove him to write and compile Cuppa Tea, Digger?, his latest book.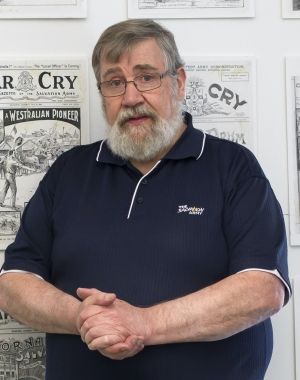 Author Lindsay Cox describes his book as "unique Australian war history".
Subtitled 'Salvos Serving in World War Two', Lindsay explains the volume has been a labour of love over 25 years of research and is largely based on more than 180 oral histories of diggers and Salvos. These were collected by a 12-person research team in 1995, who diligently recorded the World War Two work of the Salvos' philanthropic Red Shield War Services (RSWS) to the Australian Military Forces in the Middle East, Europe and the South-West Pacific.
Lindsay recalls this quote from representative Albert Moore: "One lad standing alongside said, with a notable catch in his voice: 'Dad told me I would find the Salvos doing this, and, gee, here they are!'"
"That intergenerational aspect of service during conflict really cemented the Salvos' relationships with Australians," Lindsay adds. "After World War One a lot of Australians accepted The Salvation Army as more than a mob making noise on the streets.
"There's another story where an AIF officer walked in and told the Salvo, 'I wrote my first letter home to my mum in a Salvo hut during World War One, and here I am doing it again.'"
"They were kept busy," Lindsay says with masterful understatement, of Salvation Army personnel appointed to the frontline during wartime: "burying people, feeding hungry men, helping censor mail, digging holes, sometimes leading church services."
In the book's introduction, Lindsay describes it as "a unique Australian War history" that's characterised by "selfless dedication". When asked what life lessons he has gleaned from his latest book, he ruminates on "the resourcefulness and dedication of the Red Shield blokes, and the danger they put themselves in, when they didn't have to – they were appointed by The Salvation Army, not the military, and they were 'volunteers' in some senses.
"They were there, right alongside the men being shot at and bombed, sharing the very real possibility of being injured, maimed or killed. That led to strong bonds being formed; a real 'fellow feeling' and empathy – they made enduring relationships. Take Arthur McIlveen, for example, who became the first life member of the Rats of Tobruk association; they ended up buying him a house when he retired from The Salvation Army.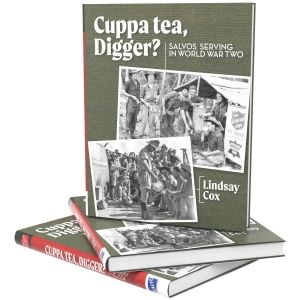 "That association with military troops has continued," continues Lindsay. "There are many Vietnam vets who would, metaphorically speaking, kill for [Salvation Army officer] Baden Jeffrey, who they knew was a bloke who was 'there for them' because he wanted to be there."
Lindsay can and does put the service of the Red Shield reps into a broader historical perspective in Salvation Army and world history.
"It is part of our Salvation Army ethos to bring God's love to everyone, regardless of their stripes," Lindsay says. Salvos, when and as they are able, minister to all combatants and non-combatants, regardless of race, religion or fealties. This type of selfless service continues in all parts of the world today.
Cuppa Tea, Digger? is available from Salvos Publishing, Salvation Army Supplies and selected outlets.
Barry Gittins is a Salvo who works as Marketplace Coordinator for The Salvation Army Project 614 Corps in Melbourne.