'A beacon of education for Sierra Leone'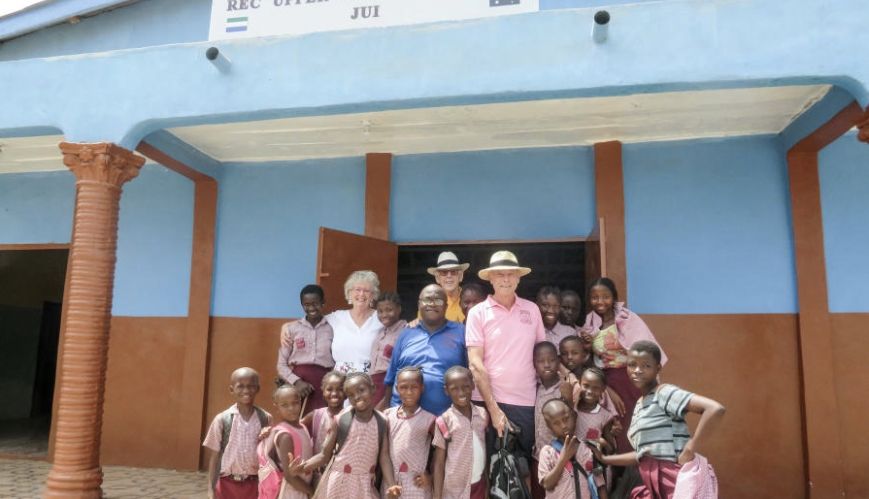 'A beacon of education for Sierra Leone'
13 July 2020
Ron and Janette Smart (at back), Nabieu Wallace and Frank Briggs with schoolchildren outside the renovated auditorium.
By Bill Simpson
As they reached the crest of a hill on an old, dusty, pot-holed road in civil war-ravaged Sierra Leone, this entrepreneurial Australian Salvationist couple were overcome with emotion. What Ron and Janette Smart had come to see in this struggling West African nation was now, for the first time, in clear view before them.
They had seen drawings and photos, talked about it and worked towards it for almost 10 years. They had travelled for 40 hours from Sydney by plane and ferry to get there. And, now, here it was in front of them. The tears flowed.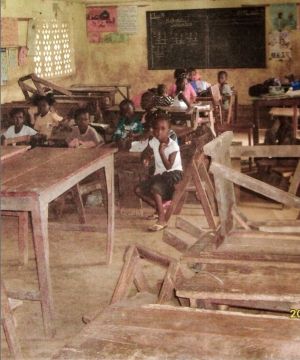 Before the renovation, the school had dilapidated and rundown facilities with only a few children attending.
It was a school for 1000 students, constructed from funds and support provided, in various ways, by fellow Salvationists and friends back home in Australia – major donors, families, couples, individuals, children pledging a few dollars a week, people who attended two significant band concerts in Sydney and Melbourne. They provided almost half a million Australian dollars. It was a huge – sometimes frustrating and debilitating – effort. But here it was, finished. To see it and know what it meant to Sierra Leone, well, says Ron, it was overwhelming at that moment for him and his wife. "Both of us cried. We couldn't hold back the tears."
Ron, as project committee chairman, and Janette, as fundraising coordinator, along with project manager Frank Briggs and Nabieu Wallace as liaison officer, were in the village of Jui, a 45 minute, at times dangerous, drive from the capital Freetown, for the official opening. As Ron and Janette arrived for the opening ceremony, 1000 or so children in school uniform, parents, teachers and town officials waving bright colour banners lined the road into the school. The Sierra Leone Police Band marched ahead of the official party, which included government members, playing them into the main auditorium – named The Australia Hall.
The naming was an act of appreciation, for the committee had called their project Australia-2-Africa. Originally, it was Auburn-2-Africa. Auburn Salvation Army is a strongly multicultural corps in Sydney's west. African asylum seekers and refugees are prominent among the congregation.
Focus on education
The Auburn corps officers at the time – Captains Nesan and Cheryl Kistan – heard the cries of their Sierra Leone worshippers for assistance to help improve life for families in their homeland, devastated by a long, cruel and bloody civil war. Nesan and Cheryl consulted with Ron and Janette, then soldiers of Hurstville Corps and now at Wollongong Corps. A small committee was formed. It agreed that education was the best way to help Sierra Leone in the circumstances.
Children are now proud of their school, with attendances soaring.
As the committee proceeded, membership altered and its area of expertise expanded. In addition to Ron, Janette, Frank (Hurstville Corps) and Nabieu (firstly Auburn but now Dandenong Corps in Victoria), Nesan (now Tustin Ranch, USA) and Peter Lucas (Ryde Corps but now living in London) made up the existing decision-makers.
Nabieu was an asylum seeker from Sierra Leone, who became a Salvation Army soldier through connections with Auburn Corps. He was the committee's 'man on the ground', making occasional visits to Freetown and Jui to ensure that project plans were progressing and sorting out local issues. His emotions on opening day were mixed. He had seen the school redevelopment progress. "But now," he says of the opening, "I was looking at what had been a dilapidated school for 30 years with no desks for the children or tables for the teachers transformed into something wonderful Imagine, the children now had benches and the teachers had tables and chairs and cupboards. There was running water to flush the toilets. Before, the children had to run into the bush to go to the toilet."
For Frank, it was more a sense of satisfaction that such an establishment had been provided for school- children. "I had seen plans and lots of photos over a long period," he says. "The buildings I was seeing fin- ished were what I had expected. This was a beacon of education for Sierra Leone. The most positive thing for me was the number of children whose lives would be changed because of this project. It will do incredible things for their education."
A Sydney Rotarian, Ron engaged the assistance of Rotary Australia World Community, which has expertise in overseas education projects, to manage the funds. Local tradespeople were engaged for the construction. They rebuilt, refurbished, refurnished and expanded a ragtag block of buildings into one of Sierra Leone's finest education establishments.
Electricity was supplied to the school for the first time. Water connection provided the first-ever flush toilets. An old well destroyed in the civil war was restored to provide drinking water. A school clinic will not only aid students, but will also be open to the treat the public.
The massive auditorium will be available for community use, raising extra funds for the school, and a substantial security wall is being constructed to keep thieves out. Classrooms have been built to accommodate nursery, infants and primary students.
"Now," says Janette, "teachers in Sierra Leone are lining up to teach at the school. Previously, about 300 kids turned up occasionally for classes. Now, more than 1000 kids are enrolled and they love their school."
To God be the glory
The Sierra Leone Government has taken responsibility for the school's operation now that it is complete. At the school on official opening day, the Australian flag flew alongside the Sierra Leone flag. The Sierra Leone Police Band played 'Advance Australia Fair', as well as the Sierra Leone national anthem. "I was very proud to be an Australian," Ron says.
There was an inspection of every classroom, where students in each room sang their own versions of welcome songs to the Australian visitors. Everybody wanted to say thank you.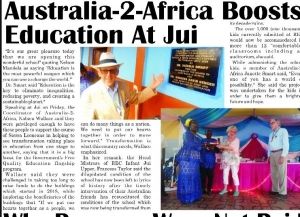 The front page of Sierra Leone's main newspaper showing Ron and Janette Smart at the official opening of the refurbished school.
In the main auditorium – the biggest school hall in all of Sierra Leone – the children and adults sang, clapped and cheered their way through hours of celebration in stifling heat. The opening made the front page of Sierra Leone's main newspaper.
"I think I was in tears for most of the day," Ron says. "It was a very emotional experience. Seeing the faces of 1000 little children was, well, I can still see the faces. I don't think I will ever forget the faces." For Janette, the opening was the realisation of a dream. "When
we first started talking about this project it was with Captains Nesan and Cheryl Kistan at Auburn. They have been the motivators, the encouragers. At the end of our early committee meetings, we would pray for the people in Sierra Leone. While we were praying for them, they were praying in Sierra Leone for somebody to come to help them. God answered their prayer: we came.
"And, now, here we were, in Sierra Leone, seeing the result of our prayers. For me, there is contentment now that the school is in safe hands with wonderful teachers and learning facilities. Who knows the future of these children? There might be a future president or school principal among them. The children now have a future that would never have been available to them before."
At the conclusion of her opening ceremony speech, a Sierra Leone government minister surprised the Australian Salvationists by asking if she could lead a song. She began to sing, "To God be the glory, great things he has done ..." The Sierra Leone Police Band began to play. The children began to sing.
It was, says Ron, the perfect benediction to the Australia-2-Africa school project.
Bill Simpson is a contributing writer for Others.