A faith fellowship of courage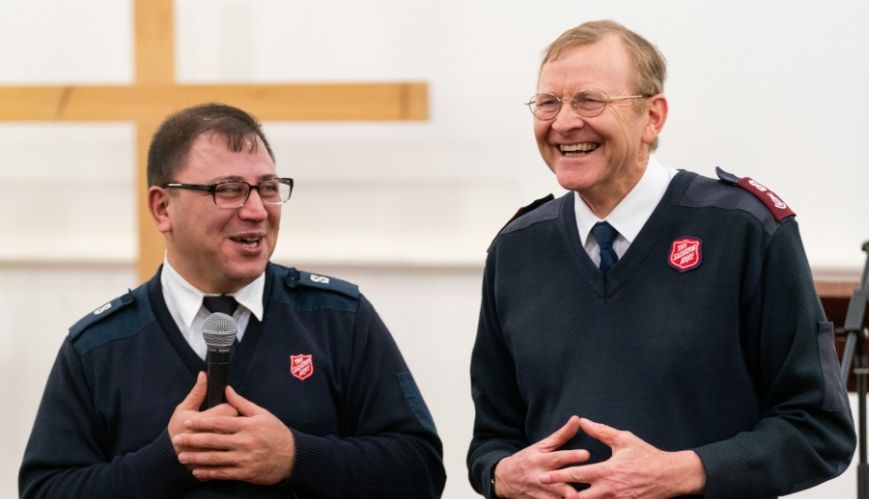 A faith fellowship of courage
7 November 2019
Brunswick Corps Ministry Assistant Major Colin Elkington (right) with employed ministry assistant Kevin Amiri, who translates during every Farsi Fellowship service. Photo: Jacob Dyer
By Jessica Morris
If the indicator of a healthy congregation is how quickly and warmly they greet guests at the door, then the Farsi Fellowship at Brunswick Corps in suburban Melbourne is thriving.
I slip into the 2.30pm bilingual service late, and within seconds a seat with my name on it is made available. "Welcome!"
The first thing I notice is that I am in a minority here. Unlike many Salvation Army corps – and indeed mainstream churches I have attended – the Farsi Fellowship, made up of the Iranian community, has grown organically.
Farsi is the national language of the people of Iran, an Islamic state that, according to Open Doors, an organisation dedicated to serving persecuted Christians worldwide, subjects its Christian population to extreme persecution.
As of 2017, there were almost 7000 Iranian refugees living in limbo in Australia while their applications for asylum were being processed. Many of them rely on community support to survive.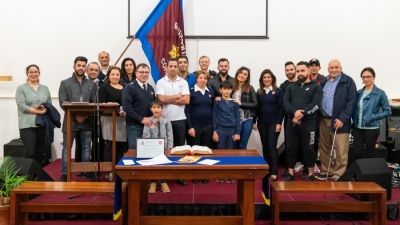 The Farsi Fellowship at Brunswick Corps
A handful of these people are part of the 30-strong congregation at Brunswick . Major Colin Elkington, corps ministry assistant and a chaplain to refugees and asylum seekers, stands at the front with ministry assistant Kevin Amiri as the translator.
"Our God will bring you justice," Colin says with conviction, his powerful presentation mirrored in Kevin's interpretation. "But while we wait, God gives us peace." For the first of several times during the service, I see people around me wipe tears from their eyes.
"The people here are doing it tough," Colin tells me later. "Some have had their application for permanent residency denied multiple times, and while they're waiting on a visa they have no access to a government benefit."
Over chai and biscuits, Colin tells me their stories. One young family is unable to pay the rent, the husband too ill to work and the wife unable to find work. "Salvation Army housing does not house asylum seekers and the welfare agencies that do are stretched to the limit. It means they have nowhere to go," he explains.
A congregant pauses to say hello, and then invites me to her home for dinner. We don't fully understand each other, but she is bilingual enough to show me grace. I ask her what work she is looking for.
"I have a degree in commerce. I would like to find a job as an accountant," she says. She envelops me in a hug and gives me her phone number before she leaves. The same grace is shown to me when I meet Alex, a senior soldier at the corps. He is coordinating afternoon tea, but pauses long enough to shake my hand.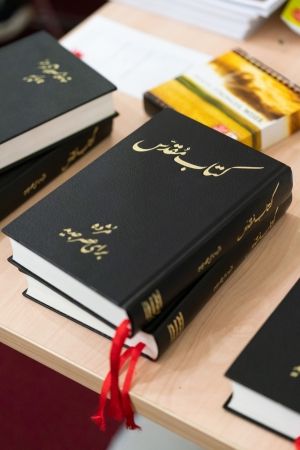 A Farsi Bible.
"Alex spent two years on Nauru," says Colin. My response is awkward. Nauru is one of two offshore detention centres that governments have sent asylum seekers to since they turned back the boats. These people often have nothing, having fled their home country under the threat of death.
"I'm so glad you're here," I say to him. I know my words are insufficient, but he shakes my hand and thanks me for coming to his church, before handing out more chai.
The Farsi Fellowship is undoubtedly a unique congregation. Since it was formed by Colin four years ago, it has grown through friends inviting friends. There are stories of multiple conversions in households – people converting from Islam – and if you listen to Colin, every second person is keen to become a member.
After seeing the congregation in action, I believe him. Since the Farsi Fellowship started, more than 30 adherents have been accepted, of whom 17 have become senior soldiers.
In the service I attended I witnessed three people being recognised for their completion of the Christianity Explained course. One only began attending the corps seven weeks earlier.
"I am happy to tell you that these people have personally decided to make Jesus their personal Lord and Saviour!" When Colin tells us this, everyone erupts into applause. The joy is palpable, but for all the excitement, this is normal for the congregation.
  Ministry assistant Kevin Amiri enjoys a light-hearted moment with some 'mates' 
"People here are on their way to Christianity, or have become Christians. We had one man come and begin Christianity Explained, and his whole family followed!" says Colin. A conversion in the Farsi Fellowship is more than a celebration; it's a declaration of courage. Not just in regard to the faith they've left behind, but the religious culture they are now joining. "Our congregation is all made up of ex-Muslims," says Colin.
"They did not become Christians through 'Christians' ranting and saying Muslims are not welcome in Australia. They became Christians because real Christians welcomed them and showed them the love of Jesus. "Christians who are afraid of Muslim refugees coming to Australia actually show a lack of faith in the Gospel.
If they really believed the Gospel is the power of God for the salvation of all who believe, they would ... see the Muslim refugees coming to Australia as the 'field that is ripe for harvest'." For all the tragedy many of these people have gone through, they carry a quiet dignity and joy about them.
It presents when they correct the bilingual interpretation and 'chastise' whoever made the slides. And it's obvious in the laughter when Colin goes to great lengths to add multiple crescendos to a rousing rendition of the closing chorus.
It's in sharp contrast to the images and stereotypes I see portrayed on the news. Before I leave, I shake the hand of everyone going out the door. Two young men are new to the fellowship, invited by a sharply dressed man.
"Are you coming here now?" he asks, grasping my hand excitedly. Others bow to me and I clumsily bow back as a sign of respect. Kevin comes up to me before I go. He wants to make sure I have everything I need for the article. "Is it [the article] about multiculturalism in the Army?" he asks.
I tell him that I want to tell the story of the Farsi Fellowship; that I don't have an angle yet, but I know this story is important. It is clear this congregation deserves more than lip service or a token of diversity.
Article author Jessica Morris chatting after the service
What I do know is that these people have shown me more love than I've experienced in the house of God for a long time. And that is reason enough for me to heed Colin's call for friendship with the Iranian people.
"These people are coming here, trying to learn our language and wanting to fit into our culture," says Colin. "Every real Christian is now presented with the opportunity of being a missionary in our own country."
Jessica Morris is a staff writer for Others.