A life of unexpected blessings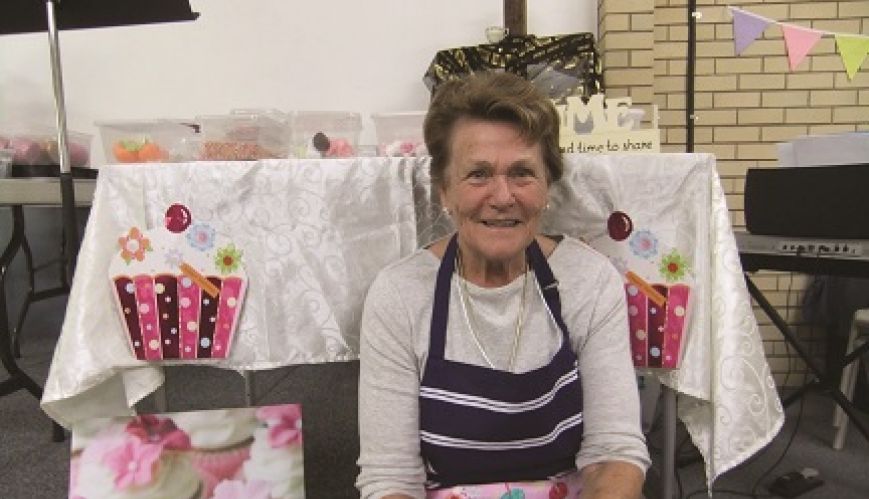 A life of unexpected blessings
3 January 2019
Salvationist Jean Fox, fondly known as the "cupcake lady", is part of a unique and long-running ministry to people battling addictions.
By Lauren Martin
Caboolture Salvationist Jean Fox can only thank God for drawing her to a Salvation Army Family Store on Queensland's Sunshine Coast about 25 years ago. She has no idea why she stopped by, and admits she didn't need the things that she purchased. Standing there at the counter, with the stress of a failing marriage to an alcoholic husband weighing heavily on her soul, Jean burst into tears.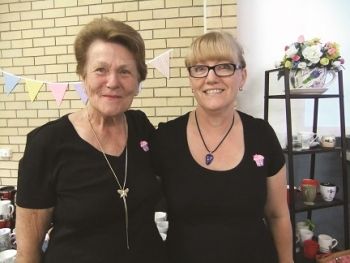 Jean Fox and Major Helen Ellicott minister with their team at Moonyah.
"I just fell to pieces!" she remembers. "The fellow that was serving was in Salvation Army uniform ... and all of a sudden a lady came out of her office, also in full Salvation Army uniform, and said, 'Come in and sit and have a cuppa with me, I can't let you drive home like this'."
Two hours later Jean felt strengthened, knowing she could call in on that "lovely Salvo woman" anytime she wanted to chat. She was also puzzled, in a grateful way, as to how a complete stranger could care so much. Months went by and Jean did drop in every now and then. The woman, a Salvationist named Gail Martin, became less a stranger and more a friend, and at some stage invited Jean to church.
"Gail said, 'If ever you feel like coming to church, I'll be standing at the door with song books, and you can sit with me'," Jean recalls.
A little while later, Jean took up that offer. She had brought her girls up in the Uniting Church, but when she moved to Queensland, with her marriage deteriorating, she hadn't found a new congregation. When she arrived at Caboolture Salvation Army, she saw Gail, just as she said she would be, standing at the front doors. As she sat next to her new friend in the service, God made himself known.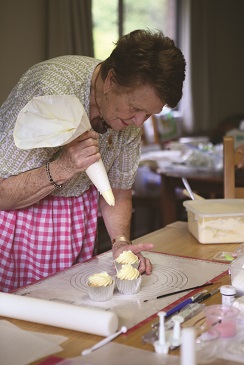 Jean using her cake decorating skills to serve others.
"I just thought, 'This is exactly what's in my heart. This is my place of worship and these people believe and do exactly what's in my heart'."
Jean's marriage ended, as she expected it would. But, through the kindness of a stranger, Jean gained an unexpected blessing through the pain: a deeper relationship with God and a calling on her life for ministry. She soon became a soldier and began to help out at the corps wherever she could.
What God did next was also unexpected. He called her into ministry with people in addiction through her passion and skill for baking (Jean has owned and operated several cake decorating stores.)
"We got new officers, Majors Helen and Bruce Ellicott, and one day she was telling us a little bit about her son who was in addiction. She was going down to see him; he'd been accepted at The Salvation Army's Moonyah Recovery Services Centre (in Brisbane).
"I had done a cupcake demonstration that day for the Home League ladies and we had some decorated cakes left over. I said to her, 'would you like to take these cakes with you?'"
Major Helen took the cakes and returned to Jean with a story about what a powerful impact the gift of those cupcakes had on the participants at Moonyah. "She said when the folk from Moonyah looked at the cakes and went to take one, the look on their faces was almost like, 'Did somebody make these for us?' She said it was the weirdest feeling, like they weren't used to somebody making something especially for them."
When Jean offered to make more cupcakes for the Ellicotts' visit to Moonyah Chapel the following week, she was encourage to attend as well. "I thought, 'That's not my thing. Because I was married to an alcoholic, addiction was not something I would have chosen as a ministry.'" But she felt God calling her to accept the invitation, so she baked 10 dozen cupcakes and off they went.
"As we were handing out the cupcakes we couldn't help but say, 'Oh, I haven't met you before, what's your name?' Or 'How long have you been on program?' Or 'Have you had a good week?' That type of thing."
It was the start of a ministry that's been going nearly six years, with Jean (now in her 80s) hardly missing a week delivering cupcakes to participants at Moonyah Chapel. Majors Helen and Bruce Ellicott's son has since graduated and continues a healthy recovery. "God sort of said to me, 'this is a great connecting tool and it really is a way to get to know people and let them know in that hard time in their life that someone cares about them."
Jean loves doing for others what has been done for her.
Every Sunday at Caboolture Corps, Jean is now the woman standing at the door, greeting others, her loving eye on the lookout for anyone new who can be welcomed and encouraged. She acts as a chaplain in the ministry centre, with many individuals and families coming in for support through Doorways, The Salvation Army's Positive Lifestyle Program and other Salvation Army services and connection points. She also drops in regularly to Narcotics Anonymous or Gamblers Anonymous groups that run at the corps to maintain a connection with graduates from Moonyah that she's met through the cupcake ministry.
Life has come full circle for Jean. She's now doing for others what that lovely stranger did for her so many years ago. And she gives all glory to her King, Jesus, who has been the God of unexpected blessings in her life.
"I would say to anybody else, 'Be still, and if you ever get a tap on the shoulder that God's calling you to do something then be obedient'. I lift my eyes and sometimes just say, 'Thank you God,' because you can just see what he's doing, you really can."