Aaron a 'not so happy camper' this year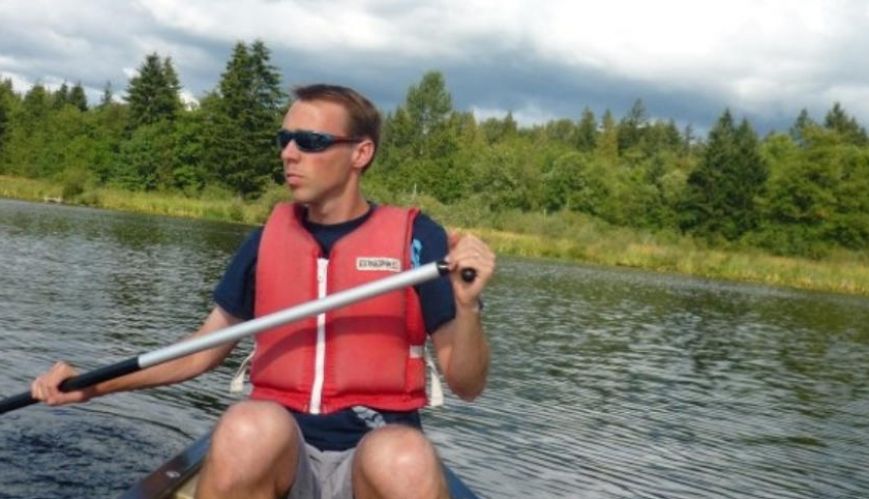 Aaron a 'not so happy camper' this year
15 July 2020
Aaron Parkinson enjoys some quintessential canoeing on the lake during one of the many Salvation Army-run summer camps he has attended in the United States.
By Darryl Whitecross
The image most people have of the annual summer camps across America each year is a romantic one – log cabins beside lakes, huge redwood forests, lots of fishing and canoeing, and excited children pouring out of yellow buses with an expectation of the days and weeks ahead.
These camps, held from June to mid-August each year, are ingrained into the American psyche – right up there with baseball, basketball, gridiron and apple pie. 
The truth is that, in many cases, they are far less romantic. The coronavirus pandemic has taken more of the romance out of the camps as most are shut down because of restrictions and statistics surrounding the spread of the virus.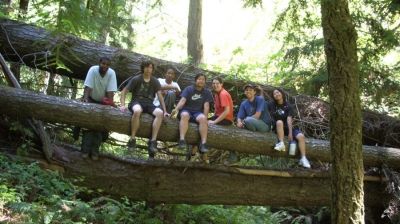 Many lifelong friendships are formed at summer camps in the US.
The American Camp Association website states that there are usually about 12,000 camps held across the United States each year – including day camps, overnight camps and longer-term camps – which attract about 11 million campers and leaders. This year, however, most of these campsites are ghost towns.
The Salvation Army across the United States has a large commitment to these camps, with a strong conviction to communicate the Gospel to thousands of children. The camp leaders are not all from America. Many come from across the globe. One such leader who would be at an Army camp right now would be Brisbane's Aaron Parkinson.
Aaron has been travelling to America each year for almost 15 northern hemisphere summers. His roles have included being a counsellor, head counsellor, kitchen crew leader and program director. Aaron's wife, Linda, usually has a role too.
Aaron said it was difficult to be sitting at home in Australia knowing he'd rather be in the US but takes some solace in the fact it is out of his control with summer camps being closed and international travel suspended.
"I don't think COVID-19's going to stop camping as a whole but it will probably bring about change but, ultimately, God's the one who gets the Word out so he'll make it happen. People need to be willing to understand it's going to be different (post-pandemic) and it may take a little more sacrifice," he said.
Aaron has been attending summer camps in the US for 15 years.
As for Aaron's future at summer camps, he said that while he can't see an end to the pandemic, "it's up to God how and where he wants us to serve".
When he left university in his early 20s, Aaron didn't have a job lined up so he took the opportunity to join the staff at a Salvation Army-run camp. He's now almost 40 and has been to various camps including Redwood Glen (in Santa Cruz), Arnold (near Seattle), Kuralti (near Oakland) and Portland (in Oregon). "I hadn't done any real kids ministry before I went to my first summer camp," he said.
He said that while movies painted a glamorous picture of US summer camps, the reality was a little more down-to-earth. Where philanthropists poured significant funds into campsites, the facilities and buildings were more like the movies. In the situation of the Army, the campsites were much more modest in the buildings and equipment provided and often were in need of updating or repairs. Despite that, many camp settings were "surrounded by creation" – huge redwood trees, lakes and mountains – and there's camping under the stars. Then there are the high ropes and challenge courses among the hectares of space.
Aaron said different camps, which were divisionally or territorially-run, also had different cultures depending on the region they were run. He said that a major difference between summer camps in the US and Australia (most often termed holiday kids' club Down Under) was that the camp leaders are paid. In Australia, they usually are led by volunteers.
He said Christian focus on a typical day at camp would include singing or saying of grace at meals, a 40-45-minute chapel service, Bible talks and object lessons and ending the day with a campfire devotional. "It has been great to share the Gospel with the kids, spend time in the cabins with the kids and see them hear the Gospel for the first time," he said.
Aaron said the camp counsellors had sole responsibility for between six and 12 children for the week, ensuring their safety and well-being, their spiritual growth and understanding and that they had a good time. He said the Army camps were designed to be a "mission within a mission" and each site worked to ensure its leaders expressed and lived a strong Christian faith. There was also a component where there was a ministry to staff as well.
In his experience, Aaron said there were the "runners", the "fighters", the "biters" and the "hitters"; the "difficult kids" and campers with various physical and mental challenges. "There is no perfect camper. It's the way God looks at us. No one can measure up. No matter what the kids have done we need to show Christ's love to them in the same way," he said. "The camps are a safe place where (the children) hear and have modelled to them what the Gospel is all about."
Aaron said it has been a joy watching children grow up to become camp staff. "It's been great to watch them grow up physically, emotionally and in Christ," he said.
Camp in a box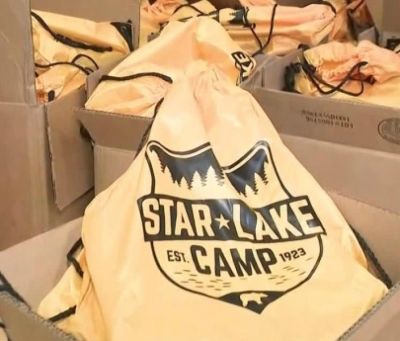 One of the Star Lake 'camp in a box' packs.
The pandemic has caused some US camps run by The Salvation Army to think "outside the box" to reach the children, but it could be what's inside the box that counts this summer.
One of the most famous summer camps is Star Lake, run by The Salvation Army of Greater New York. (Eric Ball's 1937 composition Star Lake is recognised as one of the Army world's most favourite and recognisable brass band pieces. He wrote it after having been invited to be a guest at the camp.) The camp is not being run this year – the first time in its 98-year history.
Captain Antonio Rosamilia, Greater New York Youth Secretary, said the division instead had created 'camp in a box' where children (aged 7-12) who would normally have been at camp received a "box of silly things" each Monday for the duration of what would have been the physical camp.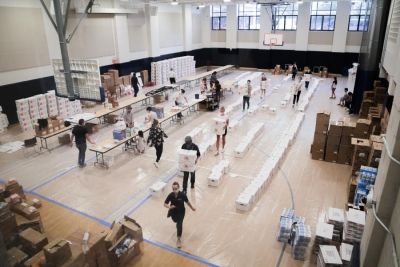 Volunteers putting together 'camp in a box' packs in the East Harlem warehouse.
Antonio said the boxes were filled with items such as arts and craft supplies, sunglasses, a camp T-shirt and snacks ... "fun activities to bring a bit of joy into the children's lives ... we wanted to remind them that they are not forgotten this summer."
He said that the Army was working with volunteers from a sister welfare organisation out of a warehouse in East Harlem to pack the boxes for delivery across Hudson Valley, Long Island and the five New York boroughs.
While almost all summer camps across America have closed because of COVID-19, one camp has gone against the trend and opened up albeit with strict protocols in place. That camp was the Army in Wake County's Red Shield Club of Raleigh.
Sarah Smith-Ruiz, the camp program director, said only 40 children had been allowed to attend compared with the usual 150. All leaders had to undergo extra training and preparation around the COVID-19 protocols.
"For maybe about two months, we've been working on this to get everything set up," Sarah said. "It means a lot more work to prepare for fewer campers. It is always disappointing when we are not able to serve our youth and teach the Gospel."
Sarah said that at her camp, every pathway was lined with ropes, cones and directional arrows and it is mandatory that the children wear masks and social distancing enforced – and there is plenty of hand sanitiser.
Red Shield Club of Raleigh summer camp program director Sarah Smith-Ruiz.

Chance to rethink
Aaron said that the COVID-19 period would give the Army time to "reinvent themselves" and "refocus on what's important".
He said there was a move across the Army in the US to have a more coordinated approach to its camping program to have a national standard for orientation and training of staff and material used as part of the program. "Of course, that would be modified on a local basis because of the difference in camp structure and culture," Aaron said.
Mitchell McWilliams, the Army's Intermountain Division Director of Outdoor Ministries in Colorado, said a best-practice document was being drafted which, if adopted, would standardise training, topics and core lesson plans.
"We view camp as more than just for the campers but as a leadership learning lab," Mitchell said. "We have leadership development models to share and hope to set the bar for a minimum standard that can preserve The Salvation Army's brand of camping and hopeful make that more consistent."