Army personnel honoured with Australia Day awards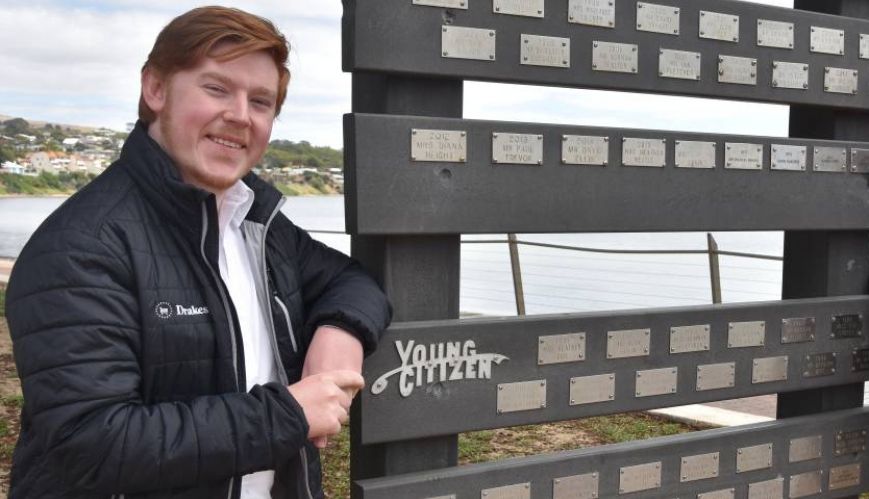 Army personnel honoured with Australia Day awards
5 February 2021
Dylan Cowley at the honour board bearing the names of previous Port Lincoln City Council Australia Day award winners. Photo: Jarrad Delaney, Port Lincoln Times.
By Darryl Whitecross
Salvationists, employees, volunteers and individual partners have been recognised in Australia Day awards around the country for their philanthropy, community-mindedness and Kingdom building through The Salvation Army.
From the top: Dylan Cowley, Julie-Ann Bennett, Corey Bock, John Deeks, Wes Bust (with Mt Isa Mayor Danielle Slade) Mt Isa Recovery Services clients Bryan Escott, Amanda Smith, Aaron Bonner and Zacchius Butcher, Jackie Wright, Tara McClelland, Robert Bagnall, Kevin Pearce and Bruce and Alida Beattie.
South Australia
Dylan Cowley, from Port Lincoln Corps, said he was "completely blindsided" when Mayor Brad Flaherty called him to let him know he had won the Port Lincoln City Council Australia Day Young Citizen of the Year award.
Dylan, 23, said his fiancée, Belili, had secretly arranged the nomination: "I was the only one at home [so there was no one to tell]. I was so excited that I rang my grandma straight away," Dylan said.
He said his fiancée had arranged for several of the community organisations in the city, including the Army, to contribute to his nomination.
Dylan has a significant role in worship in his corps, playing the keyboard and the drums in the contemporary worship band. He took over playing keyboard from his father, Euan.
He also has a leadership role at the community drama group, Passionis Productions, which aims to make art more accessible in the city. He has been part of Passionis since it began in 2014.
Dylan lists becoming a member of the YMCA Youth Parliament last year as one of his proudest moments. He said the Youth Parliament was a non-partisan program that gave young people aged 15-25 an opportunity to "have a say" on important issues, which would be heard inside actual parliament with their ideas – in the form of Youth Bills – possibly finding their way into state policy.
Rebekah Danzic, a co-founder of Passionis Productions, said all within the group were "very proud" of Dylan and "very excited for him that he has been recognised" with the award. "He has been with us from the very start. He came to our first interest meeting and he has been dedicated [to the group] every since."
Port Lincoln Corps Officer Captain Darryn Lloyd said the award was "a well-deserved honour" for Dylan. "I join with our worship community in congratulating Port Lincoln Council in selecting such a fine young man to be recognised in such a wonderful way," Darryn said. "He and his family are an important part of the worship life at Port Lincoln Corps and in the greater community. We celebrate Dylan's passion to see others achieve their God-given full potential."
Elsewhere in the state, at Adelaide City Corps, volunteer Julie-Ann Bennett was awarded South Australian Citizen of the Year for her selfless service, including her role as a volunteer at the Army's 'Do Unto Others' program, a holistic ministy to people experiencing homelessness and disadvantage in the city.
Queensland
At Fassifern Corps, in Kalbar in the south-east of the state, corpsfolk continue to be recognised for their community work. Following on from Allan and Elsa Stibbe from Fassifern Corps being honoured as Community Leaders of the Year last year at their local Australia Day awards, Corps Officer Captain Wes Bust and corpsfolk John Deeks and Corey Bock received awards this year.
Corey was awarded the country's highest honour for a fire officer, the Australian Fire Service Medal, for his service to the community and beyond through fire management, fire investigations community engagement and knowledge management with Queensland Fire and Emergency Service over about 30 years.
Nominations for the award come directly from the Governor-General after recommendations from state fire services and are only announced once a year – on Australia Day. Corey has not yet received the award as it is either presented by the Governor-General or the Governor of the State in which the recipient lives.
Corey said he was expecting to be handed his medal by Queensland Governor Paul de Jersey, which would be the last such medal he presents before his retires in July this year.
Corey has been a part of Fassifern Corps for about 20 years and is on the leadership team there. He is also an integral part of its sound and lighting team and works closely with the Young People's section. Outside church, he also spends time helping young people through his Rural Fire Service volunteering role.
"Christianity is a way of life and is present in everything you do," he said. "I try and share an encouraging word or just being a humble with people and often do a lot of listening. It doesn't matter what organisation you're in whether in emergency services organisation or in a knitting class; it's all about relationships. Through that, there's been a thousand doors that have been open for me to share something or to encourage someone.
"When you deal with adversity and tragedy on a daily basis in an organisation that I work in ... I see it as a great opportunity to connect. When you connect, you earn their respect then we can gather momentum and actually do something."
Former town crier John Deeks was nominated for a Scenic Rim Regional Council Australia Day Award for Citizen of the Year (over 65) but came away from the ceremony with a Mayor's Award instead.
John said he was blessed to have been among the ranks of town criers for about 20 years until his retirement in 2019. He was the Scenic Rim's first town crier, which the council said he performed with "dignity".
John, with his impressive now-white moustache and beard, is enjoying retirement, but the gongs keep coming. Originally from England, John said he was quite chuffed at the original nomination, which came in the shadows of him celebrating his 89th birthday on 19 January but equally happy to receive the Mayor's Award.
John loves his brass bands. He was a drummer in the band at Boonah Corps, south-west of Brisbane, before it closed, and is a member of the Boonah Community Band.
He was made an adherent at Boonah before the corps closed and said he now enjoyed being part of the congregation at Fassifern and running a Monday night Bible study.
A highlight in John's life was being presented the Freedom of the City of London last year. He was a Bobby with the London Police Service before moving to Australia.
Fassifern Corps Officer Captain Wes Bust said John had given long service to the region in many different areas. "It is wonderful that he has been recognised by the council for his faithful service to the community over many years."
Wes was recognised with the Kalbar Baptist Church Community Leader award in the town's Australia Day celebrations, principally in recognition of his investment in time to organise welfare and personal support for farmers in the area struggling after damaging storms and continuing drought – "sticking his neck out for others," as the corps Facebook page recorded. It said Wes was not afraid to physically roll up his sleeves and get down into the dirt and mud and work shoulder to shoulder to help families get back on their feet.
The Mount Isa Recovery Services (MIRS) centre at Spear Creek was presented with a Community Event of the Year award as part of this year's Australia Day honours list for its National Aborigines and Islanders Day Observance Committee (NAIDOC) Week program last year.
Centre manager Kaye Smith said the MIRS team were unaware of the award nomination until they were informed by Sergeant Lisa Hillary, coordinator of the Queensland Police Service's domestic violence unit in Mt Isa.
Lisa said she had been so impressed by the NAIDOC family fun day MIRS hosted on its grounds on 10 November last year that she nominated it for a Community Event of the Year award.
Kaye said the event was not only supported by the wider community to connect with each other but further supported the live-in recovery services clients to engage positively with other groups. Mt Isa Mayor Danielle Slade attended the event with her children.
Kaye said that when the MIRS bus arrived for the Australia Day award ceremony, Danielle was the first person the clients saw and quickly organised a group photo with her.
"That was a very proud moment," Kaye said. "We were the only Indigenous group there."
In Caboolture, great-grandmother Jackie Wright had an Order of Australia medal sewn up for some time. She has stitched patchwork quilts and beanies for about 30 years and donated more than 300 of the creations annually to sick children and those affected by domestic violence.
She said she was shocked to find out she was to receive the OAM: "I thought they got the wrong person. My first reaction was to refuse because I didn't think that what did was anything over special when there are hundreds of other ladies doing the same thing in their patchwork quilt groups. I spoke to a friend of mine who said, 'You're wrong. Think of the children whose faces light up when they get their nice, colourful quilts'."
Jackie, who ran her own patchwork shop until 2007, said over the past four years she has given bundles of 30-40 of her quilts at a time to the Army at Nambour to give to children who are domestic violence victims. "It's a kind of security blanket that is theirs. I'll keep going as long as I can."
Australian Capital Territory
Salvation Army case manager Tara McClelland continues to be recognised for her tireless work in positions around the country for the vulnerable in the community, especially young people.
Her latest award comes in the form of the 2021 ACT Young Australian of the Year. At 24, Tara is passionate about advocating for young people to have a voice. "My key message is that we are undervaluing and underutilising the power of youth, and I want to change that," she said.
Tara is a case manager (women and children) for the Army's Samaritan Women and Children's Service in Sydney and has previously worked for the Youth Outreach Service (YOS) in Brisbane and Oasis Youth Service in Canberra. She was nominated for her work with the Army as well as for her volunteer roles with the Canberra Youth Theatre and Headspace. She has also assisted the Children and Young People Commissioner's office, which is part of the ACT Human Rights Commission, with their work on family violence.
New South Wales
Robert Bagnall, long-time Red Shield Appeal collector and zone chairman, was recognised with an Order of Australia Medal for service to the community through a range of roles with the Red Shield Appeal, the Balmoral Beach Club and other organisations. 
He said from a young age, his parents, who had both served during wartime, instilled in him a deep respect for The Salvation Army. "My mother was an Army nurse coming back from overseas and said they landed in the Northern Territory in the middle of the night with nobody there to greet them except for The Salvation Army. There was an officer there with some hot tea and cake. And there are many stories like that you hear, of selfless service."
Robert started volunteering as a collector for the Red Shield Appeal decades ago because "a few mates were doing it" and then went on to become a committee member, zone chairman and area chairman. He said he is still blown away by the way Salvos exhibit "Christianity with its sleeves rolled up".
"I meet officers that take the view that every life is important, nobody is to be disregarded, no matter how undeserving somebody may appear to be."
In response to his award, NSW/ACT Divisional Commander Lieut-Colonel Miriam Gluyas wrote a letter commending Robert's selfless service. "We want to sincerely thank you for your incredible and loyal support of The Salvation Army over many years. You have provided unrelenting support, expertise, community influence and countless hours of your time. Time and time, you have gone above and beyond to serve The Salvation Army and we honour you for this," the letter states.
In Wyong, Kevin Pearce has been awarded the Order of Australia medal posthumously for his service to the community through a range of roles including as a member of the Army's Advisory Board Wyong. Kevin passed away in May 2019.
Tasmania
In Devonport, volunteers Bruce and Alida Beattie were awarded joint Tasmanian Citizens of the Year for their long history of volunteering, including as collectors for the Red Shield Appeal.
EDITOR'S NOTE: Every effort has been made by the Others team to list Salvationists who have received awards. If you know of any other Salvationists recognised in Australia Day awards, please let us know by commenting below or emailing: othersonline@salvationarmy.org