Bandmaster Ron Waiksnoris leaves a rich legacy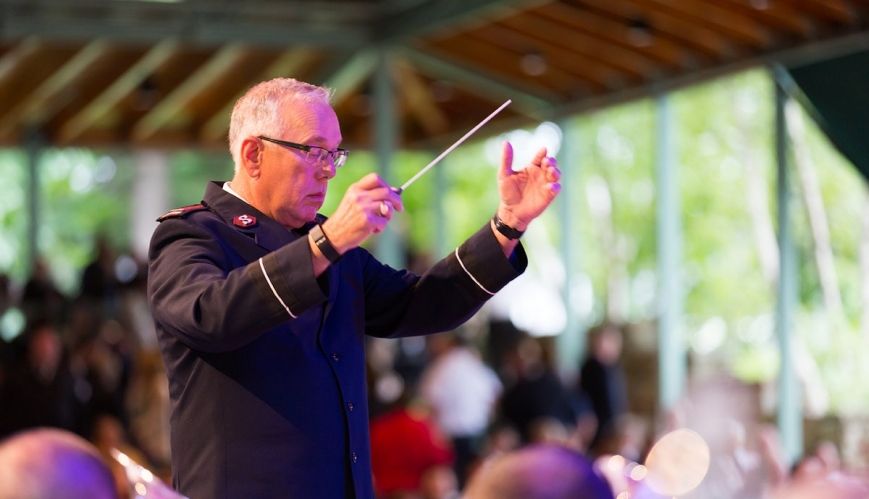 Bandmaster Ron Waiksnoris leaves a rich legacy
28 October 2016
USA Eastern Territory has farewelled New York Staff Band bandmaster Ron Waiksnoris after a 40-year career with the band, including 24 years as the bandmaster.
He conducted his last concert as bandmaster at The Old Orchard Beach (OOB) Camp Meetings in July.
Waiksnoris joined the NYSB in 1975 and became bandmaster in 1992.
In August, Waiksnoris led his 32nd and final Star Lake Musicamp in the mountains of Bloomingdale, New Jersey.
Waiksnoris attended Star Lake Musicamp 46 times, including twice as a camper, 12 times as a staffer, and since 1984 as the camp's leader.
"I've had a good time watching the generations come up," Waiksnoris said. "A lot of the staff members today were kids who came through camp.
"I always enjoy Star Lake," he added. "It's a great experience to see these kids who are so spiritually sound making progress musically. It's really a special week."
Waiksnoris said his favorite camps involved the noted conductor and composer Eric Ball, who once conducted the tone poem "Kingdom Triumphant" in a way that spiritually moved Waiksnoris.
"It had such an impact on me that I've used it on and off ever since, including the last weekend of the camp meetings," he said. "That came out of the Star Lake experience."
Waiksnoris, who is almost 68, said he will miss Star Lake, "but it is time for the next generation to put their stamp on things."
Waiksnoris said he also enjoyed leading Crossfire Brass, the volunteer band of musicians performing each year at the Old Orchard Beach Camp Meetings.
"I've invested a lot in the Army's brass banding because I believe in it," said Waiksnoris, a faithful soldier of the Montclair (Citadel) Corps in New Jersey. "It's multigenerational. It's multicultural. It's what I call 'Army culture.' It connects The Salvation Army world."
Waiksnoris noted that whether you go to Japan or the Congo, you'll find a staff band.
"It's really a thing that unites us and I would just hope we never lose sight of that," Waiksnoris said.
Derek Lance, a NYSB member and the leader of Summer Brass, will succeed Waiksnoris as bandmaster. In 2017, Lance will also take over as territorial music secretary.
First published in Salvation Army Connects.