Behind the scenes with Salvo Studios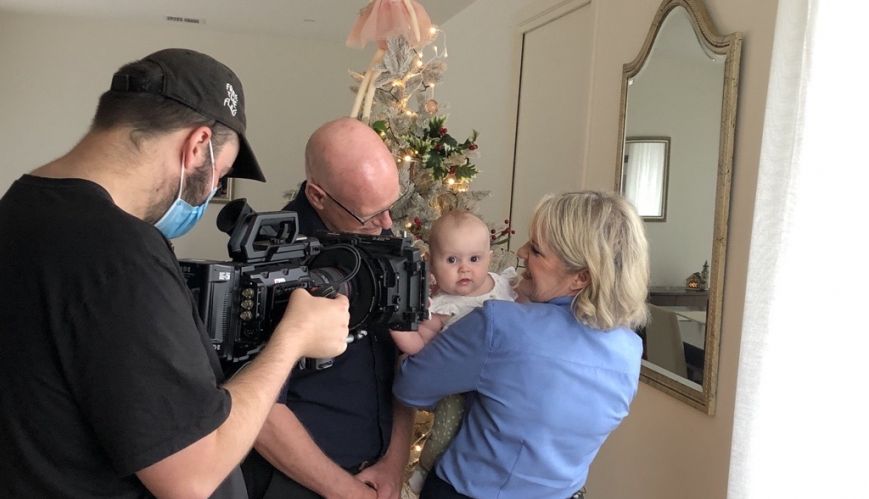 Behind the scenes with Salvo Studios
22 December 2021
Filming is a family affair for Commissioners Janine and Robert Donaldson and their granddaughter.
by Faye Michelson
The 2021 Christmas service video is a time of inspiring worship – to listen to beautiful music, insightful messages, and the word of God. It's a time to come together, wherever we are in this time of COVID-19, to rejoice in the birth of our Saviour.
It took the dedicated Salvo Studios team – and many others – more than a week of creativity, skill, organisation, and hard work to bring this service to your screens.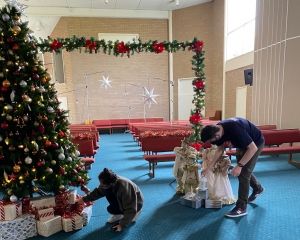 Pallavi and Matt set the scene.
Lillian Yau, Salvo Studios producer, says about 25 people were involved across the stages of preproduction, production and postproduction. Under the leadership of senior producer Michelle Watts, the team comprises Lillian, Jed Goodluck (audio producer/editor), Karizza Javier (associate producer), Matthew Spasaro, and Samuel Kostevc (camera operators/editors), Victoria Wu (animator), Zac Hutchings (camera operator/editor youth and young adults).
"Postproduction hours [for the Christmas filming] – video editing, audio mix – took about a full week combined," Lillian says.
But that doesn't take into consideration the actual filming and the organisation that goes into making that happen.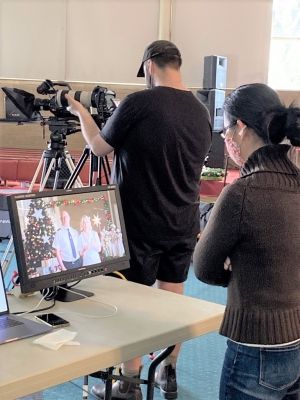 Producer Lillian Yau at work.
"One of our challenges is locking in the date and time to film everyone in one day," Lillian explains. "We filmed Shire Salvos performing 'O Come All Ye Faithful' and Julie's story in Sydney, and the rest in Melbourne ... but a week apart. We ended up filming the Melbourne Staff Band a week later. Otherwise, it would have been a very long day for our team."
On Tuesday 16 November, the team 'bumped' into Camberwell Salvation Army to shoot part of the Christmas service. The day before had already been busy; the team had set up the studio in Territorial Headquarters at Blackburn to film Colonels Winsome and Kelvin Merrett's Christmas message. As soon as that filming finished, the team set off to Camberwell Corps to move pews, set up stands for lights and garlands, and decide on prop placement.
"For the set design we had campaign guidelines to follow with the colours, tone and feel, so we had to be resourceful and selective when gathering props and materials for the set," Lillian says.
The next day, filming for several platforms, was carefully programmed, with almost every minute accounted for.
"Having a small team to assist with setting it up before and on the day was incredibly helpful, especially with pack up," Lillian says.
Holly Reed (Brand content lead), Pallavi Singhal (Brand content specialist), and Matt Allensby (Internal Communications coordinator) arrived at the corps at 9am to set up props, while the Salvo Studios team went to Commissioner Janine and Robert Donaldson's home at 8am to set up for filming the Others.org.au December message. Matt also took on production designer duties to help with planning in the lead-up to filming.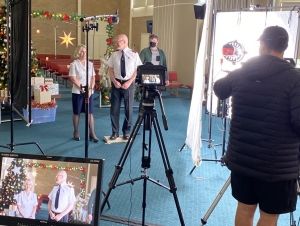 Filming the Donaldsons giving their message.
Holly, Pallavi and Matt decorated the set, finishing around 11am to order and pick up lunch for the crew. The Salvo Studios team finished filming the Commissioners around 10.30am and left for Camberwell Corps to continue to set up. From then on, it was a finely tuned operation, as the tightly scheduled running sheet shows:
Midday: Donaldsons and Matt Reeve arrive to discuss Christmas service message and other details.
12.30pm: Lunch
1.15pm: Final checks.
1.30pm: Record the Donaldsons' pieces-to-camera for the external audience, Christmas Day Appeal and Christmas service messages.
3pm: Wrap the Donaldsons' filming and reset to film Matt Reeve.
3.30pm: Film Matt Reeve.
4.15pm: Wrap Matt Reeve. The crew packs up and bumps out, leaving the building about 5pm.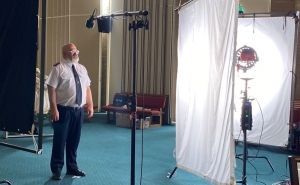 Matt Reeve talks to the camera.
"It's one of the most hectic times of the year for our team. We had Commissioning, Self-Denial Appeal, multiple Christmas videos and other video productions happening at the same time – it puts our production scheduling to the test, especially in the second half of the year!" Lillian says.
"But what I love about Salvo Studios is the variety of productions we get to work on, having the opportunity to collaborate with other ministries and departments, and being a part of the greater picture to inform, educate and tell transformational stories."
Others.org.au will have a link to the service available on Christmas Day.