Cadet profiles: Anthony and Nicole Bezzina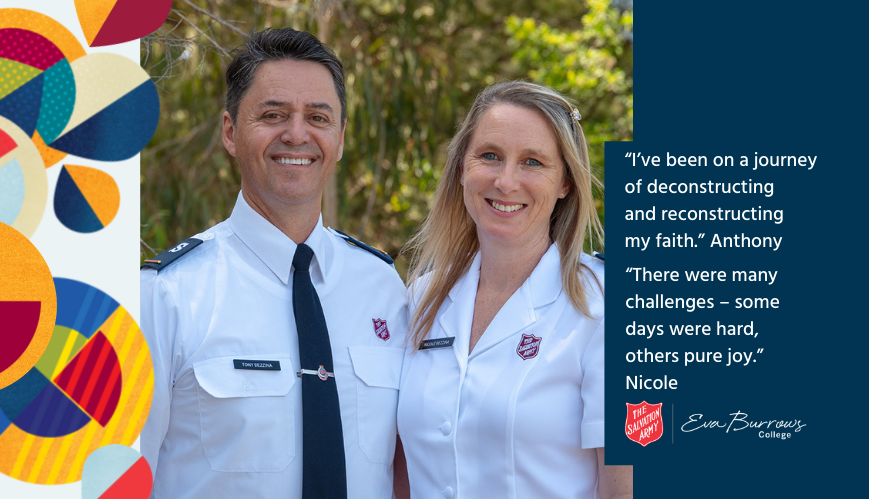 Cadet profiles: Anthony and Nicole Bezzina
28 November 2021
Meet Anthony and Nicole Bezzina, Messengers of Reconciliation
How did you know you were being called to officership?
Anthony: The desire to be in full-time ministry had been a consistent desire of mine for 20 years. This was confirmed through prayer and multiple prophetic words from respected ministry leaders. But ultimately, it was the peace of God about becoming a Salvation Army officer that led to my decision.
Nicole: A beautiful couple ran the corps I was attending, and after a few years, we were contemplating how we could all work together on a full-time basis. After some investigation, we had a meeting, and the only way we could join them was for my husband and me to apply for Bible college or cadets-in-appointment. During this meeting, God dropped the 'Bible college' on my heart, and at that moment, I knew we were destined for Bible college. We applied in July, and by October that same year, we were accepted and started on the journey of becoming officers.
What has been challenging about your training?
Anthony: One of the main reasons for attending Eva Burrows College was the face-to-face aspect of the training. My family and I moved from Sydney to Victoria and we found ourselves studying online, which has been the biggest challenge. However, the support I received from Officer Formation Stream has been great.
Nicole: The most challenging aspect has been the lack of interaction with others, corps, and the college due to lockdowns. Our training began with face-to-face classes, and by week five, we went into lockdown. As a result, all my sermons have been either pre-recorded or live-streamed, and I have missed engaging with people from all different areas across ministry. However, I have still learned so much, and I appreciate all the hard work and support from the lecturers and the EBC staff.
Has it been different to your expectations?
Anthony: While being in lockdown was unexpected, my expectations of being challenged academically, spiritually, and personally have been met with great support from all the staff.
Nicole: I did not come to college with much expectation, as I was unsure what was involved. I was just open to the whole experience. The journey has covered many emotions and challenges. Some days were hard, and others pure joy. The experience of college has far succeeded any expectations I could have had coming here.          
What has been the most rewarding part of your training?
Anthony: My spiritual formation and relationship with God have progressed, and I have noticed this difference when engaging in the different aspects of ministry, specifically pastoral care.
Nicole: The whole journey has been rewarding. To complete a university degree is rewarding. To meet others on the journey is rewarding. However, the most rewarding aspect would have to be hearing people's stories where they have come from to where they are now, how God has met them in dark times or along the journey and hearing how God has changed and transformed their lives. 
How has God stretched you during the past two years? 
Anthony: I have been on a challenging journey of deconstructing and then reconstructing my faith, which has helped me understand different world views.
Nicole: I have learnt so much more about myself, God, people, and ministry. I have been stretched and challenged in all these areas, and through it all, I have gained a greater understanding and confidence in God and the abilities he has given me. 
What is one important lesson you have learnt?
Anthony: How to care for people who are grieving from past trauma or loss.
Nicole: The most important lesson would be the value and benefits of building relationships with people. Becoming an officer is not just about preaching on Sunday or feeding the homeless. It is about coming alongside others, meeting people where they are at and building relationships so they can experience the love of Jesus for themselves
Where have you been appointed during your cadetship?
Anthony: I had the privilege of spending time at Gateways Crisis Centre and Box Hill Corps. I've met great people and gained invaluable experiences that I will take into officership next year.
Nicole: Wyndham Corps (Vic.) Ferntree Gully Corps (Vic.), which, unfortunately, was primarily an online placement as we were in lockdown. However, I did have the opportunity to work alongside great corps officers and help with their drive-through food collection, and work with a fantastic group of ladies. We spent our second year at Box Hill Corps (Vic.) and I was appointed to Boronia Corps (Vic.) for my social placement.