Cadets Speak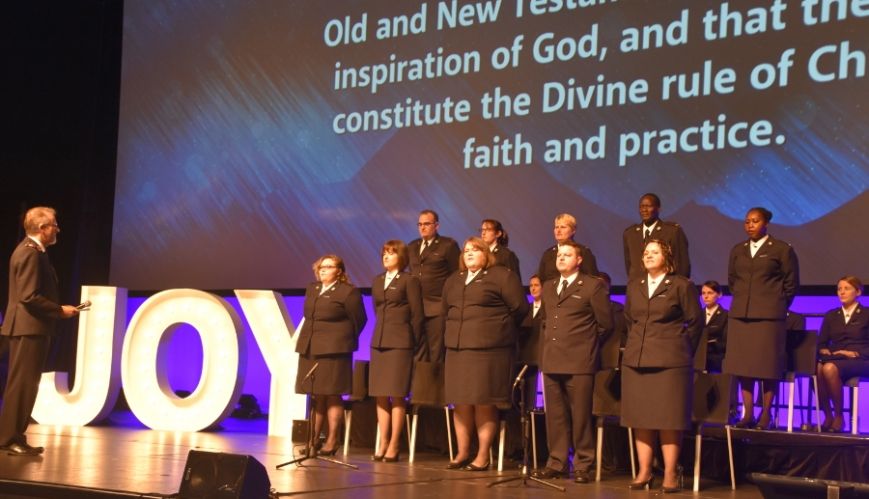 Cadets Speak
9 January 2017
The Australia Southern Territory's Joyful Intercessors were commissioned as Salvation Army officers on December 11. They share their thoughts on past experiences and the days ahead.
Cadet Shannon Watson (left and his family).
Cadet Shannon Watson
What would you share with those considering officership?
There's a lot that's been said and written about "the call". From what I understand, Billy Booth asserted that every Christian is called to ministry … but most haven't heard it yet. I can't testify to a "lightning bolt call" that compelled me into officership. Rather, I simply saw a job that needed doing, trusted God to provide the means, and got stuck into it.
Of course, not everyone is suited to the complex demands of officership, but I suggest that there are many families who do have the capacity to step out of their comfort zones and accept the challenge. The question is: are you willing to give God the chance to show you how faithful he is to those who trust him fully?
Adventure and a multitude of experiences await those families who are willing to accept the challenge of full-time ministry. Go for it!
Cadet Laronie Thompson
What are you particularly looking forward to in your new appointment?
When I think of my upcoming appointment, there are several things that come to mind immediately: meeting new people, sharing life with those in the local community and building life relationships with others. The gift that is given in building those life relationships humbles me. I look forward to taking the time to enjoy the beauty of God's creation in nature and how as individuals we interact with it. I am looking forward to the personal and spiritual growth that will come from being in a missional community. In particular, being vulnerable together to build a stronger community, with a focus on becoming a part of God's Kingdom in the local communities of Western Port, really excites me.
God will reveal his work and the people who are carrying it out. I look forward to joining in and being open to the challenges that this will surely bring. 
Cadet Dale Allan (right) and his family.
Cadet Dale Allan
How has college equipped you for ministry ahead?
In the 650 days (give or take) since moving to the college I have had my life turned upside down and shaken up and then reloaded. I have learned so many things not only about myself, but also about my faith and my calling.
While classes at the training college have taught me many valuable things – spiritual formation, theology, preaching, leadership, personal health, history and many more – there have been lessons in everything I have done. Every person and experience that I have come across during the past two years has helped prepare me for what may lie ahead. All the corps folk, social centre participants and clients, pub ministry, mentors and everyone in between have given me some of the greatest knowledge and experiences I could ever have asked for. 
Cadet Tracy Watson
What has surprised you during training?
One thing that has surprised me during my training is how well my young three boys have adapted to the college lifestyle.
When we arrived at CBC our youngest son Alby was only six months old. In our first year, due to class and study requirements (and our only family support being in Qld and Tasmania), Alby needed to go to child care five days a week. I'd been a stay-at-home mum for my other two sons Henry and Billy, so the prospect of sending Alby to day care presented a big challenge for me.
However, Alby settled in amazingly well with the help of two wonderful educators at the child care centre around the corner. Henry and Billy made friends quickly at their new school and travelled together on the college bus each morning with the other "college kids".
Now that families live in normal conditions at college, home life has just gone on as usual. Thanks to God, our boys are thriving and life is an adventure.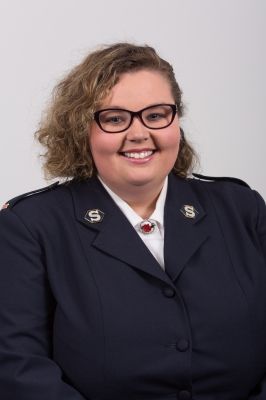 Cadet Kahlia McIntosh
How has the Lord helped you cope with the challenges of college and officership ahead?
Since entering college I have been faced with many challenges and have at times wondered if I can really do this. If I were to be honest, if it were solely up to me, the answer would be no. But at each hurdle I have had to face God has provided me with everything I have needed to get me through.
I am excited for the future and all that will be in store for me as the assistant corps officer at Brimbank City Corps. I have no doubt that there will again be challenges that alone I will not be able to face but I know that God will equip me with all I need to be the best officer I can be. I can, without a doubt, say that my life has been and will be in God's hands.
Cadet Fi Allan
What are you looking forward to in your new appointment?
The things I'm looking forward to the most are meeting the people I will be working with and being fully immersed in ministry. I'm looking forward to discovering my new community and making connections with businesses, schools, social groups and the like, and discovering how I can work with these people to make our community an even better place to be.
I'm also really looking forward to becoming involved with the children's and women's ministries and working with the leaders already working there to further understand the ways we can support, encourage and empower everyone in the community. Overall, I am looking forward to getting to know my new neighbourhood and how I can come alongside and support those already there to make it the best place it can be.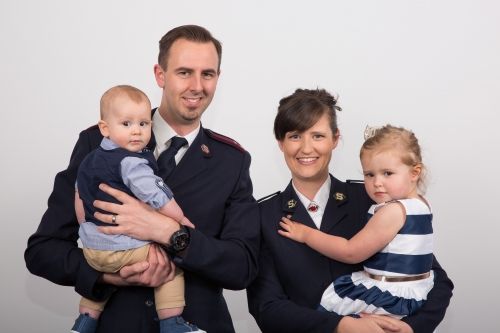 Cadet Alexis Mapleback
What would you share with those considering officership?
Whilst it may sound negative, I would strongly urge those considering officership to think very seriously about that decision. There is so much you don't consider when you start this journey: how will it impact your family, your friends, your health (physical, mental, emotional, spiritual), and whether or not you really are okay with everything The Salvation Army is and stands for. Whilst a calling may seem like enough to make you say yes, there will be days where it is hard, and if you have doubt coming in, those doubts aren't going to go away.
Saying yes to officership can be the greatest adventure you will ever embark on, but before you sign on the dotted line make sure you know yourself, know those closest to you, and know what it is you are entering into.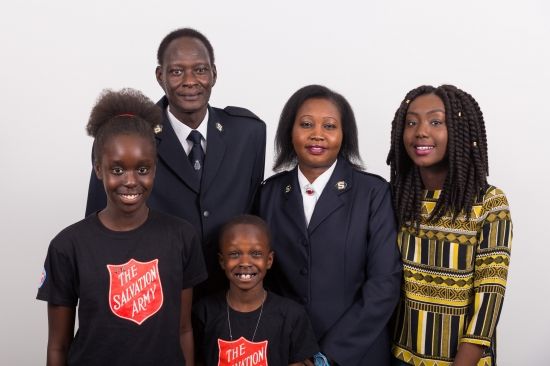 Cadets Reak Deng (left), Cadet Elizabeth Kang (right) and their children.
Cadet Elizabeth Kang
What has surprised you during training?
Through my journey for training to officership and ministry, God has surprised me in many ways and he continues to reveal his plans in my life. When faced with the distressing news of my father's critical illness in South Sudan this year, I did not give up my training for ministry, but instead re-affirmed God's calling in my life.
God continues to gather people around me in times of distress and challenges, offering support, prayer, encouragement and comfort in many different ways. When I look back where I was I thank God for my life has been transformed. My training is going very well and God continues to uplift me in many different areas. Everything is in God's hands and he is in control in my life. I wouldn't achieve anything without God guidance through this journey. I am grateful because I am serving a living God whose work is evident in my life.
Cadet Reak Deng
How do you feel your background will help you in the days ahead?
During these two years God has surprised me in many different ways. I have gained knowledge and understanding about TSA work and mission. Training is challenging when it comes to the educational part but God is always there beside me, providing people for support in the right time.
I am thankful for God's mighty works and the transformation in my life. I have experienced the blessing of God in my life through challenges. God's calling into my life is still the same and my passion to serve him is growing even more than before. In my future ministry I will continue serving God with the same passion that he has placed in my heart to partner with him in his mission in this kingdom, on this Earth here and now. God is the God of surprises.
Cadet Gemma Keogh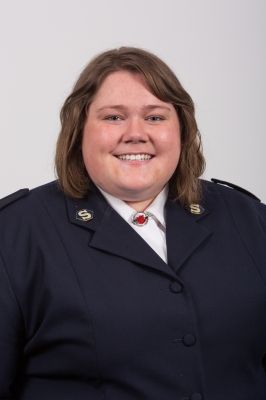 How has college equipped you for ministry ahead?
My first thought after seeing this question was: how could I answer sufficiently, I hadn't begun ministry and therefore couldn't know what had worked and what hadn't. But rather than simply leaving it at that, I decided to think about how things have changed, for me and within me, during these last two years.
Because of the things I've done and experienced during college I have matured in my faith, expanded my knowledge and discovered things about myself that I might not have if I wasn't in this situation.
If you're looking for an exact moment or event that has changed everything for me in ministry, you won't find it here. Instead you will see a person who is committed, even more so, to living a life worthy of her God. So in answer to the question: it has helped show me who I am and how I work.