Dispelling the perception of 'us' and 'them'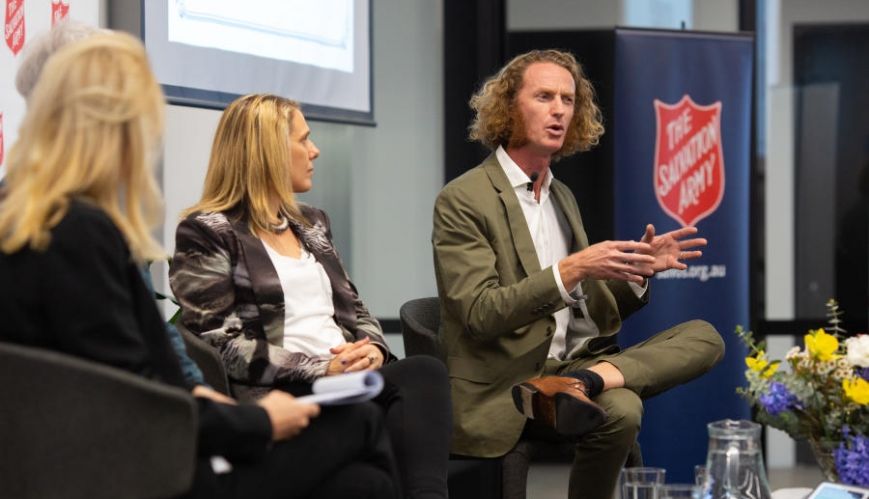 Dispelling the perception of 'us' and 'them'
25 June 2019
Dr Cameron Parsell speaks during the social and mission conference at Still Others in Melbourne last year.
By Rod Yule
"I want someone in my life who is not paid to be there." This was a recurring phrase from the social and mission conference that ran as part of Still Others in Melbourne late last year.
Independent research by Dr Cameron Parsell (University of Queensland) and Bernie Geary, who both spoke at the conference, highlighted that this was the essential human factor in transforming lives – and this is where The Salvation Army's missional corps communities can make all the difference.
Our corps people can engage and share the love of Christ through building relationships with those engaged in our 'social' mission expressions. The increased integration of our mission expressions through Local Mission Delivery is fundamental to our new way of working.
There is not another Christian denomination that has such ready access to the wider Australian community – to show love and care for people experiencing addiction, homelessness, domestic and family violence or financial stress.
Vulnerable Australians are coming to The Salvation Army every day and this offers us a unique opportunity to show the love of Jesus. We are in a special position to provide or be that person who is not paid to be there.
At the same time, we need to do this well. A resident of a Salvation Army accommodation service said: "They were so nice, but I was made to feel like the 'needy person' they had come to help."
In living out our mission, it is important not to stereotype people who are involved as participants in our social and community mission expressions.
We need to help people see one another as "made in the image of God" and come together on an equal footing – not as 'us' and 'them' or 'needy people' who 'we' have come to serve.
A corps member once asked his corps officer, "How do I talk to people from the Recovery Services centre?" The officer pointed to a house across the street and said, "The same way you would talk to the people from that house if they came to our corps."
A great first step is to create opportunities for all our people to share mutual interests and opportunities to serve. These could happen at the corps or the social mission expression, or another venue.
Some ideas that your community might like to discuss and consider include:
• Get people together over a barbecue and watch a sports event on a big screen together.
• Get people together to share in learning a skill or craft – basic guitar, drawing, basic computer skills, pilates or physical fitness, cooking, learning English, etc. Draw on people with these skills in your community.
• Organise a game of table tennis, golf, tennis, fitness classes, jogging/park runs, or bushwalks together. Share a meal afterwards.
• Create opportunities for people from corps and social mission expressions to serve together and work alongside one another in mowing lawns for people; cleaning up a yard for someone in the community who has trouble doing it themselves; cooking together at a Bunnings sausage sizzle to raise funds for a Salvation Army project overseas; working at a Salvos Store or thrift shop.
• For Doorways and Salvos Connect sites, create friendly, warm spaces where people can come and share a coffee. They can play board games together and engage in friendly, caring conversation. People who will welcome them, seek to understand them and listen to them. There is a mutual benefit in bringing people together. We all learn and grow as we engage with other people. Initially, some of us might feel a little awkward and out of our comfort zone. That is okay. Jesus stepped out of his comfort zone, and he goes with us today. Graham Long, the former pastor of Wayside Chapel said: "I don't want you to be a problem that I have to fix, I want you to be a person that I can meet. And I think if we meet you'll change and so will I. You'll move towards health and so will I. That's how it works."
The Salvation Army is looking for ways to meaningfully collaborate in holistic mission – to better integrate our different mission expressions in an area. Let's talk and listen and explore some of these opportunities for the mutual benefit of all people and the wider Australian community.
The corps perspective
"We want to become a more open, welcoming space which would allow community members to chat, have a cuppa and receive information about what we have to offer here at our centre. Relationships are at the heart of what we do and who we are. So far, we have had positive feedback from community members ... and it has also been a great blessing to our volunteers who are now able to participate in reaching out to those who are struggling in our midst." – Jess Howard, Community Support Worker, Bundamba
"We have volunteers – from the corps and other Christian traditions and expressions –who greet every person and make coffee for those who come in. We have invited people into our ministries with children, youth and adults. We also have a market table with fresh bread, vegetables and fruit. There has been more opportunity to share Jesus with people as they have sat around drinking coffee and enjoying a chat about their lives." – Chris and Mel Millard, Bundaberg
Rod Yule is General manager, Local Mission Delivery and Resource, Mission Department.