Embracing the past to empower the future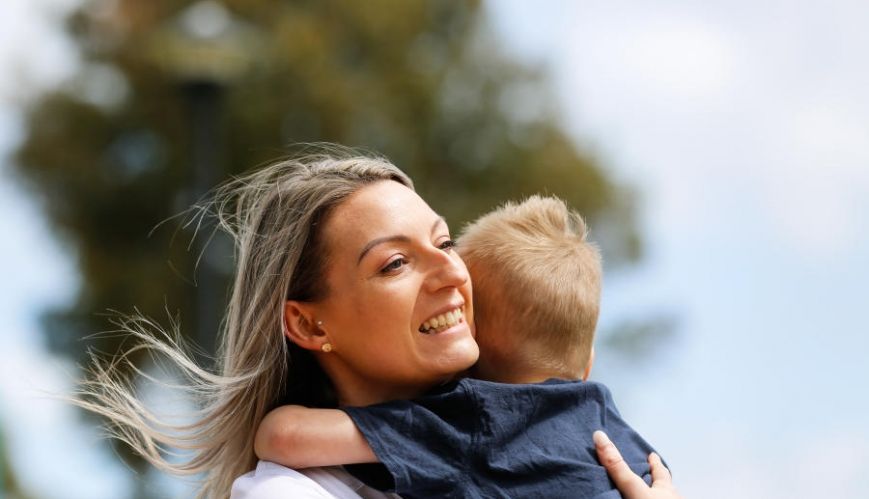 Embracing the past to empower the future
6 December 2019
The Salvation Army has played a significant role in the life of Rabecka Stokes, who is now 'giving back' by preparing Christmas hampers for people in need. Photo: Duan Kereru
By Bill Simpson
Rabecka Stokes was only four when she, her slightly older sister and mother were forced to flee, terrified, from their home because of domestic violence. She was seriously assaulted in the incident.
The little family found safety and security at The Salvation Army's unpretentious Bramwell House for women and children in Adelaide.
Life at Bramwell House was far happier than at home. Here, there were people who cared and kept the fractured family safe.
There were other children impacted just like her. Christmas was wonderful, with presents provided and enough food for everyone.
Rabecka, her sister and mum stayed at Bramwell House for almost a year. When they were ready, the family was able to move to their own home in the community. Despite her hard start to life, Rabecka prefers to remember the good things; the times that brought happiness to herself, her mother and sister.
And there were many of those times. Now the mother of four children, aged four to 16, Rabecka says she can look back with some positive thoughts about her childhood days. "While I definitely have some horrendous childhood memories, as hard as my journey has been, I am truly grateful, because it has shaped me into the woman I am today," she says.
"As a child, I remember Bramwell House being so welcoming and it was such a beautiful place that has provided me with fond memories. To me, it was a place where I felt safe and it provided an avenue for us to feel like we were part of something.
"When we left Bramwell House and moved into our own home, my mum still struggled financially. We received hampers through The Salvation Army, even gift vouchers for setting up our home. I remember The Salvation Army was a place of hope for my mum, where she knew she could go whenever we really needed some support.
"I remember the feeling of excitement as a child coming home close to Christmas and seeing a basket on the doorstep full of food and a little doll inside for me. It was very exciting because I knew that we were going to have a Christmas and my mum didn't need to worry any more."
Rabecka's mum died 15 years ago. In her adult life, Rabecka studied nursing and has been a community services professional for more than 20 years. She is writing a book titled Breaking the Cycle about her experience and to help others deal with domestic violence.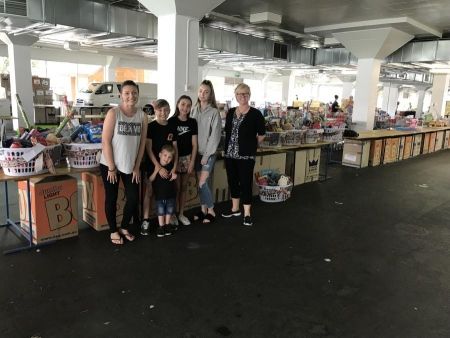 Rabecka (left), her four children and Lisa (from Bramwell House) volunteering to pack the Christmas hampers.
"It has taken me a long time to share aspects of my past," she says. "I have invested a lot of time in my own personal growth and development over the years, which has opened my eyes to the importance of sharing my story and experiences. I now embrace my past and use it as a platform to create awareness, empower others and provide a sense of hope to those living in a similar situation to my disrupted childhood."
Last Christmas, Rabecka and her family did just that. With gifts and other items, including food, donated by themselves and the community, they packed and provided 27 giant hampers and delivered them to Bramwell House. Rabecka knew, intimately, what it would mean to the children and their mums staying there.
"It was the most rewarding and humbling experience, one that will stay with me for years," she says. "No amount of money, recognition or reward could ever come close to giving me that feeling."
Especially for Rabecka, it was also a very emotional and important aspect to have her own children involved in the giving process. "It especially impacted my 16-year-old daughter. She was very moved, especially as she filled the hampers with gifts for teens. It was really beautiful for her to feel like she was making a difference."
Rabecka and her family are already planning to provide more hampers this Christmas. For Bramwell House manager Naomi Thiel, the hampers from Rabecka's family last Christmas were a "godsend".
"We had had an extraordinary couple of months leading up to Christmas, with some extra complex cases and time got away," Naomi says. "Then, out of the blue, we received an email telling us that Rabecka's family wanted to donate the baskets, which were overflowing. They had been put together with such amazing thought. The staff were overwhelmed.
"I wish Rabecka and her family could have seen all the faces. The children's faces were beaming and the women were so incredibly grateful. They couldn't believe a complete stranger would care about them and go to such an amazing effort to help make their Christmas brighter."
Many years earlier, Rabecka experienced the same emotion. She understood. This was personal. It brought back memories of when strangers did something special for her – then, just a little girl trying to understand life. It's personal, too, for Naomi. "No woman plans on having to be at a refuge," she says. 
Salvos volunteer Peter with Rabecka on one of the Christmas hamper deliveries.
"While they are with us, we want them to feel safe, valued, loved and connected. I get to meet and know so many amazing, strong, courageous women. I watch a woman go from being broken physically and mentally, to being able to hold her head up, bruises healed, hair grown back, emotional wounds starting to heal.
"They start to have hope that their future can be different. And their children, so frightened and clinging to mum when they arrive ... it breaks my heart. But then we watch them transform into happy children, running around, playing, laughing and enjoying life. What a blessing."
For Bramwell House chaplain Major Jennifer Anderson, what she does among the women and children is living The Salvation Army mission of demonstrating the love of Jesus.
"We [The Salvation Army] are not there to judge. We are there to give the women somebody to talk to; to give them support and hope," she says. "As chaplain, I have time to listen, while the staff manage the place.
"While I don't push spiritual things at them, after they have been at Bramwell House for a while, they begin to have a better understanding of who The Salvation Army is and what we believe. It's then that they ask questions around faith and we see some come to church."
Bill Simpson is a contributing writer for Others. He compiled this article in association with Naomi Singlehurst.