Engaging Gen Z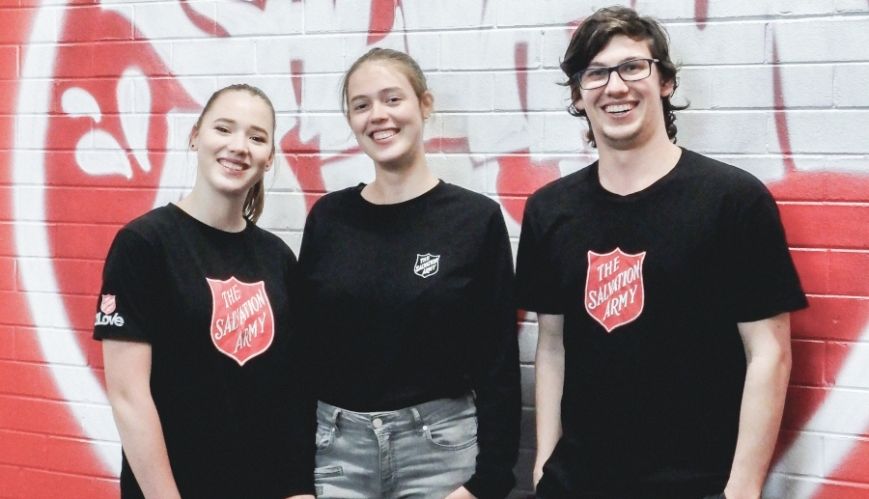 Engaging Gen Z
16 August 2019
Among the young adults helping lead Kwinana Corps are (from left) Michellie and Tia Jones, and Sam Higginbottom.
By Simone Worthing
Adam and Mel Purcell have been in their new appointments for only a few months.
It's been long enough, though, for the auxiliary-lieutenants, who bring extensive experience to their roles, to appreciate that they, along with their team, have their work cut out for them.
Adam and Mel stepped into the role of territorial youth and young adults secretaries just a month after then-territorial leaders, Commissioners Floyd and Tracey Tidd, announced a raft of groundbreaking initiatives for the fledgling Australia Territory.
The new measures included the creation of a Generation Z-focused Salvation Army community [people born between 1995 and the early 2000s] in each state capital city in the next two years. Since then, Adam, Mel and their team have spent much of their time analysing research and statistics that focus on the relationship between young people and the Church.
It's been a sobering, but not surprising experience. "As a faith movement these are desperate times for us," says Adam.
"Based on the recent 'Faith and Belief in Australia' research released by McCrindle Research last year*, Generation Y [born between 1980 and 1994] have almost all left the Church, and Generation Z [born from 1995 to the early 2000s] have almost never been engaged with it at all. We are dealing with the 'Harry Potter Generation' – they are enlightened to the supernatural, but not to a truth aligned with it." 
The Tidds' announcement of a Gen Z-focused faith community, made at the Still Others conference in November/December last year, was in response to this and other research.
It's been Adam's task since then to determine just what this community should look like and how The Salvation Army should go about realising this ambition.
"The idea was to both take the time to hear from God on a new faith planting model for young people as well as helping front-line corps grow and develop new and existing youth expressions that engage young people in the community," says Adam.
The focus of the initiative has been one of the reasons why something needs to be done for our young people. Adam says that within different denominations, including The Salvation Army, there has been an emphasis on retaining young people already in the Church by keeping them busy.
"It's been the music team and youth group that has kept young people in church until they're young adults, but we're not effectively understanding their needs in a faith community and we're not retaining them," he says.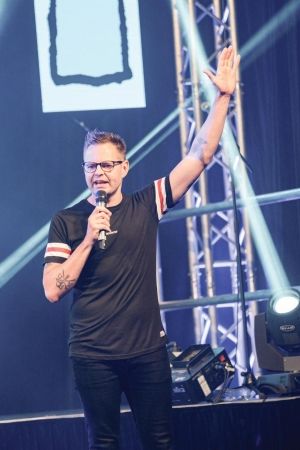 Auxiliary-Lieutenant Adam Purcell.
According to the 2016 Census, there are almost three million people in Australia aged 15-24 and "most of them have never heard the gospel or been engaged in church, so we want to focus on reaching them," adds Adam. Recent research by McCrindle (2018 Annual Longitudinal Study) reveals that, "Half of Australians (51 per cent) are just as likely to go to a Salvation Army church as any other denomination.
The younger generations are more likely to be open to attending a Salvation Army church than older generations …" (35 per cent Gen Z; 22 per cent Gen Y, 19 per cent Gen X, eight per cent Baby Boomers, eight per cent Builders).
Adam believes that, because of its focus on social justice, caring for the homeless, those in emergency situations, and the environment, The Salvation Army is uniquely positioned to provide what young Australians are looking for in a church. "These young people have never been to a Salvation Army corps and they love the product, but not the retailer," says Adam. "And they are not locking into the faith communities we offer. Our corps generally are doing a fantastic job, but unchurched young people need a different way to do faith.
"Gone are sacred Sundays. Now people work shifts, shops are open, there are fly-in and fly-out situations, sports and everything else. Church doesn't fit on a Sunday and we are missing the mark in engaging the emerging generations. There has to be a reset of expectations."
missional hearts
As much as young people are often labelled the 'selfie generation' they actually care about making the world a better place and doing what it takes to achieve that. As a result, Adam says, they may not accept an invitation to church, but if they're asked to come to a feeding program on a Wednesday night, they will go.
"Their hearts are missional and if we can combine faith in serving, this is what they will lock into," he says. "I used to believe people needed to be saved and then serve in mission; now, people are finding faith through serving. They are attracted to a community of faith.
"One young person suggested the concept, for example, of having young people serve on a street mission team on a particular night and afterwards, having coffee, pizza and prayer, relating what they have learned to the Scriptures and the Gospel. This is what young people want and we don't need to complicate it."
Adam highlighted that for teenagers, however, the story is different. "We need to hear their voice, not about what will make church better, but how they connect with God, really connect with him. Social activities aren't going to transform lives with the love of Jesus. Relationships and trust have to be established before the Gospel message can be communicated and heard," says Adam. "It's a balance of fun, family and faith and all three are essential."
Adam emphasises that we can't be locked into what we've always done or focused on numbers. "It's like the gridiron [American football] movies, where the movie begins with a dysfunctional and divided team, a coach that is tired, and a community that has no hope in their team. And we know the story – they start to win games and hope rises, and then they find themselves in the grand final and all has changed.
"But it always comes down to that final play and those last seven seconds of the game. The coach calls time-out but he doesn't bring over the trusty playbook, he brings a whiteboard. The playbook has worked great to get them here, but if it was still working it wouldn't have come down to those final seconds to win the game. The team needs to come up with something new, something that hasn't been done before to win the game.
"That new play is our commitment to the young people who need to hear the gospel, and those who are leaving the church. If we can agree on the values, then we will get through the methods."
search for meaning
Throughout the Australia Territory, there are youth and young adult ministries that are growing and thriving, but critically, these are exceptions to the general trend.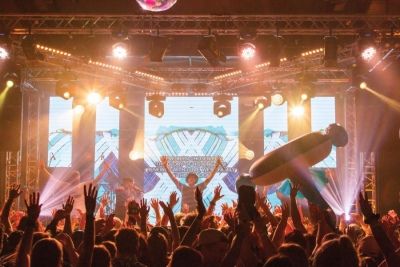 Typically, Adam says, these are ministries that are trying to create a sense of community in an authentic, safe and comfortable environment. "Young people see through attempts to 'get them to Church' – they want authenticity, where they are accepted and appreciated and can talk openly about faith and life. It's not about giving people a half-strength latte so they can enjoy the full-strength one on a Sunday morning.
"Young people are searching. For them, it's like being in a foreign country and you're trying to find an electrical socket to connect with when your plugs don't match. We need to be compatible with the emerging generation."
This doesn't necessarily mean expecting corps to change everything in order to adapt to one section of the community, says Adam, but being open to doing something new to engage them, as well as maintaining what they're doing that works and the legacy of what God has done.
"We may not necessarily agree with new – or existing – methods, but we need to be willing to do whatever it takes to reach people," he says. "This may require us to get out of our comfortable shoes and off our well-worn paths in order to walk with young people in this journey. It's time to go barefoot on a new path, treading carefully, adjusting to challenges, but having the mindset to change. And we don't have much time left."
* Read the McCrindle report HERE.