Filling the gaps for victims of human trafficking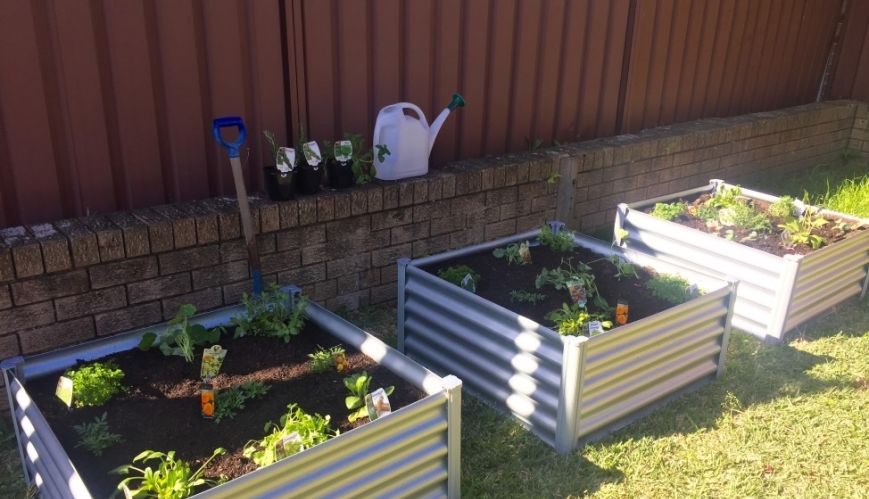 Filling the gaps for victims of human trafficking
21 September 2020
A community garden at The Salvation Army Trafficking and Slavery Safe House.
By Simone Worthing
Human trafficking and modern slavery are something many Australians think of as happening overseas. Tragically, this is not the case.
The Global Slavery Index 2018 estimated that on any given day (based on research from 2016), around 15,000 people were living in slavery-like conditions in Australia. Precise figures are difficult to obtain because of the secretive nature of the problem. It is also estimated that, for every victim identified, there are four that go undetected.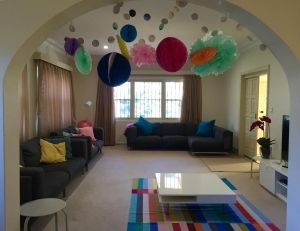 Inside The Salvation Army Trafficking and Slavery Safe House.
Through the country's only 'safe house', The Salvation Army runs a unique support service for people who have experienced human trafficking, slavery, or slave-like offences. This includes those who have experienced, or are at risk of, forced marriage.
The Salvation Army Trafficking and Slavery Safe House provides supported accommodation and case management for single women over 18. Outreach case management support can be provided to women, men, women and men with children, and young people, living in the community.
The intensive case management support model covers nine key areas: physical health, mental health, legal services, education and training, employment, housing and tenancy, social support and living skills, human rights and self-advocacy, and spirituality.
"The Safe House team make any necessary referrals to other services for support in these areas, and we support clients to be able to engage independently with these services," said Rosie, Program Manager at the Safe House.
The team at the Safe House can also provide confidential information and advice to other services and community members. The Safe House accommodates up to 10 women and works with around 15 outreach clients at any one time.
"We are a small team but very dedicated," said Rosie. "Our clients have experienced a range of different trafficking and slavery offences. Broadly speaking, approximately one-third have experienced a form of servitude, one-third have experienced or are at risk of forced marriage, and one-third have experienced other forms of trafficking and slavery, including sex trafficking and exit trafficking [taking someone from Australia overseas with no means of return]."
Forced marriage is a growing issue in Australia. Many referrals to the Safe House for those potentially at risk of forced marriage are made through teachers and school counsellors. "We can meet with the young people discreetly at their school to discuss possible options with them," Rosie explained.
"Other referrals to the Safe House come from other service providers, such as health and hospital settings, educational settings, the police, legal services, migrant services, asylum seeker and refugee services and concerned members of the public who have recognised the indicators of human trafficking and modern slavery. We can also take self-referrals. This is another part of our work – providing confidential advice to community members and other services."
Referrals to the Safe House and the Australian Freedom Fund can be taken from across Australia.
Long-term assistance
Through its unique, flexible and holistic service, the Safe House can help fill the gaps for survivors of trafficking, modern slavery and forced marriage by offering services not available elsewhere.
The Salvation Army works in partnership with the Sisters of Charity to support people who have been trafficked or who have experienced slavery or slavery-like conditions.
"Timeframes needed for support are different for different people, with some requiring longer periods of support than they could access through other services," explained Rosie. "These may include those involved in a criminal prosecution, with complex visa situations, or facing barriers to accessing legitimate and non-exploitative work opportunities. Also, many of the people we're supporting are not eligible for government-funded support."
To help reduce the crisis support period in some cases, the Safe House is piloting an innovative housing program for survivors of modern slavery in partnership with Salvos Housing and the Sisters of Charity Foundation.
The program was launched on 20 February this year, but, due to the COVID-19 pandemic, has been on hold until recently. A first for Australia, the program seeks to deliver long-term housing options for survivors based on a new model aimed at transitioning people to independent living.
The Safe House will provide case management support to participants, Salvos Housing will locate suitable properties and provide tenancy support and the Sisters of Charity Foundation will fund the program.
"This program will enable us to assist survivors to secure long-term stable housing," said Rosie.
Salvos Housing will offer an element of choice in properties to participants. Efforts will be made to find properties at an affordable cost, in a convenient location and within a geographical area that is safe and close to support.
Properties will be leased on behalf of the participant, who will contribute 25 per cent of their income towards the cost. After a six-to 12-month period of support, the aim is that the participant will take over the lease.
"This is a way we can assist survivors to take that first step into the private rental market while providing case management, financial support and help with things like budgeting, paying bills and understanding their rights and responsibilities as tenants," said Rosie. "For our clients, having a place of their own is so important."
Turn nobody away
The Safe House also partners with the Salvos' inner-city women's and children's services, to assist those who need help but are unable to be accommodated at the Safe House.
"We will always look at what the person needs from us and discuss as a team how we can assist," said Rosie. "It all depends on the capacity we have, what other supports are available to them, and what gaps we can fill for them. For example, we may access a grant through the Australian Freedom Fund for emergency accommodation until we can source other accommodation for them."
Australian Freedom Fund
The Australian Freedom Fund supports survivors to access basic necessities such as emergency accommodation, transport, food and emergency medical care when no other support is available.
Three types of grants can be applied for: emergency relief, independent living or family reunification. A grant request that falls outside these three categories can be assessed based on necessity and the need not being able to be met through another source.
The Safe House is part of The Salvation Army's national Family Violence stream and has recently moved into the newly formed NSW Family Violence team.
"We're really excited to be aligned with the Family Violence stream, as there are a lot of similarities in the work we are doing, but at the same time the issue of trafficking and modern slavery is acknowledged within the stream as a unique area, requiring unique service responses," said Rosie.
To make a referral or discuss matters of concern, for information about the Australian Freedom Fund, or donate to the Trafficking and Slavery Safe House, call 1300 473 560.
For more information on The Salvation Army's international work against Human Trafficking, click here.
For resources for The Salvation Army's International Day of Prayer for Victims of Human Trafficking and Modern-Slavery, click here.
Simone Worthing is Assistant Editor of Salvos Magazine
This article first appeared in Salvos Magazine