God targets Dani in a war zone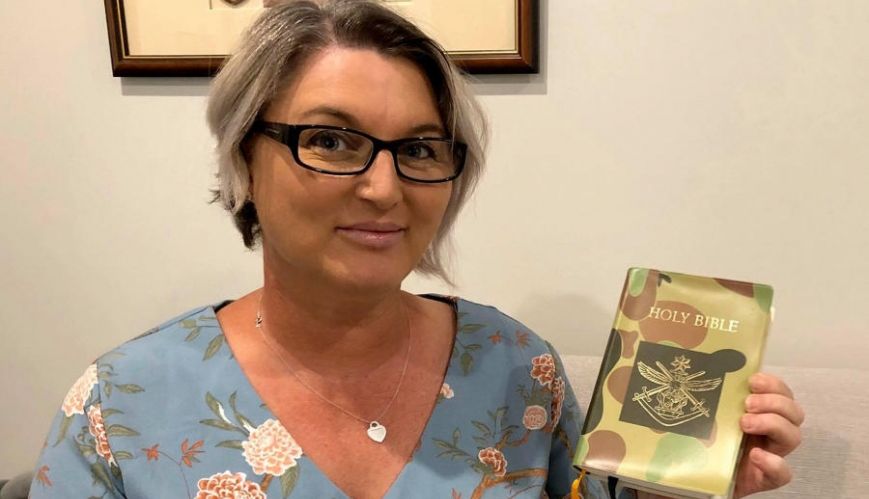 God targets Dani in a war zone
20 May 2020
Former Australian Army soldier Dani Johnson and her most treasured possession – her first Bible.
By Darryl Whitecross *
Sergeant Danielle Johnson may have hung up her slouch hat and put her uniform in the wardrobe after having served for 25 years in the Australian Army, but she continues to put on the full armour of God each day as she faces battles of the spiritual kind.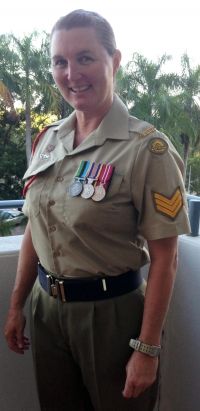 Dani's first Anzac Day as a sergeant back in Australia.
Having settled back into civilian life with her family in the northern suburbs of Brisbane, Dani ("If I get called Danielle, I think I'm in trouble") says she is proud to tell people she found God in a war zone in the Middle East.
"It was a war zone. I found God in a war zone. Who finds God in a war zone? But it's true," Dani said.
There was no knowledge of God or Jesus in her growing up and, even after having married a man who was a member of The Salvation Army, she was not challenged to find out more.
It wasn't until Dani was on what ended up being her last active deployment in the Middle East in 2014 that God revealed himself to her in a spectacular way. It was not like a hand grenade explosion or the strafing of bullets but inside a chapel of the Coalition Forces base where she was stationed.
Dani said she had walked past the chapel literally hundreds of times as she went to and from the mess for meals or to and from her workplace. In all those times, she says there was a definite pull to go inside, but she resisted thinking she was too hungry or too tired or too preoccupied. "I just honestly thought that if I walked through those doors I'd get struck by lightning," Dani said.
One day, while walking past the chapel, its silver stainless-steel door stood out to her more than it usually did. She felt the draw once again, but this time did not resist and went in. After having spoken to the padre for a few moments, Dani said she looked around to find a seat, feeling how many new people in church feel: uncomfortable, uneasy and wondering what to do next.
Dani said that once the service began and the padre began to speak, she began to feel strange: "I had this hot flush kind of feeling and goosebumps on my arms. It was just a bit surreal. I thought: 'Is the heater on? What's going on?'
"I just had this straight-away feeling of being safe; like 'this is it, my safe place. I'm safe. I don't have a worry'. I said to God: 'If you can get me through this deployment safely, I know this is a no-brainer: I'm yours. It's a done deal.' He got me through the deployment safely and I kept that promise to him," she said.
Career choice
Dani was raised by her grandmother. "When I finished Year 12 in New South Wales, my grandma – who was 4ft 2in and a pocket-rocket and not afraid to use the wooden spoon, let me tell you – pretty much gave me an ultimatum and said: 'Go and get a job or go to uni'.
"Honestly, I didn't know what I was going to do. I was 18. I didn't like school so I joined the army and did 25 years. I think it was the best choice I ever made; it was the best career choice for me."
Dani's journey to faith came when she met a young army medic. "Lance and I were in the Army. We were both posted to the same unit, but he was in Darwin and I was posted to Sydney. He came down to Sydney one time and we got to know each other (but) then went back to our units," Dani said.
A little while later, the two crossed paths again when they were on an exercise together.
Overcoming obstacles: 18-year-old Dani Johnson at the Australian Army's recruit training centre Kapooka, near Wagga Wagga.
"We were in a mock battle. He, being a company medic, he had to do his rounds. Anyway, he jumped in our gun pit. I was disgusting and smelt so bad, but he decided it would be a good time to ask me to marry him.
"I didn't believe him at first and I said: 'What?' and he asked me again. I thought: 'If I don't answer him, he may not ask me again', so I said 'yes' and gave him a hug and then told him to get off because I smelt. I haven't heard anybody getting that sort of proposal. It was good."
Lance was brought up Christian and his family had strong links with The Salvation Army, but Dani didn't. "I was never raised with religion in my life so I was very naive to it," she said.
When they became a couple, Dani said she went to church with Lance a couple of times "to listen and to see what it was like, but it didn't feel right so I just put it aside, but he still went and he took Tenesha [their daughter] because she was only little at the time. That was their thing, but it wasn't quite me at that time."
The War Room
Dani is now out of the army and living with her husband Lance and two daughters, Tenesha (20) and Jordan (16), in suburban Brisbane after having moved from Darwin two years ago.
In their home, they have turned their lounge room into what is affectionately called 'The War Room'. It pays tribute to their journey in the military – from slouch hats and medals to photographs and certificates. The most special item in that room is a Bible with a camouflage-coloured cover. This is Dani's most treasured possession. It was her first Bible.
Dani said the padre on the Coalition Forces base back in the Middle East was aware that she was new to faith. "He gave me my first Bible and he actually wrote in my Bible. It's actually a personal message to me from him. I had tears rolling down my face (when I read the message). "I just felt so blessed and so lucky to have met him because he helped me. God used him to find my way so this (the Bible) is very special to me," she said.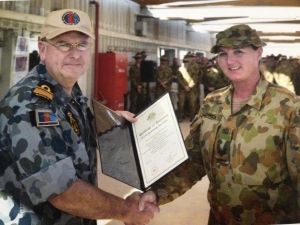 Dani is presented with a certificate to commemorate her promotion to sergeant.
Back in Darwin, Dani went looking for a church to attend. "I didn't know which church to go to even though Lance was Salvation Army. I tried a couple of different ones, but I never had that same feeling (as that of the Coalition Forces base chapel).
After having moved to Brisbane in 2018, Dani and Lance decided to attend North Brisbane Salvation Army at Taigum. "No word of a lie, as soon as I walk through the door, I got exactly the same feeling, like: 'Oh my goodness! Holy moly! I had that warm, flush feeling. I had goosebumps on my arms."
Dani said her journey of faith at present is of constant learning: "Basically, God's just teaching me everything. When I go to church I'm learning. Every day, I'm learning. When the sermons are on, I'm learning – and I'm testing everything and I'm following his ways. We (God and Dani) do have conversations. I know he hears me because he heard me the first time."
* Written by Darryl Whitecross from an interview with Danielle he did with North Brisbane Corps Officer Major Donna Todd to mark Anzac Day 2020.