Grain of 'salt' that transformed a family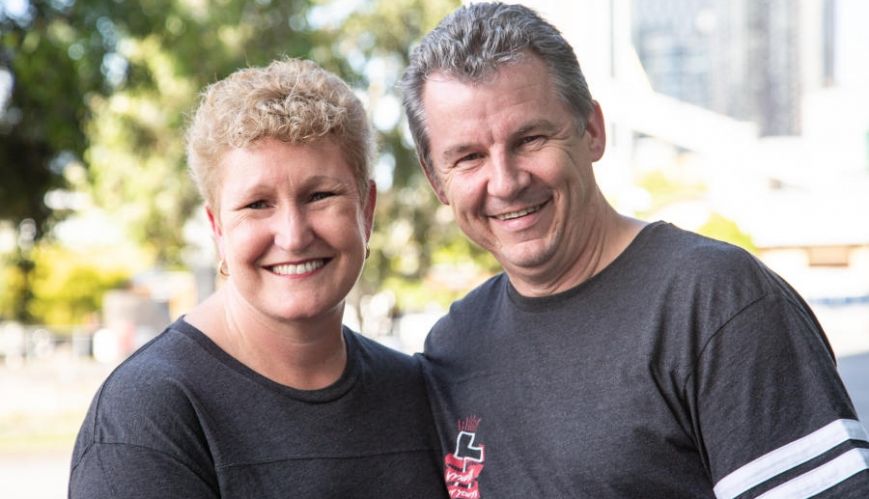 Grain of 'salt' that transformed a family
12 June 2020
Captains Kim and Steven Haworth, leaders of the Tasmania Division, have come a long way in a relatively short period of time in officership. Photo: Bruce Redman
By Bill Simpson
Around the year 2000, a young Salvation Army captain decided to deliberately engage in intentional relationships, especially with people who did not know the Lord. He joined the committee at his son's local kindergarten.
As a result, a woman colleague on the kindergarten committee became a Christian, Salvation Army soldier, officer, and now is a divisional commander. Her husband also became a Christian, soldier, officer and is now a divisional leader. His parents became Salvation Army soldiers. Neither the woman nor her husband had any active interest in God or church until they met the young officer.
The story starts with then Captain (now Major) Bram Cassidy. He and his wife Jean were corps officers at Mooroolbark Corps in Melbourne. "I decided to model something to our corps people," he says. "It was a case of the salt has to get out of the salt shaker. The message that we in The Salvation Army had been receiving for many years was that we needed to stay away from 'those people' [non-church types] because they would taint us. We sang all the right songs, but we withdrew from the world. But The Salvation Army, by nature, are world changers. God brings people into our lives. Ninety-five per cent of people come to faith through a friend."
The Haworth family.
This, then, was what Bram decided to model to his congregation. Bram and Jean Cassidy had a son at the local kindergarten. Bram joined the committee running the kindergarten. He was elected treasurer.
A young woman named Kim Haworth also had a son at the same kindergarten. She joined the committee and was elected assistant treasurer.
Bram and Jean Cassidy and Kim Haworth and her husband Steven became friends. The Haworths became part of Bram Cassidy's 'relational world'. Kim told Bram that she would like her children to have a Christian education, but private schools seemed to be the only ones offering it and the costs were prohibitive.
Bram suggested the Haworths send their son – by now a friend of the Cassidy's youngest son – to the Mooroolbark Salvation Army Sunday school. Kim wasn't convinced, primarily from a personal perspective. She wasn't prepared for the commitment it would require of her. "My immediate thought was, 'No thanks, I don't want to go to church'," she says now. "Apparently the Mooroolbark Corps prayer group started praying for us from that time."
Encounter with God
Jean took several opportunities to invite Kim to church. It was seven months before Kim decided to make an appearance at a Sunday morning meeting at Mooroolbark, and only then to save herself the embarrassment of looking bad for constantly failing to accept Jean's invitations.
Captains Steven and Kim Haworth (left) with Majors Jean and Bram Cassidy, whose relationship goes back to when the Cassidys were the corps officers at Mooroolbark in Melbourne.
Kim's son, Jayden, also turned up for Sunday school on the same day. "In that first meeting at Mooroolbark Corps, I had an encounter with God," Kim says. "The encounter was supernatural. It's very hard to put into words. I just had a sense of God's presence and I felt like I had come home. I felt alive in a way I hadn't before.
"If you had asked me [before the encounter] if I was a Christian, I would have said yes. But, realistically, that was based on the fact that I believed God existed. But I had no concept of relationship with God and what that looked like.
"[After the encounter with God], it was almost like all of a sudden my eyes became open. I just felt as if I could see God; I could feel God. On the outside, everything was still the same. But on the inside of me, everything changed that day." 
That day was 27 February 2000. Steven didn't go to church with his wife that day. The following Sunday night, he went with Kim to Music in the Park, an outdoor service run by Mooroolbark Corps. He went to the indoor meeting the following Sunday morning, but said he wouldn't be going every week.
A few months after first attending Sunday services, Jean suggested it might be helpful for Steven to have a better understanding of what Kim had experienced if he watched some Alpha videos at home. "After about the fifth session in the Alpha series," Kim says, "Steve was driving to his parents' home. He was thinking about what he had been hearing in the Alpha videos and decided what was being presented made logical sense. He gave his heart to the Lord in the car on that drive. When he arrived, he told his parents. They both came to faith several months later at Mooroolbark Corps and went on to become soldiers."
Road to Officership
On 22 July 2001, Kim Haworth became a soldier in The Salvation Army. Steven became a soldier in July 2006. His enrolment five years later than Kim wasn't about uncertainty or doubt. It was very simple – nobody had asked him if he wanted to become a soldier.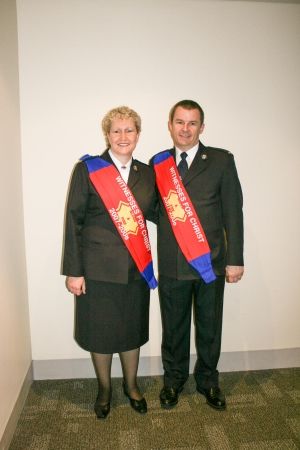 The Haworths in their 2007-08 Witnesses For Christ sessional sashes.
The Haworths' three children were young at the time. Steven was an adherent. He was assisting with teaching in Sunday school. When the Sunday school leader vacated the role, she asked Steven to take over. He did.
"It was like a child-like faith, I suppose," he says. "I was learning about God while I was teaching it to children. One night in our Bible study group, somebody asked me why I wasn't a soldier if I was teaching in Sunday school. I told her that nobody had asked me to. So, she said, 'Would you like to become a soldier?' It wasn't that I was waiting to be asked. I was an adherent and teach- ing in Sunday school and, really, I hadn't previously been asked if I would like to be a soldier and I was just getting on with what I was doing."
In January 2007, Kim and Steven Haworth entered training to be Salvation Army officers. They were commissioned in November 2008. They served as corps officers at Bairnsdale (Vic.) for seven years from 2009 and Wyndham City for three years until the end of 2018, when Kim was appointed Divisional Commander, Tasmania, and Steven was made Divisional Leader.
Kim says she was surprised to be appointed a divisional commander, not only "so soon" into officership, but "at all". "It certainly wasn't in my plan, at all," she says. "I expected and wanted to be a corps officer for all of my officership. I'm a CO at heart." While Kim is the Divisional Commander for Tasmania, Steven is Area Officer for Tasmania South and Officer Recruitment Secretary for Tasmania.
The 'Oikos' principle
Meantime, Major Bram Cassidy, now Area Officer Metro East, Victoria, maintains his intentional relationships passion. He keeps a message on his mobile phone. The message reminds him of his mission every time he turns on his phone.
It says, "8-15. The world is smaller than you think." The 8-15 is not the time – it represents eight to 15 people in his relational world. It's a concept based on the theory of Christian author Tom Mercer, who says that, on average, each of us has eight to 15 people whom God has supernaturally and strategically placed in our relational world so that he might use us to show them his love.
Mercer says the Greeks used one word to describe this personal world. The word is 'oikos'. The oikos principle, Mercer says, is one that Jesus designed, modelled and taught for one purpose – to change the world, "a world that might just be smaller than you think".
The salt, says Major Bram Cassidy, has to come out of the salt shaker for that to happen.
Bill Simpson is a contributing writer for Others.