Gratitude for those who have gone before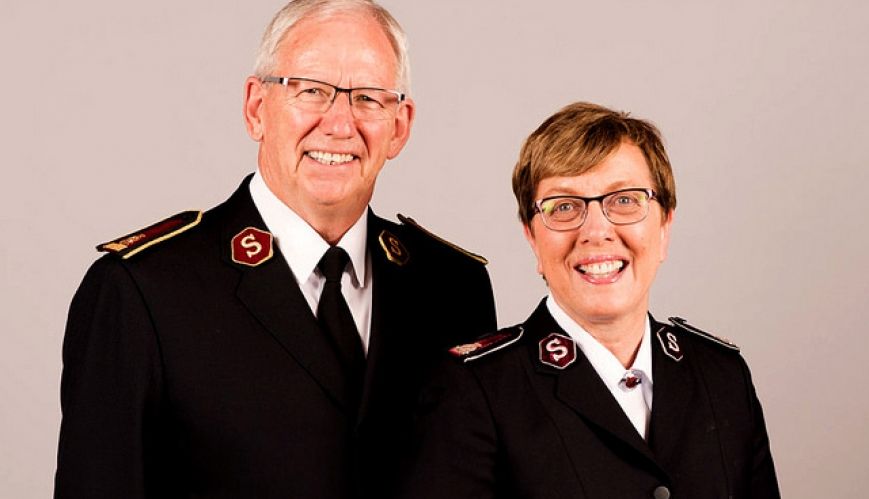 Gratitude for those who have gone before
6 August 2018
At midnight on 2 August, Commissioner Brian Peddle became the 21st General of The Salvation Army. Commissioner Rosalie Peddle became the World President of Women's Ministries.
By General Brian Peddle
General Brian Peddle addresses his fellow officers in his first communication to them via The Officer magazine.
As this is my first communication via The Officer, I want to acknowledge my deep sense of privilege and responsibility in creating words that will become an important framework for other exchanges between us. I hope to speak clearly to those who I view as fellow elders (1 Peter 5:1) and with whom I share a very special link through our Officer's Covenant. I am addressing all officers and I do so with thanks to God for each of you and with a deep gratitude for your faithful service.
You will understand if I state, 'There is so much to say,' and this article will not cover all the topics. I acknowledge the need to think further into the agenda but, at the same time, I readily commit to you to share a clear and consistent message in these coming months. For this article, I need a little space to reflect and briefly muse on the future that God has for us.
Throughout my officership (now 41 years) I have stood on the shoulders of those who have gone before me. For me this is more than a cliché. I stand today with a deep sense of gratitude, noting that by God's grace I can see further, dream bigger and exhibit Holy Spirit courage because of them. I honour General André Cox and Commissioner Silvia Cox. Having journeyed with them I can assure you that embracing this next chapter and the term as your General, I will stay the course on important matters relating to their legacy. There is no need to be nervous about a huge shift in direction. Due to good implementation and careful embedding there will be the opportunity to redeploy resources and tackle other important matters. On that basis, my intention is to move forward boldly, but to consult in a manner that respects all who are Army and are engaged in sharing our mission.
With a continued focus on accountability, child protection, governance, finance systems, information technology platforms, women in leadership and leadership development, some would say, 'That's enough!' Without wishing to disturb you, I suggest that we are only scratching the surface. Beyond these important things, beyond The Whole World Reading, The Whole World Praying and The Whole World Mobilising, there remains a world of broken people who need Jesus and need to hear his message of love. In my discernment of God's will for us there is a growing urgency that we engage with this broken world as never before. We must break out of any 'maintenance mode' or acceptance of the status quo. We must refuse to slip into the shadows of mediocrity and stand firm amid the devil's schemes of distraction. I would go as far as to say, 'Why not take back what the devil has stolen?'
Let's reinvigorate our belief in God's call on his people within The Salvation Army to become disciples engaged in his mission of bringing people to God and God to the people. The cause of Christ is worth dying for and our people, particularly the young, are looking for a worthy cause. I appeal to colleague officers around the world to be so captivated by the mission that we convince countless others to join us in the fight.
In recent days I have often thought of the men of Issachar, described as 'men who understood the times and knew what [to] do' (1 Chronicles 12:32). Surely, among us there are such men and women who will lead boldly and declare the message that God is doing a new thing.
I believe that what lies ahead for the Army is unfathomable and limited only by our measure of faith and obedience. I ask you to join me in that acknowledgement and then be prepared to participate in an Army engaged in a triumphal procession as described by Paul: 'But thanks be to God, who always leads us as captives in Christ's triumphal procession and uses us to spread the aroma of the knowledge of him everywhere' (2 Corinthians 2:14).
During the pre-High Council conference, leaders spoke passionately about their confidence that God is still leading and blessing the Army. With that comes a clear call…
·      to seek spiritual renewal and engage our people in mission;
·      to grasp again our deep need for holiness of heart and life;
·      to value people – officers, soldiers and employees – as God's great gift to the Army;
·      to link who we are with the very essence of what we do, the mission that is ours.
I believe there is a clear call upon the Army and I will help us have a focus on that call. It is a call…
·      to prayer – an Army moving forward on its knees;
·      to holy living – it is more than tradition or our theological roots;
·      to soldiers to be available;
·      to officers to staff our mission;
·      to Salvationists to be living letters of the gospel truth and deliverance;
·      to be a youthful Army;
·      to be a justice-focused Army;
·      to be a Spirit-filled Army praying 'thy Kingdom come';
·      to be a battle-ready Army with only one desired outcome – to become his sent people.
 
With all of you, I want to sing the words: 'Storm the forts of darkness, bring them down!' However, I would point out that this means we must be ready for spiritual warfare because the enemy is real, and only a spiritually-fit Army will claim victory in the battle. I pray for God's shield of protection around us. While we battle for souls, we must be confident that God is with us.
As General I claim God's promise: 'So do not fear, for I am with you; do not be dismayed, for I am your God. I will strengthen you and help you; I will uphold you with my righteous right hand' (Isaiah 41:10).
I claim this simply because reliance upon God is critical. You will hear me talk about the strength of the Army, the clarity of the mission, the public favour we enjoy and the strength of our diversity. Yet, hear me clearly, this Army will only be at its best when God is leading the way. It is with this in mind that I make myself accountable to you by exposing myself to the scrutiny of God's Word, to prayer so that I may discern with others God's will for us, to be guided by the prayer impact of God's people, to experience marriage and family in a way that God is honoured, to lead as one under authority and, most of all, to be accountable to God for the stewardship of the responsibility given to me.
I am very grateful for the Army I have been asked to lead. Please don't view this as an indication that I am naïve. You cannot serve as Chief of the Staff and not be aware of the shortcomings, human deficiencies and failures of this Army. Having said that, I am blessed because I believe we can lead from a position of significant strength:
·      a rock-solid biblical and doctrinal foundation;
·      dedicated people who are committed to God's mission in the world;
·      a clear sense of direction that prioritises the preaching of the gospel and serving humanity;
·      a well-managed and financially viable Army;
·      an Army whose strategic priorities are underpinned by a strong theology;
·      an accountability framework, helping us to be a more effective, efficient Salvation Army;
·      blessings from God's hand, honouring our unique DNA and place in the universal Church;
·      capacity to face the tough stuff with courage and confidence;
·      adaptability as we serve, seeing the challenges and meeting the needs.
 
I am not calling for any back-to-basics or the rediscovery of our roots if that means retrenching and reclusive activity in a barracks. However, I am calling for and will encourage renewal and relevance, taking us outside our comfort zones.
On 3 August, I assumed the office of General. I am delighted that along with Commissioner Rosalie as World President of Women's Ministries, we are joined by Commissioners Lyndon and Bronwyn Buckingham whose proven leadership will be a great resource to the international Army. I further commend to you the team at International Headquarters as, together with leaders from 59 territories and commands, and three regions, we lead The Salvation Army – God's raised-up Army.
To all officers and Salvationists I have a 'big ask' and here it is: Pray as never before for those who lead; pray for an even greater opportunity for the mission; pray the Jabez prayer for The Salvation Army and believe that God is going to do a new thing; pray 'thy Kingdom come'; pray that in all we do his name will be honoured and glorified; and pray earnestly that you fully fulfil your intended place in the march forward.
God bless The Salvation Army.
This article first appeared in The Officer magazine.
Read about the new General's first day in office HERE.