Greek Messengers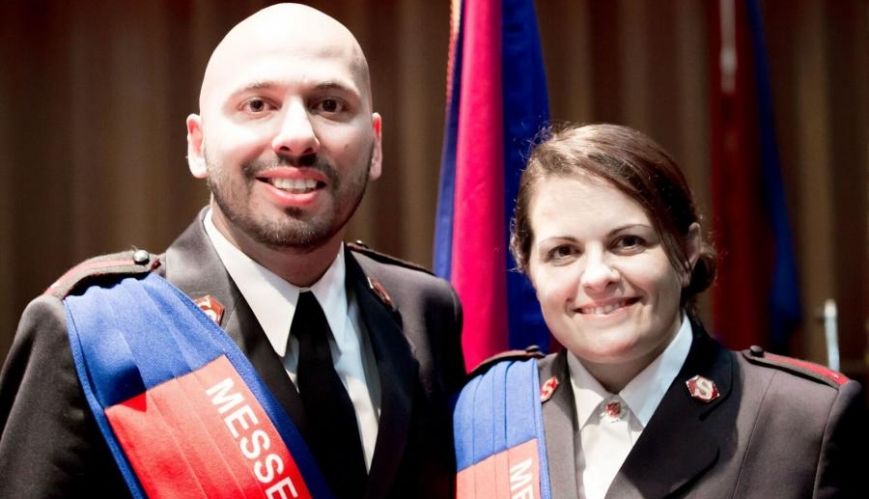 Greek Messengers
22 December 2017
They were only a few moments, but they would have been precious for a faithful, elderly Salvationist from a regional Australian corps.
As Paul (Pavlos) and Rachel Mina-Anastasiou (pictured left) were ordained in Sydney as Salvation Army officers on 25 November, my thoughts focused on Jim Moisidis, who once served at Tarrawanna Corps, on the NSW South Coast.
For 20 years, Greek-born Jim (real name Dimitrios) pleaded from Australia with Salvation Army international leaders, including three Generals, to "come over to Macedonia" – just like "the man of Macedonia's" plea to St Paul 2000 years ago (Acts 16:9) – and start The Salvation Army in Greece – his homeland.
Jim's pleas were always treated with respect and encouragement. In 2007, his prayers were answered when General Clifton Shaw announced it was happening. Jim saw it happen. He was promoted to glory five years later.
But by then, Paul and Rachel, despite being from a small Greek village and an orthodox background, had discovered The Salvation Army and linked with its work in the cities of Thessaloniki and Athens.
In Athens, they "heard the whole story and the important part 
that Australia played so that The Salvation Army could come to Greece". They were approved to train in Australia.
They did not get to meet Jim, but they did get to visit his corps at Tarrawanna and thank the people for standing with him during his long campaign.
 I recalled Jim's words in an article I wrote in 2008 about his mission. "I think God used Tarrawanna Corps to open the door 
(to Greece)," he said. "I can't prove it, but when I stand before God, I will ask him and he will tell me. I think he will say, 'Yes, Jim, 
I did'." Well, Jim will have received his answer by now.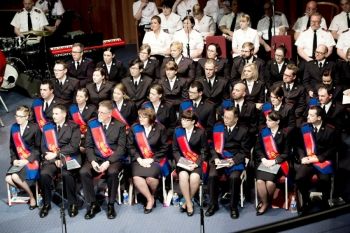 Paul and Rachel were among 15 cadets of the Messengers of the Gospel session who were ordained at the historic commissioning ceremony at Sydney Congress Hall.
It was the 
first time since 1921 that cadets from the two Australian territories (Eastern and Southern) were commissioned at the same ceremony.
The combined commissioning was part of The Salvation Army in Australia transitioning back to one national territory.
The 2017-18 Messengers of Compassion session – about to enter its second year – will continue at the separate territory training colleges in Sydney and Melbourne. But the 2018-19 Messengers of the Kingdom session – and subsequent sessions – will be based at the new national training college in Melbourne.
At the Messengers of the Gospel commissioning, Rachel Mina-Anastasiou was invited to speak about her journey to officership. She spoke of growing
up in a small village in Greece and the influence of Christian parents and grandparents. As a child, she thought her life was probably boring, but she wanted to serve God – maybe as a missionary.
"Funny, huh," she said. "Here I am, far away from my homeland, a girl who trusted God with her life and calling, and now I am living the exciting life that God had already prepared for me. And now my path leads me out into ministry. For the last two years,
I have been exercising and trusting and letting go and letting God take absolute control. Now, I have my exit ticket to go and my prayer is, 'God use me. Break my heart for what breaks yours'."
unity in diversity
Representing all of the newly ordained and commissioned officers, Ben Anderson reflected on the impact that the move to one Australian territory had had on the cadets. "It was certainly not on the radar at all for the seven Messengers of the Gospel who were welcomed in Melbourne in February 2016 
that we would be commissioned as a session of 16
 in Sydney," he said.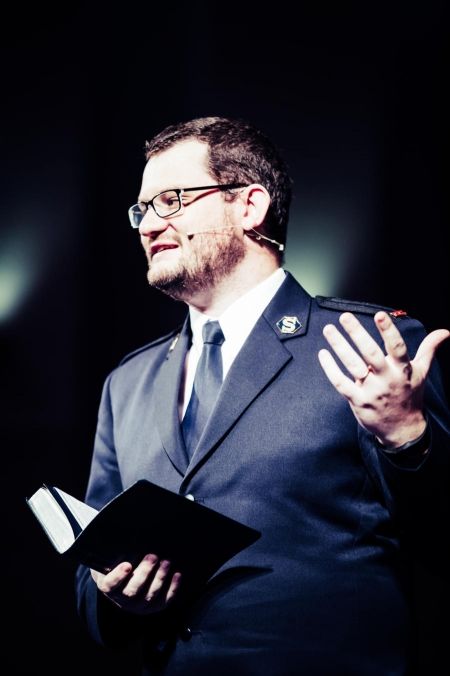 There had also been immense diversity of background of cadets. "As well as representatives from all mainland states, we had
the privilege of training with Paul and Rachel from the Athens Corps in Greece ... cadets from two residential campuses, cadets-in-appointment ... and commissioning of a territorial envoy," Ben added.
Despite the diversity, he said, the group shared two crucial bonds. The first was a training experience that equipped them to be better followers of Christ. The second was a name – Messengers of the Gospel – that compelled them to proclaim the good news of Jesus Christ by his grace and through his faithfulness.
Commissioner Floyd Tidd used Isaiah 61 as his
text in addressing the newly ordained officers. He reminded them of their commitment as members
of the Messengers of the Gospel session. "The Spirit
 of the Sovereign Lord is on me, because the Lord has anointed me to preach good news to the poor..." was Isaiah's message, he said.
The Messengers of the Gospel session, he said, had been anointed for the same role to a world desperate for good news, but suspicious of it because of the fake news of social media. "But it's not just (the responsibility) of the 16 (new officers) on the platform today. The anointing is for all of us," he said.
Fifteen of the new officers graduated as cadets. The 16th, Joel Soper, was a territorial envoy. The new officers are: Jodie and Gavin Jones; Cameron and Maryanne Lovering; Jacqueline and Matthew Gluyas; Ben and Jamie Anderson; Guo Xian
Wu and Rong Fu; Joel Soper; Paul and Rachel Anastasiou; Chelsea Wilson; and Heather and Peter Stamp.
The Sunday morning family service, also held at Sydney Congress Hall, saw a continuation of the theme from Isaiah 61. The message, brought by Commissioner Tracey Tidd, focused on Isaiah 61:10-11, and was presented in a unique style that included both audience and child participation.
Commissioner Tidd began her sermon by asking, "It's time to celebrate, anyone agree?" She had the children come up onto the platform and then engaged with both them and the adults in the congregation, in an interactive sermon.
"We are celebrating the 'new!'" she told them. "We have a reason to celebrate the new thing God is doing in and through The Salvation Army, we are celebrating because God has given us new life, and we can celebrate because God is changing the world; making a whole new world."
As the newly commissioned officers from the Messengers of the Gospel session prepare to take up their first appointments across Australia, another group of Salvationists are about to embark on their journey to becoming Salvation Army officers. Ten cadets are about to start life at the National School for Officer Training in Melbourne.
The cadets of the 2018-19 Messengers of the Kingdom are:
Marika Wallis, Tamworth Corps (NSW/ACT Division)
Hye-Sun Seol and Min-Hwan Oh, Sydney Korean Corps (NSW/ACT Division)
David Burbidge, Bunbury Corps (Western Australia)
Andrew and Lisa Johnson, North Brisbane Corps (Queensland Division)
Cynthia and Henry Roehrig, Ballarat Corps (Western Victoria Division)
Paul Trotter, South Barwon Corps (Western Victoria Division)
Alice Edge, Hobsons Bay Corps (Central Victoria Division)
The Messengers of the Kingdom officially commence their training on 31 January.
Bill Simpson is a contributing writer for Others.
Captions: Ben Anderson speaks on behalf of the newly ordained and com- missioned officers.
National School for Officer Training Principal, Major Gregory Morgan, addresses the congregation.
Rachel Mina-Anastasiou shares the story of her journey to officership.
04 Commissioner Floyd Tidd speaks from Isaiah 61 during his address. Photos: Carolyn Hide