Growing faith in the far north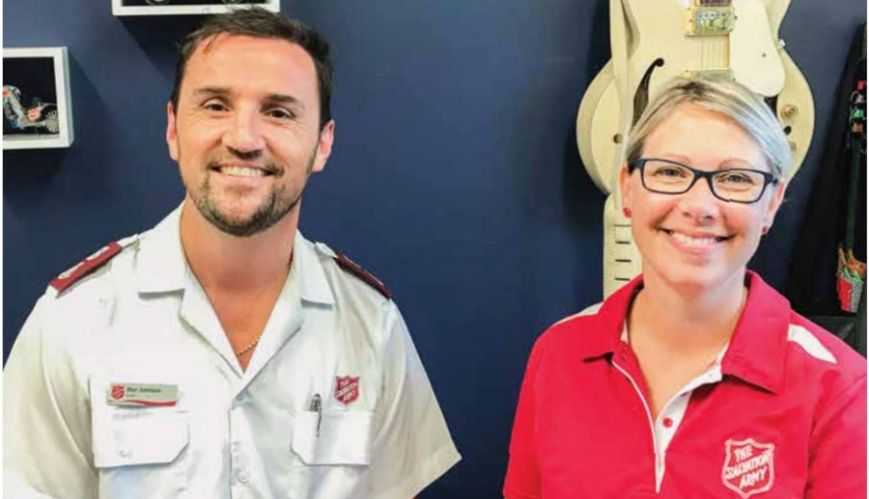 Growing faith in the far north
28 March 2019
Leading in Far North Queensland: Major Ben Johnson is the Cairns Corps Officer, while Major Emma Johnson is the Manager of The Salvation Army Centennial Lodge Crisis Accommodation Centre. Photo: Fiona Oliver
By Simone Worthing
The beautiful city of Cairns, in Far North Queensland, is remote to most of the Australian population. It's almost 3000km from Melbourne, and almost 1700km from Brisbane, Queensland's capital.
It's quicker to fly to Port Moresby, the capital of Papua New Guinea, than to Brisbane. Cairns is famous for its warm climate, tropical waters, pristine beaches and relaxed atmosphere. Subsequently, it's a popular holiday destination for people from all over the world.
This multicultural city, however, also has its problems, among them homelessness, addiction, poverty, violence and loneliness. The Salvation Army in Cairns is an integral part of the community, reaching out to all people and especially those in need of a helping hand, a listening ear, and a pathway to Jesus and a transformed life.
Major Ben Johnson is the Cairns Corps Officer, assisted by Auxiliary-Lieutenants Belinda and David Dobbie. Major Emma Johnson is the manager of The Salvation Army's Centennial Lodge Crisis Accommodation Centre.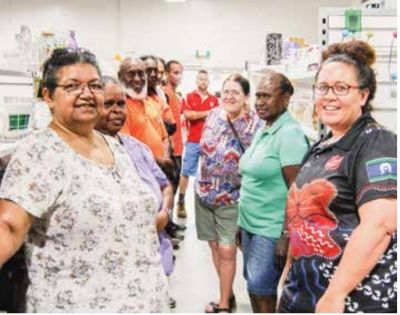 Alison Geno (right), Area Manager for the Red Shield Family Stores, with volunteer workers.
Cairns Corps also partners with and is home to Salvation Army programs including Doorways, Indigenous Ministries, and Moneycare.
A courts and prisons chaplain is also based on site. It is active in sports ministry, multicultural ministry, youth work, Home League, Salvation Army Emergency Services, and in connecting with the local community.
Regionally, the corps also works closely with Atherton Corps, 80km south-west, and the town of Innisfail, 90km south.
one life at a time
"The new National Vision Statement is really important to us and we are trying to focus on that 'one life at a time', regardless of where that is in our areas of ministry," says Ben. "This means trying not to be program-orientated and putting people through the 'sausage machine' but identifying their needs and helping create an individual faith pathway.
"We don't want to run programs and hope people get saved along the way. We want to have faith conversations, pray with people and help them to have a personal experience that leads them to take that step of faith. No matter the circumstances, there is always a path of redemption for everyone."
Ben, the Dobbies and the corps leadership team would also like to see all the soldiers in the corps actively involved in church life and outreach. "If that's what we want to see, we need to, and are, designing how to train our people to that end," says Ben.
The Dobbies, who only arrived in Cairns in October, believe God has sent them to the city for a purpose and they are ready to help the team in whatever way they can.
"There are so many opportunities here that we have as a corps community to bring the love of Jesus to the city and our people are so willing to share God's love with everyone," they say.
youth group
Ben and Emma have started a youth group in Cairns, which meets at their home on a Friday night. "In discipling the young people," explains Emma, "we encourage them to think deeply about what is important to them and why, and to keep exploring.
"Our Bible studies have become longer and longer sessions of questions, where they ask lots of questions and challenge each other. It's not about us telling them or leading them to a certain point; it's asking good questions and teaching them to think through and wrestle with their faith and the issues in their lives."
sports ministry
Ben, with youth intern Franko Bak, is also focusing on sports ministry, particularly basketball, as a way for leaders to build a rapport and profile with young people and be someone people can look up to.
Franko organises and runs youth nights, activities for the young people, and on Tuesday nights plays and helps coach two Salvation Army men's teams in the local basketball competition. "The community basketball competition is to interact with local youth," he explains. "The sport is pretty big in Cairns, so it's a good way to connect and anyone can come.
Some young people on the fringes of the corps are also now playing and bringing their friends. Some of these are attending more Sunday meetings too, which is just great."
Franko also works with Ben, coaching and playing with young people on Sunday afternoons. It's an outreach ministry that grows each week as people bring their friends, and parents bring their teenagers.
Some of the young men have been referred to the basketball through a local police liaison officer who Ben came into contact with when he joined the police band.
corps diversity
Cairns is a growing corps that culturally reflects the local community. "We have people attending from a range of cultures, including Chinese, South Sudanese, Papua New Guineans and Bhutanese," says Ben.
"We also have a great ethnic mix in our leadership team, a good balance of male and female, and a good mix of over and under 40s."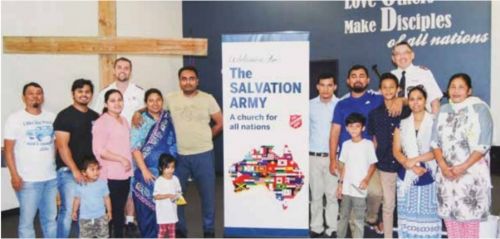 Members of the Bhutanese congregation aligned with the corps.
The corps also hosts a Nepali-speaking congregation (pictured right) that meets in the hall every Saturday. Led by Simon Gazmer, many of the ethnic Bhutanese-Nepali were citizens of Bhutan before having their citizenship revoked.
They were given the opportunity to convert to Hinduism and stay in Bhutan, but as Christians they refused and were sent to refugee camps in East Nepal. Simon and his family lived in a camp for more than two decades before coming to Australia and starting a new life.
Several members of this congregation volunteer with Cairns Corps. "They speak very openly about where God is leading them and we have deep spiritual conversations," says Ben. "Step by step I have been taking Simon through The Salvation Army doctrines and we are building our relationship on mutual trust. And he has also recently become an adherent.
"The [Bhutanese] congregation is aligned with the corps through Simon. Just recently, their music team started rehearsing with the corps team, which is wonderful."
centennial lodge
The Salvation Army Centennial Lodge in Cairns offers emergency accommodation for single men, women, and women with children.
Emma, as manager, explains that she and her team are focused on person-centred care and ensuring residents experience self-directed and autonomous support to achieve their housing goals.
"We are about respect and dignity, building family and support in the wider community, and individuals connecting with individuals – we're not programbased," she says. "We encourage our residents to look at their lives holistically – including financially, educationally, relationally and spiritually."
Creating faith pathways with residents, as opposed to for them, has also become a focus of casework at Centennial Lodge.
"For those who are looking for something spiritual in their lives, or a place to express their faith, we want the exploration to be organic and natural, not an evangelistic push," Emma says.
"It's an intentional part of what we do, but it's more about asking questions than providing answers. It's listening to understand, having deeply meaningful conversations and providing a safe place for people to explore, wrestle with issues and respond according to what they want and need."
Responding to trauma and its effects on the individual is another integrated focus area at Centennial Lodge, with all case workers trained in trauma-informed care.
"We want to support people who come with trauma, soul trauma, and care for them in that place of deep hurt," says Emma. family stores Alison Geno is the area manager for Red Shield Family Stores, with three in Cairns and one in Innisfail.
She started in the role 13 years ago, with the intention that she'd do it for only a year. "I love the people, the contact with the community, the challenges and the vibrancy," she says.
"I love ensuring that our customers have a special and unique experience in our stores, and making money for the Salvos so we can provide the services this area needs."
Each store employs a supervisor, with volunteers and clients from Work for the Dole, Community Services, Return to Work, Juvenile Justice and WorkCover, also serving in the stores. "All our volunteers are included in everything we do, from training and supervision, to special meals and celebrations," says Alison.
"They come from all cultures, but are predominantly Nepalese, Aboriginal and Torres Strait Islanders, and Papua New Guinean. We are also working to increase the interaction between the corps and the stores."
regional connection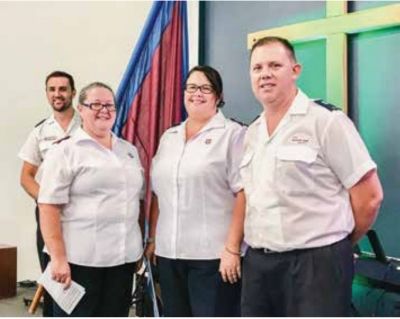 Major Gallagher (second from left) installs Auxiliary Lieutenants Belinda and David Dobbie.
Major Meaghan Gallagher is The Salvation Army Area Officer for North Queensland, of which Cairns is a part. The area, similar in land mass to the state of Victoria, starts at Mackay, ends at the top of Australia, and extends west to Mount Isa.
"The opportunities are endless in this region, but it's more about where God wants us to be, what he wants us to be doing, and the best way we can impact our communities for Jesus," says Meaghan.
"Our Army expressions are coming alongside people, drawing them to Jesus and being available in these unique, often challenging, communities. "We live in a great big country and being in Far North Queensland is not like anywhere else in Australia. We learn to rely on God more, think outside the box and be more resourceful than we ever thought possible."
Simone Worthing is a staff writer for Others.