Interculturalism thriving at Box Hill Salvos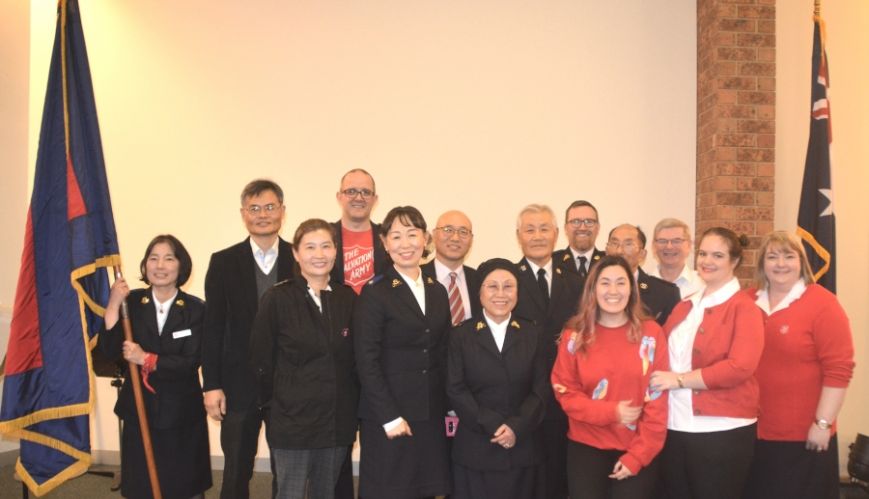 Interculturalism thriving at Box Hill Salvos
12 August 2019
Intercultural Pastor Sunny Choi (holding the flag) and a group of people from Box Hill Corps, including the four new senior soldiers and three new adherents who were enrolled on Sunday 9 June.
By Philip Messenger
Box Hill is a suburb that sits 15km directly east of Melbourne's Central Business District. At first glance, it looks like a typical Australian suburb – beautiful trees, local shops, schools and several footy grounds within a stone's throw of each other.
But take a walk through Box Hill Centro, the central shopping centre, and a different picture emerges. The area is being transformed into a district of highrise accommodation alongside a variety of international restaurants.
There is a multicultural feel to the area, and Box Hill Salvation Army is right in the heart of it. It was this multicultural feel that attracted Sunny Choi to the area. She started attending Box Hill Corps nine years ago and is now the Intercultural Pastor at the corps. Originally from South Korea, Sunny has a passion for evangelism and she loves people, regardless of their nationality.
Box Hill Corps had for many years been passionate about multiculturalism and engaging people from non-English speaking backgrounds into the church community, but Sunny saw a new opportunity. She saw the opportunity for interculturalism.
Multiculturalism sees people from different backgrounds staying within silos, engaging with people from similar cultures and languages. In contrast, interculturalism exists so that people from all over the world engage with each other, regardless of language, religion and culture.
Sunny now oversees a vibrant ministry of interculturalism, which involves English conversation classes, creative arts classes and, of course, gatherings over food. All these activities are run with the aim of connecting people into the life of the corps.
Tuesday nights have become a hive of activity as parents bring their children to creative arts classes, and while the children engage in making music, singing and playing timbrels, the parents participate in English classes, Christianity Explained, Bible studies and sharing tea and cake.
English conversation classes each Thursday see large numbers of people attending whose origins are in Asia and Europe as well as northern Africa. One could be forgiven for thinking they have walked into a United Nations convention.
The team of volunteers are passionate not just about teaching English, but also about building relationships. The conversation classes are followed up with English reading classes, with Bibles used to learn to read English.
The two Sunday morning services are followed by a lunch – a multicultural feast of food. Everything from kangaroo sausage rolls to kimchi is served in some kind of eclectic Master Chef experience.
As good as the food is, the best experience of lunch is the community. People sharing stories in different languages, while eating different foods; and the one thing bringing them together is Christ. Soldiership classes are a natural progression from the lunch and Bible studies.
On Pentecost Sunday (9 June) four senior soldiers and three adherents were enrolled. In true 'Pentecost style' the service involved people speaking Indian, Swedish, English, Korean, Dutch, Mandarin and Cantonese.
What happens at Box Hill is not new, and it certainly isn't innovative, but rather it is what the Holy Spirit has always done. Regardless of language or culture, through the Holy Spirit, God breaks into the lives of those he wants to be in community with.
Philip Messenger is the ministry assistant at Box Hill Corps.