Kelvin still pedalling for a good cause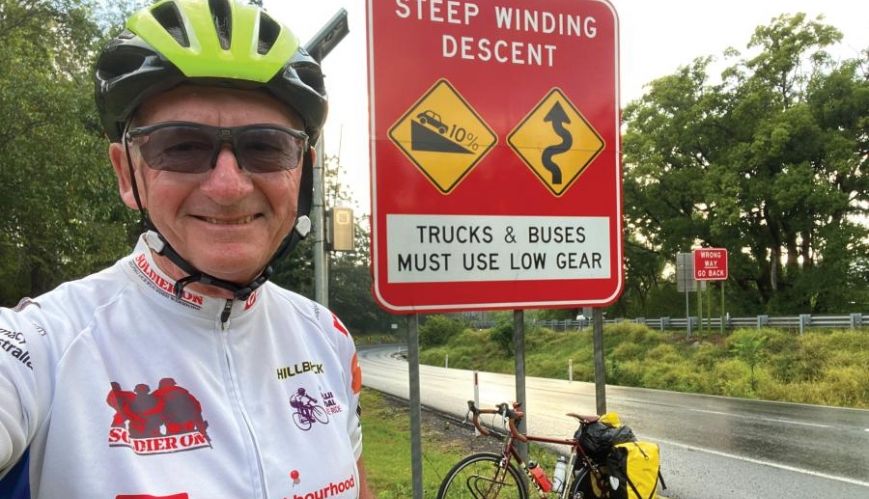 Kelvin still pedalling for a good cause
7 November 2021
Retired Salvation Army officer Colonel Kelvin Alley takes a break on one of his charity fundraising rides.
By Darryl Whitecross
For Colonel Kelvin Alley, running and cycling have been as much a part of his adult life as Salvation Army officership.
Now 67 and retired, Kelvin said he had been involved in the athletic scene since his early teenage years and ultimately ran marathons and other long-distance events but "put all competitive intentions away" when he entered Officer Training College.
"My first appointment was Port Macquarie [NSW], and a running group very quickly formed around me, but some of those guys were cyclists, and they conned me into getting on a bike," Kelvin said. "Gradually, the cycling took over from the running. Cycling now is a natural part of my life."
Kelvin's appointments in corps and administration have taken him across Australia and overseas – and so has his cycling. He said he tried to get about 150 kilometres of riding in each week to keep the legs ticking over, but many of his rides had been much longer, including cycling holidays with his wife, Julie, throughout Australia and Europe.
Soldier On fundraiser
His most recent ride was an 11-day 1500km cycle around Queensland's Darling Downs and Central Queensland to raise money for 'Soldier On', which supports serving and veteran Australian soldiers and their families.
"The idea for the ride came when the annual Pollie Pedal was cancelled due to COVID-19," Kelvin said. "I had three early sponsors totalling $150, and I wanted to honour them."
That $150 grew to eventually surpass $10,000. "I get quite emotional about it ... 102 sponsors and $10,400 for Soldier On," he said. "I am committed to the work of Soldier On. I am a father of a young veteran who served three terms in an overseas zone of conflict. I have a heart for those who have served our country in uniform."
In 2006, while serving with the Army as a divisional commander in Sydney, Kelvin took part in his first Pollie Pedal, an annual cycling event made up of politicians, veterans, and corporate sponsors that donates money to charity, Soldier On being one of those charities. The following year he was asked to be the Pollie Pedal padre.
"Since 2007, the Pollie Pedal hasn't gone anywhere until I pray [with the group before heading off]. I give a one-minute inspirational message and a two-minute prayer to bless us for the day for safety, family, and the nation."
Kelvin said he was blessed by "the amazing generosity of strangers" during his recent adventure.
"We've all been made in the image of God," Kelvin said. That image may be fallen, but there's something of the image of God always present in every human being – even the worst. There's something of the image that is still aglow in experiences like this. You're confronted with the goodness and kindness of strangers who think nothing of helping you, feeding you."
He told the story of a woman who sat down next to him in a café in Theodore [about 565km north-west of Brisbane] to ask about what he was doing "way out there" and, within a few minutes, had donated $1000.
Never give up
Kelvin said the two greatest lessons he learned from the 1500km ride were patience and perseverance. Despite facing high temperatures, heavy rain, hot headwinds, fatigue, hills, and road trains, "giving up was never an option". "The idea never occurred to me that I give up. There were hard days, but I just knew I had to keep going and keep pedalling."
Would he do it again? "In a heartbeat. I'm already planning the next one. I don't think I'll ever get over [the latest ride]. It's just been the most adventurous, challenging, most enjoyable, satisfying thing I think I've ever done on two wheels."