Living our mission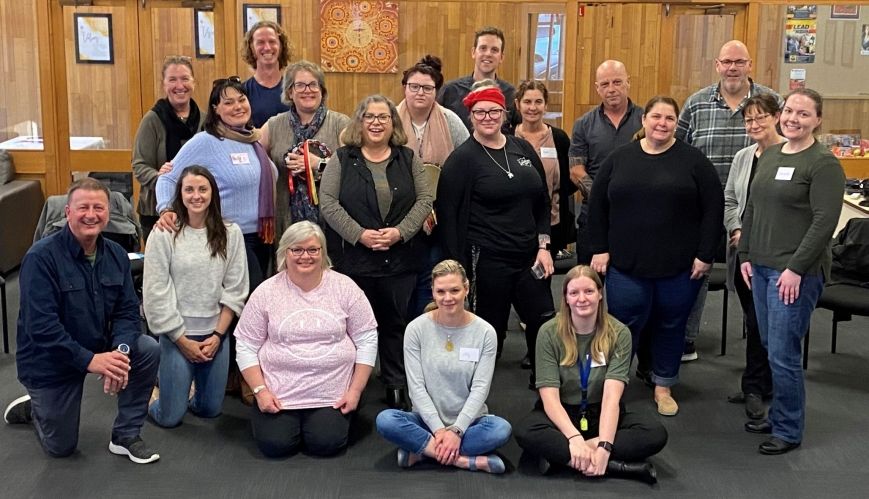 Living our mission
28 September 2021
Some of the Salvo leaders at Burnie who gathered to develop plans for working better together across mission expressions.
The Salvation Army has hundreds of mission expressions across Australia that serve and connect with people. As part of our Local Mission Delivery model, they collaborate holistically in their care for people both physically and spiritually; social mission expressions and corps partnering in integrated, innovative ways. But, in a practical sense, what does all this mean? Below are three examples of what 'Living Our Mission' looks like to Salvos working in different parts of the country.
---
Lieut-Colonel Laurie Robertson, Area Officer Sydney Wide
Collaboration is not just a word for the Greater Western Sydney Salvos (GW Salvos); it's life in action. The everyday close mission interaction between The Salvation Army mission expressions – and other churches and agencies – is phenomenal.
The combined churches youth group that GW Salvos organises is just one of the successful partnerships that bring life-changing outcomes. Up to 70 young people from some of the most marginalised suburbs in Australia attend. Over the past 12 months, more than 20 of them have accepted Jesus Christ as their Saviour.
Complementing this significant spiritual impact, the combined resources of The Salvation Army and other churches are also provided to the youths' families, bringing body, mind and spiritual transformation.
Additionally, The Salvation Army's Youthlink service delivers a Drive for Life program that enables young people to gain their driver's licence, a key factor in helping them gain a job, which dramatically transforms their life. Members of local churches are partnering with our Youth Services as driving tutors and instructors for the young people.
---
Major Dean Clarke, Area Officer Central and Southern, South Australia
People travel to Marion, in south-west Adelaide, for its multi-option shopping complex. Opposite the complex is Marion Corps, with a similar multi-option offering.
People come to the Marion Thrift Shop to donate or browse for recycled treasures and clothing. Some are hoping for practical assistance to meet the basic requirements of life, and our Doorways team stretches out a hand to help them up.
Financial counselling goes a step further in helping to break cycles and assist with personal independence. The homeless, who are not always welcome across the road, find a place of sanctuary here, as do those seeking healing from addictions, hurts and hang-ups, with Celebrate Recovery providing a supportive environment, practical life lessons and spiritual direction.
Age-relevant activities and worship gatherings provide additional connection spots. Community members come to the Salvos for one thing and find so much more. All of this is possible because we do our mission together. This is Local Mission Delivery at its best.
---
Captain Belinda Cassie, Corps Officer – Burnie Salvos
At Burnie Salvos, we really do believe that we are better together. That means across our site we are actively looking for ways to partner in mission, to journey with people from our community who come seeking support.
There is no wrong door at Burnie Salvos. That might look like the person experiencing homelessness who spends a night at Burnie Safe Space, being introduced to Oakleigh House where they can be assisted into a transitional property. Or it might look more like the young mum who is working her way through a parenting course with the Doorways to Parenting team, being connected with the corps officer for some extra care and support.
Ultimately, we want to see people come into a transformational space having met Jesus. One of the benefits of collaborating in mission across a collocated site is that we can take a holistic approach. We can endeavour to care for the whole person, body, mind and soul.
To help achieve this, in late June, all Salvation Army mission expressions in Burnie including our Area Officer, Captain Kevin Lumb, gathered for two days of training. On the agenda was how we could better support our teams in their collaboration and co-creating transformational change focusing on prevention and early support. This approach equips us to build the fence at the top of the cliff instead of being the ambulance at the bottom.
The training provided a framework of practice to collaborate, engage and empower communities to be more connected and better supported. This will help us to overcome the barriers that prevent people from building better lives. The same training is being conducted at Bayside Corps in Brisbane and Marion Corps in Adelaide.