Local funds for local mission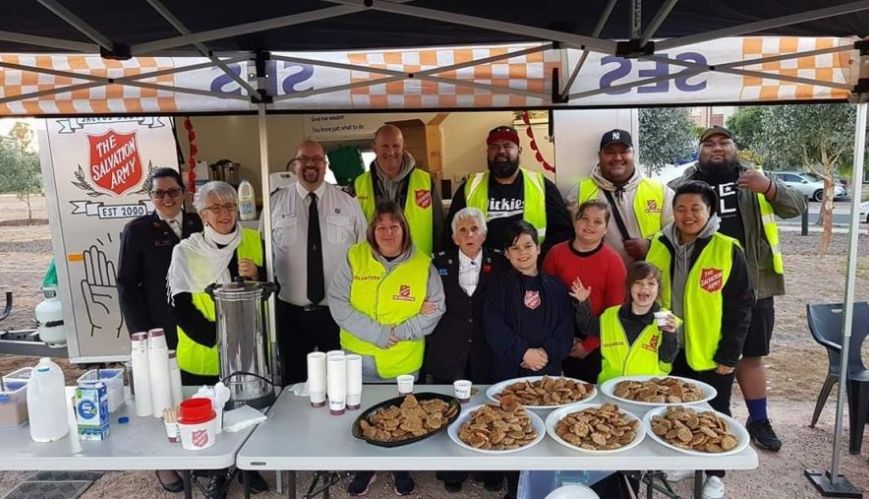 Local funds for local mission
22 May 2020
The catering crew of Craigieburn Corps at one of their community outreach meals that they've been able to invest in.
By Bill Simpson
Salvation Army corps and centres will again be given the opportunity to decide how 2020 Red Shield Appeal funds they collect are spent in their area.
Australia Territory leadership say the introduction of the Community Initiative program last year was so successful, they are keen to see it continue as part of local mission this year, despite restrictions imposed by the coronavirus pandemic. To meet health and safety regulations, this year's residential collection will move away from doorknock and static events to an entirely digital fundraiser.
Salvation Army corps and centres around Australia have been able to invest Red Shield Appeal funds raised in their areas to further their missional reach into local communities.
Major Bruce Harmer, speaking as national Public Relations spokesman, says the response from all expressions of Salvation Army mission in 2019 was "tremendous, with rich and strong engagement across the Australia Territory". About 94 per cent of corps participated in the 2019 program, receiving just under $4.8million from residential collections to use on missional work
in their area. "A territorial corps engagement of 94 per cent is amazing and speaks to the genuine missional intent of faith communities across Australia," says Bruce. "Add to this the other missional expressions that took part in 2019 and you get some understanding of just how well the engagement with this initiative has been.
"The impact of these local funds on supporting local missional opportunities has been a resounding success across the Australia Territory. We are very pleased to say that our Red Shield Appeal Community Initiative will be happening again in 2020."
Bruce says examples of how various faith communities had used their 2019 funds would be shared with all corps, centres and other relevant expressions. "As we share the broad impact of this local community mission initiative, we are confident that Salvation Army expressions across Australia will be enthused by these earthy and effective missional stories and be compelled to develop further their local missional expressions. We want missional expressions to see the Red Shield Appeal Community Initiative in 2020 as an opportunity to engage with local community in new and exciting ways.
"Raising local funds for local mission in support of local communities is the way that most mission expressions are seeing this opportunity and we are very pleased with the missional intent of our people. This initiative is allowing mission expressions to realise the potential of local missional engagement and is revolutionising mission across the territory. Most importantly, this revolution is taking place at local community level, which is key to its success."
With funds returned to corps from their 2019 local Red Shield Appeal collections, corps are financing Christmas community lunches, hampers and toys; creating community supermarkets; paying crisis accommodation costs for the homeless; vouchers for prison, court and rural chaplains to assist their clients; assisting other corps; yoga classes; school breakfast and lunch clubs; community gardens; and employing community workers.
Local impacts
Cairns Corps in Far North Queensland has been able to employ a full-time community addictions case worker.
How some corps around Australia have used local proceeds from 2019 Red Shield Appeal collections:
Cairns Corps, in Far North Queensland, has employed a full-time community addictions case worker, introduced a coffee van, increased Christmas food assistance to the needy, support-funded Christmas aid through Innisfail and Atherton Corps and begun work on a transitional housing project. It is also looking at funding a community services case worker at Innisfail.
Corps Officer Major Ben Johnson says The Salvation Army's offer to return money to corps from the Red Shield Appeal has inspired not only corps people, but also community leaders who give their time to support the Army's work. "The offer has had amazing results for us," he says.
The full-time community addictions case worker is already having an impact. The worker is involved in one-on-one sessions with community members who have addiction issues. Her work leads to affected community members gaining placement with the Army's Townsville Recovery Services for rehabilitation. "The corps is partnering with Townsville Recovery Services for this project," Ben says. When people are ready to return to the community from the recovery program, the case worker assists as a resource to finding appropriate support services. The case worker also supports prisoners struggling with addiction issues, at a local correctional centre.
Caloundra Corps, on Queensland's Sunshine Coast, has used its proceeds to help fund a full-time case worker in local schools. The case worker assists children and their families with a variety of personal issues. "It's more than emergency relief," says Corps Officer Auxiliary-Lieutenant Tim Clark. "It goes much deeper."
Six primary schools are part of the program. Students and families are referred to the case worker by the schools. Up to 30 families are benefiting. The program was previously funded by the Family Store. That funding can now be diverted to other projects.
Blacktown Corps, in Sydney's disadvantaged outer western suburbs, spent its proceeds on providing major Christmas celebrations for the city's elderly people and children. "We wanted to do something to show our appreciation and support, especially for Blacktown's older citizens, and the kids; to show them Jesus at Christmas," says former Blacktown Corps Officer Major Glenn Price. "Many of these people don't have money to spend on themselves at Christmas."
The corps booked a local club to provide lunch, entertainment and a gift for senior citizens. They had a big turnout. A Christmas party was also organised for children from the corps' Kids at Playgroup, which meets weekly at the corps complex. It provides activities for children aged from nought to five, and their families. "It's a group that started two years ago with nine people. Now there are 65 people attending regularly," Glenn says. "At Christmas, we gave the kids and their families a fantastic lunch and a gift, and a message about Jesus." Blacktown Corps also used some of its Red Shield Appeal funding to assist community members with food and toys for Christmas.
Ballarat/Delacombe Corps, in Victoria, is spending its money on help programs for schoolchildren and their families. Sixty children are receiving school lunch packs three days a week and families are being given a backpack full of food one weekend a month. Up to 18 children are receiving up to $300 each to pay for the cost of sports registration, uniforms, etc. Disadvantaged children are being funded to attend Salvation Army camps and carnivals.
Craigieburn Salvos run a school breakfast service.
Craigieburn Corps, in Victoria, is using its funds to finance three community projects. Corps Officer Captain Pete Brookshaw says the corps promotes its funding program as 'Local Funds for Local Mission'. The corps is now operating three school breakfast programs at local secondary and primary schools, each one day a week, with corps volunteers. "We have funds to start a fourth school breakfast if we had the volunteers," says Pete.
Craigieburn has also started Tuesday community lunches, catering for up to 50 people each week. Last Christmas, the corps was able to use its Red Shield Appeal funds to provide food hampers to more than 100 community members. "The Red Shield Appeal money has certainly helped us to serve our local community more extensively, which is good because it helps build relationships," Pete says.
Norwood Corps, in Adelaide, has been partnering with Norwood Salvos Stores to provide a weekly community meal called Tucker Tuesday. Salvos Stores, which adjoins the corps building, started the initiative among its clients last year, with staff initially financing the project. But the Red Shield Appeal funds raised through Norwood Corps have confirmed Tucker Tuesday as a regular and ongoing community service.
Corps Officer Major June Purdy says Tucker Tuesday has become a valuable add-on to its Doorways assistance program. Community members are invited to share in a meal, tea, coffee, cold drinks, music and fellowship from late morning to early afternoon. June says up to 40 people now use the service each week. Valuable community relationships are being formed.
"We are an older corps with members in their 80s and 90s, so partnering with Salvos Stores has provided us with great opportunities to do something new in the way of community service," she says. The corps and shop are hopeful of receiving further funding from this year's appeal.