Making a fresh start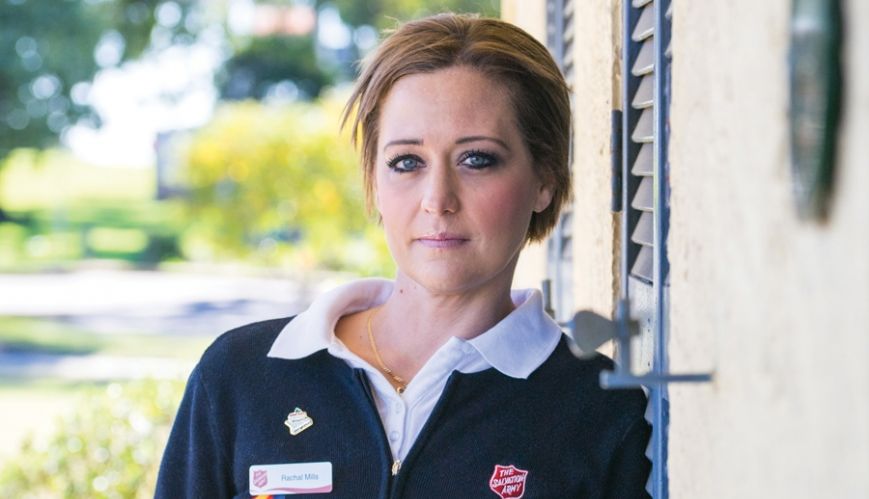 Making a fresh start
7 September 2016
The young woman in Salvation Army uniform stood on stage in front of mostly newfound friends and warned them her testimony was PG (Parental Guidance) rated. She was being conservative. MA (Mature Audience Only) would have been closer to the mark.
To be blunt, Rachal Mills told the congregation at Campbelltown (NSW), her life had been "less than godly". That day, she didn't go into details of a life she was not proud to share publicly. "I was going to stand here today and read you a bunch of explanations and past regrets, and explain how I triumphed over them," she said. "But, then I realised my greatest testimony isn't my past and the triumphs. My greatest testimony is my present and my blessings."
The grand-daughter of Salvation Army officers and daughter of Salvationists started life 34 years ago doing all the right things. She went to Sunday school, played timbrel with the other girls, completed corps cadets, was enrolled as a senior soldier at 18 and showed interest in training to be an officer. A personal problem around the officership issue upset her. She walked away from The Salvation Army – and God.
Life changed dramatically. Not only had she withdrawn from her church, she had turned her back on the moral code she had been taught. There was no longer any place in her life for God or anyone associated with him. She didn't want anything to do with that side of life. "I was no longer behaving like a Christian. I was doing everything I had been taught not to," she says.
Rachal loves working at the Campbelltown Connect Centre and Family Store. Photo: Lena Pobjie
Rachal married at 23. For her, life had become "one big party", with lots of drinking. She was surrounded by a drug culture and violence. After 10 years and two children, she left the marriage. She lost her family and her home and had to vacate a good job with work vehicle on Queensland's Gold Coast.
With little left from those 10 years, her only option was to move to Sydney to live with her parents. Not a lot changed. Drinking and drug-taking remained central to her existence. There were times when she didn't go home from a party for days. Her parents, who were looking after one of Rachal's children, had no idea where she was. "Dad said he used to wait for the police to call to say that I was dead. I should be dead," she says. "I don't know how I survived, except that God had plans for me."
She began self-harming. "The self-harming was drug-induced. It was my coping (with the past) mechanism. I was over-analysing. I had lost my identity."
At 33 and seeing little hope in a future, she left her parents' home. "I had stopped talking to my parents. I left because I was sick of them telling me that I had to change the things that were destroying me. I know now why they were so concerned. My family and corps family kept praying for me, even though I chose not to make contact while stuck in a messy breakdown and was trapped."
She didn't have any friends. She had no idea where to go. She was homeless. She slept in a toilet block, refuges, hotels, on the street – wherever she could find something for a night. And she was pregnant.
Rachal Mills with the Campbelltown Corps Officer, Major Brenda Stace. Photo: Lena Pobjie
Life became even uglier. There was an unsavoury association with a notorious gang in the Parramatta area. There were difficult things she had to do to survive, including being forced by gang members to participate in the customs of another religious faith against her wishes. That was a painful experience for her. "Let's just say it wasn't nice," she says. Rachal realised if she didn't dramatically change her lifestyle, she was a high risk of dying young. She was now in serious danger.
One day late last year, she saw The Salvation Army corps building at Parramatta. She went inside. "It took a lot of guts for me to do that because of the things I had done," she says. She spoke with the Parramatta corps officer, who contacted her father. "After I left the building, I got a call from Rachel Browning, who was working in welfare at the Parramatta Corps. Rachel saved my life. She told me to come back and see her. She put me into a hotel and gave me food card
"Rachel called me when I was leaving the Housing Department after being refused accommodation. I had nowhere to go. If she hadn't called as I was walking down the stairs at the Housing Department, I would have been picked up by (the gang). I don't think Rachel realises just what she did for me that day. It surely saved my life." If Rachel (Browning) hadn't called and offered the help she did that day, I don't think I would be alive today.
A few weeks later – just before Christmas 2015 – Rachel Browning called a second time to check that Rachal Mills was okay and offered more food cards.
"I was told to go to Campbelltown Corps building to collect the cards," Rachal says. "When I arrived, I was met by Major Brenda Stace (Corps Officer). She knew my mum. I felt like I had come home. Major Kelvin Stace invited me to the next Sunday meeting. I went. People were lovely to me. I felt safe. I have been there ever since."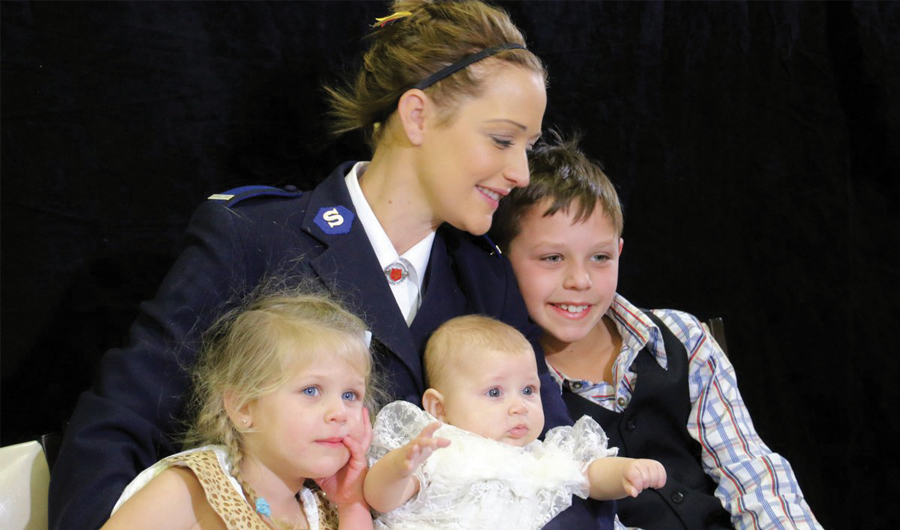 Rachal with her children – Sophia-Rose (3), Athena (6 months) and Zachariah (8). Photo: David Rich
On Sunday 3 July, Rachal Mills was re-enrolled as a Salvation Army soldier. "I made a promise some time ago (initial enrolment) and today I re-sign that promise," she told the congregation at her re-enrolment. "Yes, it meant something to me the first time, but it means much, much more to me now.
"Today, for me, symbolises new beginnings, a new life and a new adventure. With the help and prayers of my family and the grace of God, I stand here today and swear an oath I promise I will uphold. Today, I give my whole life and everything in it back to God and let him mould it to his will. My testimony is: 'Amazing grace, how sweet the sound that saved a wretch like me. I once was lost but now I'm found; was blind but now I see'."
Almost 10 months after reconnecting with The Salvation Army at Parramatta and then Campbelltown, Rachal also reconnected with God. She works at the Campbelltown Connect Centre (welfare) and Family Store. She is the corps timbrel leader and a member of the Home League.
As a teenager, she offered for service as a Salvation Army officer. She is offering again. "I want to use my life now to help people like me," she says. "I don't believe that God allowed me to go through those horrible experiences for nothing. I believe God has a plan for me. I believe he has called and I am ready and willing. He deserves nothing less than all I have to offer."