Meet our cadets, the Reflectors of Holiness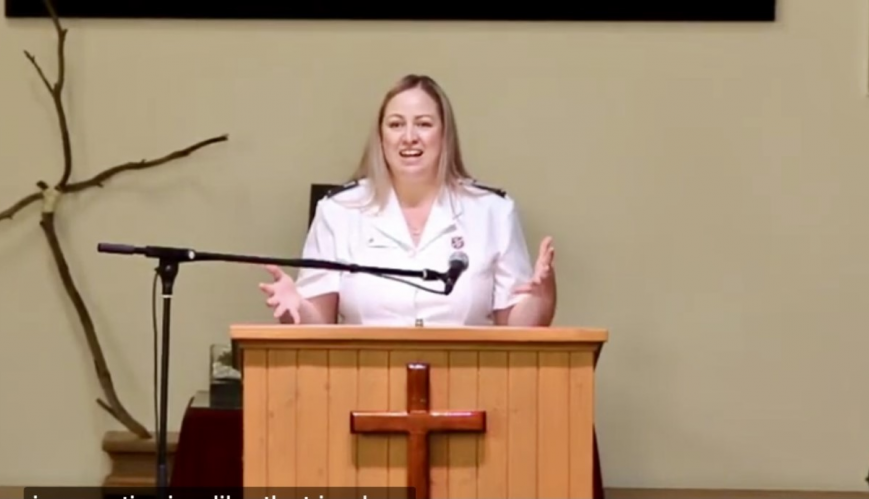 Meet our cadets, the Reflectors of Holiness
26 February 2021
Cadet-in-Appointment Rachel Nally preaches at Broadford Corps in Victoria.
By Lauren Martin
The Salvation Army has welcomed its 2021 session of cadets, the Reflectors of Holiness, which will be the first full session to complete its training within appointments.
Major Brenda Young, Eva Burrows College Leader of Officer Formation, said the decision came after many years of discussion about alternative modes of training. With the outbreak of COVID-19 in 2020 and the delivery of all higher education units online, it gave The Salvation Army the opportunity to explore a completely non-residential model of training for the 2021 intake.
"Cadets will continue to have significant interaction with the Officer Formation Stream based at Eva Burrows College," she said.
Individualised training means that no two cadets do the exact same program, but the college works on a model where 50 per cent of the time is spent in appointment and 50 per cent in study and other formational activities.
"We are also hoping to be able to gather the cohort a couple of times a year in Ringwood [the Melbourne suburb where Eva Burrows College is located]," Brenda said.
All Reflectors of Holiness cadets are appointed to a corps. Some are supervised by corps training officers and others have full responsibility for leading the corps.
"We are immensely grateful to our corps training officers who have agreed to partner with us by taking on responsibility for a cadet," said Brenda. "It is our belief that learning and reflecting while actively engaged in ministry will offer an exciting and enriching formation experience."
Cadet testimonies
Kirsten Wood
Cadet-in-Appointment,

Perth Fortress Corps, WA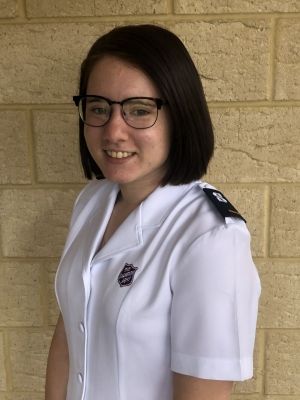 Cadet Kirsten Wood is serving at Perth Fortress Corps in Western Australia.
I felt God's calling to officership when I was going into Year 12 at school. I was at Summer Carnival and asking God for guidance into what he wanted me to do with my life. I felt him say "help others" and I knew those words meant officership. I wasn't too happy about it, honestly. But, over the years that first calling has been confirmed by moments with God, words from other people, and slowly God's calling became my dream. Now, I can't imagine doing anything but officership.
I am really loving the benefits of being in an appointment. I have the extra perks of having corps officers [Majors Alwyn and Deborah Robinson] who have served for many years and are willing to share their wisdom with me, and also willing to give me opportunities to practise what I'm learning. I also have the other side where Eva Burrows College and the Officer Formation Team are there to support and teach me in a different way. So, it really is the best of both worlds. Our session has also already made a great bond even though we are literally all over the country.
Perth Fortress is what I like to call 'Base Camp'. This is my home and where I do a lot of my learning and practise my ministry. I will be involved in corps programming, leadership and, overall, learning how a corps runs and all that comes with being a corps officer. However, later on in my training, I will venture off to other corps and services to experience different aspects of ministry so that I can have a diverse and well-rounded view of ministry.
Peter Hardy
Cadet-in-Appointment,

Carindale Corps, QLD
Cadet Peter Hardy is serving at Carindale Corps in Queensland.
I guess I'm what you'd call a 'generational Salvationist' – having grown up in the Army – but having Jesus modelled to me from an early age is something I have never forgotten.
Growing up, I always had this strange feeling in the back of my mind that being a Salvation Army officer was something that was in God's plans for my life. I wasn't always living the life that would be "worthy of my calling", as it says in Ephesians 4; however, as I began this journey into taking my faith more seriously, and I allowed God to take control, he placed me in positions and presented opportunities for me to serve him more and more. He recently made it abundantly clear that now was the time for me to take that step. 
The college experience was something I had looked forward to even before I was on the serious part of my journey to officership. I also much prefer an in-classroom style of learning, so when it came about that this new model of being a cadet would be rolled out for the first time, I was a little anxious. As it got closer, however, I began to feel more and more secure in trusting Jesus and that not only has he gone before me to prepare the way, but he also walks alongside me through it all. While this is new, I know God is going to use this time to do great things in my life and those around me.
The biggest thing I love about being in ministry is getting alongside people, journeying with them, letting them know that there is someone who cares, and that they have a father in heaven that loves them.
Rachel Nally
Cadet in Appointment,

Broadford Corps, VIC
Cadet Rachel Nally is serving at Broadford Corps, Victoria.
I am not who I used to be. I was raised as a Catholic, had a great upbringing in a loving family, but I went through some stuff and lost all faith in the Catholic Church. Not in God, but in people.
I started suffering from anxiety in my early 20s and tried various things, but nothing really helped. Then I met Captain Michael Nally. Through Mike, Jesus challenged my beliefs. Mike invited me to church and what I found was an inviting and welcoming community. At church, I listened to each and every message that Mike delivered and felt Jesus speaking directly to my soul. Every song we sang brought tears to my eyes and I didn't really know why. God turned my world upside down [and] I was left wondering what God had planned for my life.
He soon answered and a position came up to volunteer at Broadford Corps. From there, I fell in love with serving God and his people and the seed started to sprout. I didn't tell anyone I wanted to be an officer until I was sure it was what God was calling me to.
I am endlessly blessed and have so much gratitude to be part of a pioneering session that is not studying on campus. This mode of study suits my family and work life and enables me to continue to serve at Broadford Corps, a small rural town about an hour's drive from Melbourne. I serve alongside my husband, Captain Michael Nally, and our three children in all areas of our corps.
Rhys Wilson
Cadet-in-Appointment,

Lockyer Valley Corps, QLD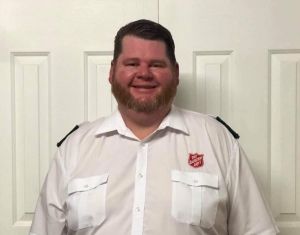 Cadet Rhys Wilson is serving at Lockyer Valley Corps, Queensland.
I was born into The Salvation Army and grew up participating in the regular kids sections of Bundamba Corps including SAGALA, junior soldiers, junior band and singing company. This then progressed into senior soldiership and joining the senior sections of the corps. Towards the end of high school, worldly attractions became real in my life and living a life for Christ became my second choice. This was until a great friend challenged me about what my life looked like away from church. In that moment, I really sensed a strong calling on my life; a calling to full-time ministry.
My first ministry step was attending The Salvation Army School for Youth Leadership. After that amazing experience, I had a couple of short ministry opportunities as a chaplain and also a childcare worker for a local corps. I then moved into a role with Queensland Divisional Headquarters as the Divisional Children's Worker where I stayed for eight years. I then felt God calling me to corps work, so I took up a position with Bundamba Corps as a ministry assistant. With all this experience in mind, then came my biggest ministry opportunity when God called me to be the Corps Officer of Lockyer Valley Corps, and I became Auxiliary-Lieutenant Rhys Wilson, which has now transitioned into Cadet-in-Appointment, still serving as Corps Officer at Lockyer Valley.
I have always said that my two passions in life are being around people and sharing the love of Christ with them. When I put these two passions together, I find myself in my 'Missio Dei' sweet spot, which is building relationships and sharing the Gospel with my church and my community.
Vikki Song
Cadet-in-Appointment,

Northside Chatswood Corps, NSW
Cadet Vikki Song is serving at Northside Chatswood Corps, NSW.
God has always been around me and providing for my needs. I didn't realise it until one day a friend woke me up from God's love. I left an unhealthy relationship, but I met Jesus through it. At the time, I remember saying to a Christian friend that I felt as if I was choosing another husband – because I wanted something I could fully trust and rely on and not be hurt again. She told me that the Church is the bride and the body of Christ Jesus. The funny thing was during that time, wherever I went, I kept meeting random people who asked me to join their church services.
I started volunteering with The Salvation Army because I was really appreciative of how the Army supported my family through that really hard time. I helped to translate sermons and brochures. Two years ago, I sensed a calling to Salvation Army officership.
Since accepting Jesus, I feel like I have stepped into a new world through a new door. The Bible is so fascinating and intriguing. I keep reading it but always feel there is more to read about.
I feel that God has been changing me gradually in a good way. Knowing I'm forgiven through Jesus, and God is walking with me every day, is very assuring and uplifting. I have learned and have been practising not being anxious in any situation, but to pray to God with a thankful heart through Jesus, trusting in God that he will lead me.
I'm serving at Chatswood Corps as a Cadet-in-Appointment. I'm studying for a theology degree online while working at our corps. Being a Cadet-in-Appointment is a great way to gain theological study and practical ministry experience at the same time.