Mental health challenges - coping through COVID-19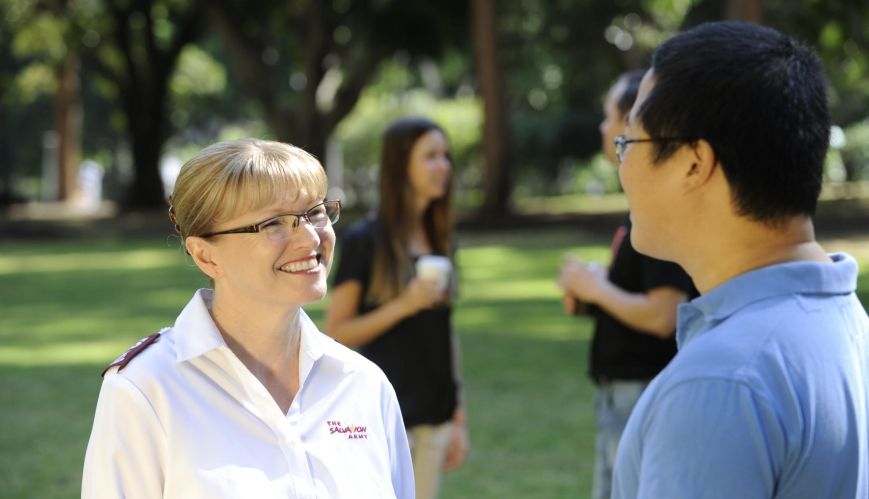 Mental health challenges - coping through COVID-19
8 October 2020
Major Robyn Smartt (left) co-manages Pastoral Services for The Salvation Army in Australia.
October is National Mental Health Month in Australia. The Salvation Army, through its local programs, Positive Lifestyle Program, and social services (including homelessness, family and domestic violence, alcohol and other drugs, and disaster, recovery and emergency services), offers assistance and referrals to those facing a range of mental health issues. Each week this month, others.org.au will feature articles fromSalvos Magazine, focusing on different aspects of mental health and the help that is out there, for everyone.
By Simone Worthing
"For many people, living in the pandemic is like trying to do a jigsaw puzzle without a framework," says Major Robyn Smartt, a clinical counsellor. "They thought there was a framework in which to move, but the pieces on the edge are all messed up."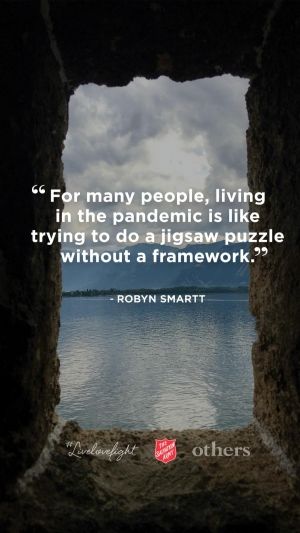 Majors Robyn and Howard Smartt co-manage Pastoral Services for The Salvation Army in Australia. They are both seeing the effects of the COVID-19 pandemic impact the mental health of a broad range of people and exacerbate existing issues in many others.
"We are seeing so much uncertainty around the future," Robyn says. "Even if people haven't lost their jobs, there is still uncertainty over how long their industry, and their jobs, will continue. Much of this anxiety comes from not being able to control their own environment, finding meaning in what is happening or seeing an end in sight – so to stay in the moment is hard and unsettling for many."
Howard, a registered psychologist, agrees. "We don't have a clear picture of how life will work and is meant to be, once we come through this," he says. "Without seeing a bigger picture and purpose, without having something to look forward to and a positive sense of what the future might look like, people struggle."
Howard shares that, throughout the pandemic, he has seen heightened anxiety, and a deeper sense of grief and loss in the people he talks to. The grief may not be recognised or diagnosed, but it's a heaviness that people are feeling, a tiredness that they can't really explain.
There has also been an increase in tension in families where both partners are working from home, and their children are home-schooling. Parents are tending to work more than they normally would, with the 'boundary' of the commute largely gone, easy access to 'the office' and needing to make up time spent helping children.
"Additionally, there is increased anxiety among older teenagers, with some experiencing feelings of despair," he says. "They are worried about their education, future jobs, their future in general.
"And in many households, there is also an underlying anxiety of making ends meet and balancing the budget on a daily and weekly level. Without knowing where this will all end up, people are reacting to everything around them."
Loss of connection
The social disruption resulting from the pandemic, combined with the often-repetitive nature of life under lockdown or travel restrictions, has, and is having, challenging implications for people's mental health.
"As relational beings, people need something to look forward to – when they will see their family next or hug their grandchild or have coffee with friends," says Robyn. "Video calls have been great, but they are not the same, and some of those disconnections we will be facing for the long haul."
Howards explains that, even with many necessary and understood lifestyle changes – such as mask-wearing and online meetings – it's a lot harder to pick up facial cues and can emphasise the sense of isolation people are feeling.
And people are feeling isolated, the ache of loneliness, and, for many, the scary black chasm of depression. For many in Melbourne, who (at the time of writing) are living in their second, and extended, period of hard lockdown, some of these feelings are even more intense.
Normal reactions
"So much of people's response to the pandemic is normal under such conditions," says Robyn.
It's normal to feel a range of emotions, from anger and frustration to loneliness and fear; from sadness and anxiety to being overwhelmed. It's normal to feel resentful, teary, irritable and tired.
It's vital to remember, though, that there is help available for everyone, including local GPs, mental health professionals, telephone crisis support services, and a range of community and national organisations (see box).
Nobody has to go through whatever they are feeling and facing, alone.
Positive response
As hard as it is sometimes, and as much as we may not feel like it, looking at what we can do to help both ourselves and others during this time can change our perspective and give us motivation, energy and hope.
"Taking a moment even to think about what is likely to make a positive difference in how we're managing our lives – even resolving to eat better or drink less – is helpful," says Howard.
"Take it a step further and think about what is not just good for me, but good for society. The pandemic has shown that there is more that unites us than divides us, so if we can focus on reinforcing that, and creatively contributing to others, we will be strengthened in the process.
"It can be heavy and hard, but we can intentionally choose the positive. This doesn't mean being unrealistic or trivialising what is happening around us – but seeing the good in things and in people and practising gratitude.
"It's when we examine what is really important in our lives, what our personal values are, and we begin investing our time and energy there, that we identify with them and they change us."
Celebrating goodness
There have been so many examples of caring and reaching out to others throughout the pandemic: neighbours helping others in their street, random acts of kindness, the selflessness of so many healthcare and other essential workers, greater understanding of and response to the marginalised in our communities, and generous donations to agencies helping others, including the Salvos.
"If we can celebrate and be thankful for those taking risks on our behalf and make sure we know why we are grateful to them and for their work, we can help lift so much of our own anxiety and sadness," says Robyn.
"If we can take the initiative, however small, to see the positive, celebrate the good we see in those around us, and check in with others, we will start to feel better about ourselves and what we're going through as well.
"This could be as simple as thanking a worker at a supermarket for what they're doing, telling your family and friends how much you care for them, or acknowledging someone doing it tough.
"We all need hope and meaning, and perhaps even more so in a pandemic. I often quote this Bible verse to people, from Philippians chapter 4 verse 7: And know that the peace of God (a peace that is beyond any and all of our human understanding) will stand watch over your hearts and minds in Jesus."
"My prayer for others is that God's peace would protect them and help them at an emotional and 'head' level as well."
Where to get help?
Beyond Blue: 1300 22 4636
Coronavirus 24-hour helpline: 1800 512 348
Findapscyhologist.org.au or call 1800 333 497
Lifeline 24-hour telephone crisis support: 13 11 14
This article first appeared in The Salvation Army publication, Salvos Magazine
Simone Worthing is Assistant Editor of Salvos Magazine